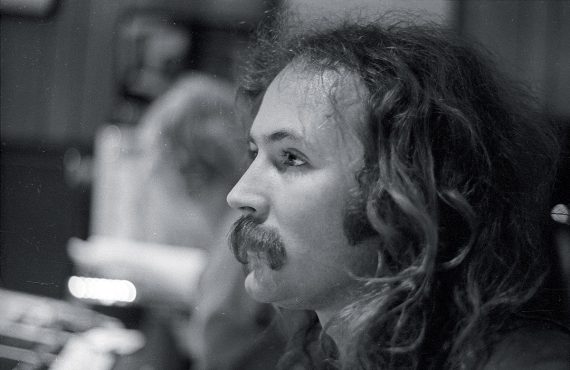 David Crosby punctuates many of his sentences with an incredulous chuckle.
It's a knowing sound, the kind someone makes when they can't quite believe their luck. In Crosby's case, it carries a recognition of how improbable it is for him to be able to speak on the phone about anything, let alone a new record. Like so many of his counter cultural peers, Crosby often seemed doomed in the decades since the '60s, his struggles with the law, heroin, cocaine, and health well documented.
But on Lighthouse, his new solo record, the 75-year-old sounds vital. It's a sparse record, filled mostly with Crosby's inventive acoustic guitar playing, but occasionally the harmonies –- by Crosby and singers Becca Stevens and Michelle Willis – echo the classic sounds of his most famous groups, the Byrds and Crosby, Stills, Nash and Young. The record's ethereal West Coast jazziness – it was produced by Michael League of fusion combo Snarky Puppy – echoes his best solo work, including his 1971 solo debut If I Could Only Remember My Name, which featured members of the Grateful Dead, Joni Mitchell, and his CSNY bandmates Neil Young and Graham Nash. At times the record carries political weight, but mostly it reflects the soft, idyllic way Crosby spends his time at his home in Santa Ynez: listening to and making music (when he's not tweeting, that is).
The album follows his 2014 gem Croz. Though it had been decades since he'd released a solo LP before it, that album seems to have unlocked something for the songwriter. These days, Crosby's feeling productive. In addition to Lighthouse, out Friday, October 21, he's already got another record finished, produced by his son and frequent collaborator James Raymond.
Crosby says when he's happy, he writes, and he's resolute when he says, "You won't talk to a happier guy today," following the statement with that signature soft laugh. Aquarium Drunkard spoke with Crosby about the various roles he plays as a songwriter and his new records. The conversation has been edited for clarity and condensed.
Aquarium Drunkard: Croz was great record, and now you've followed it up with Lighthouse, a very intimate sounding album. What led to the sparseness here?
David Crosby: When I started working on this one with Michael League I thought, because he's the leader of Snarky Puppy and they are such great players, it was like hiring a master carpenter with a gigantic tool box. But when I started talking to him he said, "You know we could [make a fully arranged record]." But he loved my first solo record, If I Could Only Remember My Name, and said, "That's the way I want to go." It's acoustic guitars and big vocal stacks. I said, "Oh man, that's right in my wheelhouse."
AD: If I Could Only Remember My Name is an interesting touchstone for this record.
David Crosby: It's a funny story about that record. That record saved my life. I was going through a really hard thing and that record is what kept me going. The studio was the only place I could be and the record was the only thing I could do. It meant a lot to me. When it came out, Rolling Stone said it was kind of mediocre. They wanted another guitar record; they didn't quite know what to do with it. But people loved it, because it feels good. It did pretty well, it went gold and all that stuff. But what's happened with it over the years is as more people hear it, more people really fall in love with it. It's kind of got a following.
AD: It's a lovely record, but it came from a pretty dark place.
David Crosby: It came during my time in a dark place. It didn't really come from a dark place. I had the songs, a lot of them, before Christine [Hinton] got killed, before any of that. The songs weren't dark and the record didn't turn out dark. But it was really a really hard thing for me. What are you gonna do? Your girlfriend's 21 years old and she's killed in a car wreck. I didn't have any idea how to deal with that. At all. I started taking heroin, because it eased the pain.
AD: Which obviously led to much more pain.
David Crosby: It always does.
AD: Though Lighthouse shares some sounds with that record, it sounds like it comes during a very different time in your life.
David Crosby It's 180 degrees out. I'm so happy now. What happens to you over a long amount of time is you figure out what things really matter to you. It's not a new car, it's not a big house, it's not, you know, being able to impress people with how rich you are. For me, it's my family and the music. Those are the things that really actually matter. Having finally gotten my head clear to where I've got it, I see what I'm supposed to pay attention to. I'm a very happy guy and when I'm happy, that's when I write.
AD: You've been prolific. You've got Croz and now this new record, and I understand you've got another one almost done as well.
David Crosby: I've got another record! We did the last vocals of the other record two days ago.
AD: Before this streak of work, it had been decades since you'd released a solo album.
David Crosby: I wasn't happy, man. I made records with Graham. Early on, there were CSN records, there were Crosby, Stills, Nash and Young records, but I didn't get up to the level of doing solo stuff, which is where I go when I'm really actually functioning.
AD: Would you say your solo stuff is the most personal stuff you put out?
David Crosby: The solo stuff and the stuff on the CPR records. There are individual songs on that last Crosby/Nash record that I'm very proud of. But if you're mining for good Crosby writing, the CPR records have some of the best writing I ever did. The writing on Croz was really good, but a lot of it had to do with how good James had become. I just love writing with him. He's a wonderful writer and a terrific player and producer. You won't believe the record we're putting together now. I think it's going to be called Sky Trails.
AD: How does it differ from Lighthouse?
David Crosby: It's quite different. The quality of the songs is probably the only joining factor. Lighthouse is very acoustic and there's a particular chemistry to the way Michael League and I think when we write. There's a different, particularly identifiable chemistry to the way James and I write. These guys are the two best writer partnerships I've ever had, and they're happening at the same time. That's a huge great fortune to me. But the record I'm doing with James is like Croz. It's a full band record, [except] there's one song – "Amelia," a Joni Mitchell song – that's just James on the piano and me singing. Everything else is a full band track. There's a really good jazz ballad on there that I wrote with Michael McDonald. There's stuff in all directions. Some of it's Steely Dan-ish kind of things.
AD: Lyrically there's a lot of beauty and naturalistic stuff on Lighthouse, but there's some topical stuff. "Somebody Other Than You" is a great protest song.
David Crosby: I don't like the people who send our kids off to war. They don't send their kids. They send our kids. If our kid gets his shoulder blown apart or his arm blown off, they don't give a fuck. To them that's just the cost of doing business. They couldn't give a shit less. I really despise that.
I'll tell you another one: "The Look In Their Eyes." That's about Syrian refugees coming ashore. I have a friend who goes and flies herself to Greece and stands on the beach and pulls people out of the water. She told me about a day when there was a thousand people and they pulled 71 bodies out of the water, many of them children. Dead. I was so taken with the courage to set your life aside and go and do that. I was so moved by the compassion that it just got me thinking about the thousands of miles they've walked. Trying to keep their children alive — starving yourself to feed your children. Walking across deserts. Trying to get water enough to stay alive, having people sniping at you, hurting you, beating you, raping you, fucking you over in every possible way. And trying, desperately, to get out of a place where it's just solid death. You know? Syria, like most of the Middle East, is hell on earth right now. I felt so moved by these people. They're people! Of course they're trying to get to where they can keep their child alive.
AD: Do you feel like we've lost sight of that as a country?
David Crosby: You see people using them as political pawns they way they did in the Brexit fight in England. You see people using them in the political fight between the orange headed idiot and the old, "business as usual" Hillary. I don't think either one of them really thinks about those people. I don't think most people who talk about immigrants ever think about them. I mean, who do they think started this country? There was only Indians here. We're all immigrants, everybody in the whole damn place. I was very moved [thinking about it] and I can't help it. When something hits me hard enough, writing a song is the only answer I have for it.
AD: It feels like that's a through line through your career. You've always written about yourself, but also stepped outside and written about the world as you see it.
David Crosby: I think it's part of our job. I don't think it's all of our job. I think part of our job is to be a town crier. "Hey, it's 11:30, all is well." "Hey, it's 11:30 and you can't elect that guy to run the country." Part of our job is just to make you boogie. Part of our job is to take on you on little emotional voyages. Part of the job is to express a thing that's in your heart so you can say, "Yeah, that's what I meant."
But yeah, part of our job is to be the town crier and I'm good with that. You can't get too self righteous, or adopt whatever cause is popular this week. It has to be sincere thing, [something] that's very deep for you. I've got no problem sticking up for civil rights. It's very clear to me. I've got no problem sticking up for women's rights. No problem sticking up for human rights. I know what's right and wrong. When it's clear cut and it matters to you, you should stand and be counted. words / j woodbury