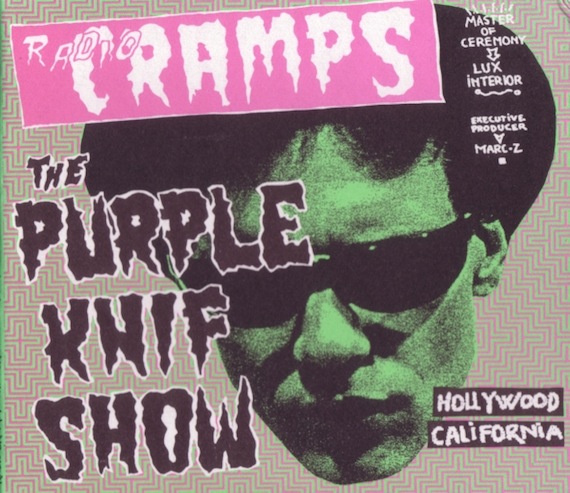 Lux Interior: inter-dimensional, pan-sexual, time-traveling rock & roll alien. And radio host. As Halloween draws nigh we're revving up for our annual airing of The Purple Knif Show, the one-off radio program hosted by Lux in 1984 deep in the bowels of Hollywood. As master of ceremonies, Lux runs through his personal archives spinning the weird ranging from rockabilly and garage to early punk, campy novelty and exotica. His bag of tricks was the best. So go ahead, "get out your magic decoder rings, boys and girls…" Trick or treat.
01. One Way Streets, The – Jack the Ripper
02. Swamp Rats, The – Louie Louie
03. J.J. Jackson – Oma Liddy
04. Trashmen, The – Bird '65
05. Sparkles, The – Oh, Girls, Girls
06. Link Wray – The Fuss
07. Bill Carter And The Rovin' Gamblers – Baby Brother
08. Tides – Midnight Limbo
09. Earl Hagan & The Interns – New Interns Watusi
10. Mad Mike And The Maniacs – The Hunch
11. Billy Strange – 007 Theme
12. Ted Weems & His Orchestra – Heartaches
13. Ray Anthony – Dragnet
14. Grady O'Neal & The Bellatones – Turkey Neck Stretch
15. Enchanters – Cafe Bohemian
16. Jam Space & The Cadets – Take Me To Your Leader Chachacha
17. Archie Bleyer – Fernandos Hideaway
18. Vic Mizzy – Addams Family Theme
19. Spark Plugs – Chicken
20. Frantics – The Whip
21. 5 Blobs – The Blob
22. Unknown Artist – Miller Beer Commercial
23. Ward Darby And The Raves – Safari
24. Cozy Cole – Topsy Pt. II
25. Deadly Ones – It's Monster Surfing Time
Psst…Aquarium Drunkard is powered by its patrons. Keep the servers humming and help us continue doing it by pledging your support via our Patreon page. For heads, by heads.