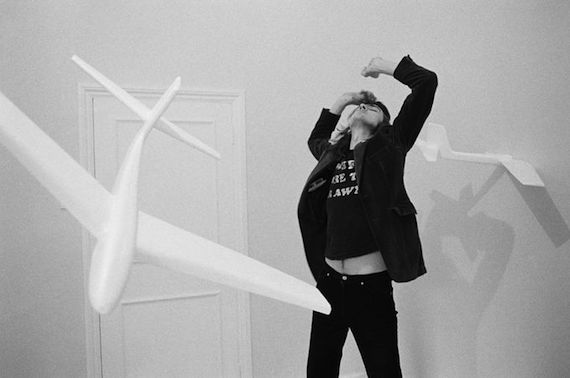 The following playlist is a celebration of Robyn Hitchcock's first 20 years of recordings; specifically ones that, while they may be 'accessible', still showcase the singular nature of his creativity.
Hitchcock spent his university years in the early 70s busking while seeking a band that fit his vision. The pieces were in place when he formed Dennis & The Experts, a group which then morphed into The Soft Boys in 1976. The Soft Boys were a vehicle for Robyn's psychedelic vision, and their earliest recordings exhibit a noisy chaos that is equal parts Barrett and Beefheart (see: 1977's Give It To The Soft Boys EP). "Hear My Brane" showcases the guitar chemistry of Robyn and Kimberley Rew, and matches a very Beefheartian vibe with a bridge that foreshadows the shape of melodicism to come.
The band's debut LP, A Can Of Bees, was released two years later in 1979, and while the element of chaos was still present in tracks such as "The Pig Worker", Robyn began to allow his gorgeous (and quintessentially English) melodic sense to come to the forefront on such tracks as "Human Music". The Soft Boys split soon after their 1980 masterpiece, Underwater Moonlight. As a record its sound was incredibly influential within the alternative rock scene of the 1980s — "Queen Of Eyes" alone works as a blueprint of jangly college rock, and the title track stands as one of the most unique and imaginative tracks of the decade; an ode to the ocean falling in love with a human being and the ensuing drowning.
While The Soft Boys may have been finished in name, all of the members soon appeared on Robyn's solo debut from 1981, Black Snake Diamond Role. Here, Hitchcock went full bore into psychedelia for the LP's classic track, "Acid Bird", itself one of the artist's most enduring tracks and a staple of live shows. 1982 saw the release of Groovy Decay, which was perhaps an effort to ditch the psychedelic elements in order to be more "contemporary". Whatever the motives, Robyn wasn't happy with the record and re-envisioned it a few years later by substituting several demo versions billed as Groovy Decoy. Both editions contain the brilliant "America", a stand-out composition that succeeds in its dense, synthesizer and horn driven production.
Perhaps it was the distaste left behind in the wake of Decay that sent Robyn inwards for what is perhaps his greatest record — 1984's I Often Dream Of Trains. While the album's strongest tracks clearly channel Hitchcock's heroes (Syd Barrett, John Lennon), they also match the excellence of those legends. "Flavor Of Night" pairs a Lennon-like lyric and melody with a piano line that sounds downright classical. The title track, sparse as it is with only voice and lone electric guitar, is completely satisfying in its poetic brilliance. "I Used To Say I Love You" (inexplicably left off of the original vinyl LP) deftly captures of the feel of heartbreak, one that is both universal and incredibly real.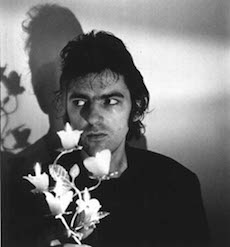 In 1985 Hitchcock reunited with The Soft Boys rhythm section (Morris Windsor and Andy Metcalfe) who became the Egyptians. This era resulted in some of Robyn's most commercially successful music. Their debut LP, Fegmania!, closes with the beautiful "Heaven". Its follow-up, 1986's Element Of Light, is regarded as one of Robyn's most loved LPs, and represents several peak moments of his songwriting. "If You Were A Priest" kicks off the album with a straightforward rocker, albeit one with lyrics that successfully blend humor and whimsy. "Raymond Chandler Evening" stands out among Robyn's greatest lyrics; a tip of the hat to a mystery writer that may or may not be about the mysteries of love ending. The haunting drone of "Never Stop Bleeding" hearkens back to the introspective vibe of I Often Dream Of Trains (it's also worth seeking out one of the amazing live versions of this song from the period in the mid-90s when Robyn's solo shows found him accompanied by violinist Deni Bonet).
Highlights off 1988's Globe Of Frogs include the pure pop nirvana of "Balloon Man", and the exotic beauty of "Chinese Bones" (here, on the playlist as a gorgeous solo take). While the production is very 1980's glossy, the excellence of the songs cuts through nicely. "Madonna Of The Wasps", from 1989's Queen Elvis was another well deserved college radio hit.
The new decade saw Hitchcock return to the solo format that worked so well on Trains for 1990's Eye. Some of Robyn's strongest and most serious compositions were executed in a stark, haunting manner for this excellent LP. The mood is set immediately by the gorgeous opening track "Cynthia Mask". While the lyrics may have an impenetrable feel, it simply doesn't matter when the song lifts into the powerful bridge section where we are told, once again, that 'nothing is real'. "Queen Elvis", a song which did not appear on his previous album as a title track, is yet another career highlight that, while wearing a Barrett influence on its sleeve, manages to be completely Hitchcock-ian.
Hitchcock enlisted the Egyptians once more for Perspex Island (1991) and Respect (1993). "Oceanside" and "Driving Aloud (Radio Storm)" mark two of the stronger tracks from those albums.
Robyn's longest gap in releases (no output between 1994-1995) saw the dissolution of The Egyptians, and extensive worldwide solo touring. A fresh start as a solo artist again saw the release of 1996's Moss Elixir (and its companion piece, a vinyl-only limited edition of demos and outtakes called Mossy Liquor). I especially love the delicate beauty of the demo version of "Heliotrope" which is found on Mossy. Moss itself is highlighted by the incredibly groovy rave up "Beautiful Queen", a track which could have easily stepped off of Underwater Moonlight.
We close out this playlist of Hitchcock's first 20 years with his remarkable cover of The Psychedelic Furs' "The Ghost In You"; in my opinion an instance where a seemingly off-the-cuff cover (recorded at McCabe's Guitars in Santa Monica, 1988) surpasses the original by exposing the core emotion of the song. words / d see
Related: Off The Record :: Robyn Hitchcock's NYC for Aquarium Drunkard
Aquarium Drunkard is powered by our patrons. Keep the servers humming and help us continue doing it by pledging your support via our Patreon page. Only the good shit.