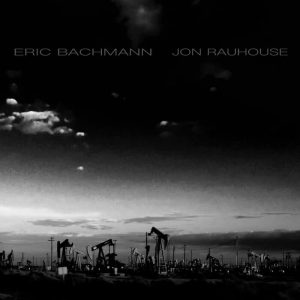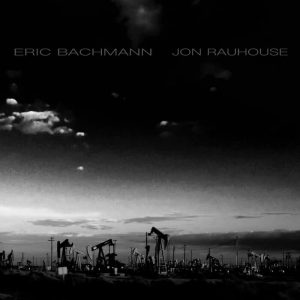 There's a lot of downtime on a tour. You drive, you load in, you wait to take the stage. There's a lot of sitting, a lot of time to occupy yourself. It was during those moments waiting the new collaborative album by Eric Bachmann and Jon Rauhouse was born. The pair tours as part of Neko Case's band, and while on the road with her last year, they found themselves tossing song ideas back and forth.
"I'd always play stuff I was working on and he'd chime in; he'd play stuff and I'd chime in on his," Rauhouse says.
"We'd always do that," Bachmann says. "So I brought it up to Jon. 'We have these little things we noodle around with. You wanna try and actually organize them and make a record?'"
Rauhouse was game. After a few woodshedding sessions at Rauhouse's place in Lilliwaup, Washington, they headed to Fivethirteen Recording in Tempe, Arizona and cut Eric Bachmann & Jon Rauhouse. Comprising 11 instrumental songs, the record features Rauhouse on pedal steel and guitar, Bachmann on piano and guitar, and a cast of local players on strings and horns.
It's a mellow, thoroughly gentle listen. Opener "Liliwaup" recalls the American Primitivism of John Fahey or Leo Kottke. On "Asthmatic Gypsy," Rauhouse's pedal steel floats over shuffling piano chording. Songs like "JoJo Blanco" and "Scorpion" evoke dusty frontiers, while "Sea House" and "Drunk in Bilbao" drift casually in pools of Western Swing romanticism.
"We had to do the work, but it was an easy flowing, natural thing to do," Bachmann says of the three days the duo spent recording in Tempe.
Due to other commitments — Bachmann toured in support of a great record on Merge this year, and Rauhouse remains busy with his Jon Rauhouse Orchestra and prolific session work — the duo had a short window to commit their songs to tape. The truncated session didn't give them much time to overthink, but the record retains a relaxed feel, with both players leaning into often unexplored influences.
"Both of us are heavily influenced by old instrumental jazz records; my interest is more big band than jazz, his is more jazz than big band," Rauhouse says.
While Bachmann is known for his lyrical work with Crooked Fingers and Archers of Loaf, he says crafting instrumental songs stretches different muscles as a songwriter.
"For both of them, you want to make something that doesn't feel like you're wasting people's time, whether you're writing words or if you're writing instrumental, soundtracky things," Bachmann says. "Words are invasive, so when you approach an album with lyrics, it's a more consuming thing. It takes a lot to say what you want to say in the way you want to say it. You might have a great musical idea, but when you sing on it, you can ruin it. With an instrumental record, it's not easier, but it's more liberating because you don't have to put words to it. You have a other other slew of questions about what you're going to do. It's still complex, but it's a different approach and it becomes more abstract…I like making instrumental records better — but maybe that's because I've made 14 records with words."
Working with his Neko Case bandmate offered proved as rewarding as he thought it might.
"I love Jon's sense of musicality," Bachmann says. "When you're collaborating with other people — with words or without words — you just have a more benevolent approach to the world. That influenced my approach to this record: working with someone I admire."
For Rauhouse, the record presented a chance to explore the kind of music closest to his heart, exotica, acoustic blues, and western swing. While instrumental artists like William Tyler, Daniel Bachman, and Glenn Jones continue making vital work in the field, Rauhouse says he'd be happier to see even more of it.
"The reason we have those old Speedy West and Jimmy Bryant records is because Capitol Records was like, man, those guys are good, let's let them do a record and see what happens," Rauhouse says, noting that fewer labels are willing to take chances on records like that. "That doesn't happen any more," But it's great that it happened and that's affected guys like me and Eric who found these records in thrift shops and used record stores." words/j woodbury
Related: Eric Bachmann :: The Aquarium Drunkard Interview
Neko Case :: The Aquarium Drunkard Interview