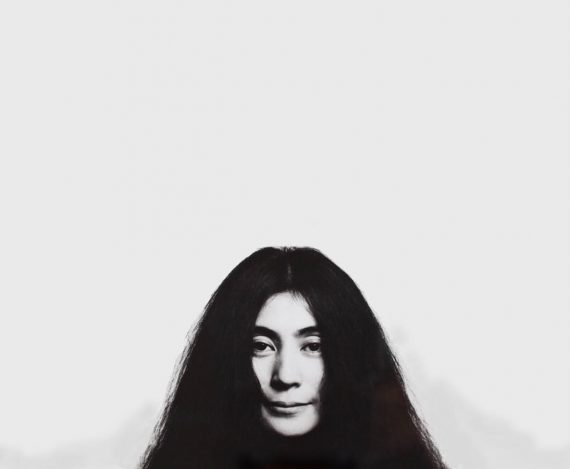 I'll never forget the exasperated look on the guy's face, standing behind the counter, holding up the copy of Yoko Ono's Plastic Ono Band I was attempting to purchase.
"This is the Yoko version of the record," he said, repeating it for the second time.
Pointing with his index figure at the album cover, at the figures reclining against a tree in the grass, he continued. "You can tell, because on the John version of the record, Yoko's against the tree; on this one, John's against the tree. So, I mean, just so you know, this is the Yoko version of the record. You want the John version of the record. John Lennon, Plastic Ono Band."
If I'm being charitable, perhaps he thought I wasn't ready for Yoko's debut studio album, released in conjunction with John Lennon's solo debut Plastic Ono Band in 1970. Maybe he thought I wouldn't be able to wrap my head around the record's raw, transcendent spirit. But more than likely, he was another dude simply dismissing Yoko, trying to negate or brush away her innovative career as modern artist and musical explorer, helping to introduce the conceptual approach of Fluxus to the world of pop music. In the heads of many like this dude at the record store, the conversation starts and ends with "Yoko broke up the Beatles" or "Yoko can't sing."
This week, Plastic Ono Band is reissued on vinyl alongside 1968's Unfinished Music No. 1: Two Virgins and 1969's Unfinished Music No. 2: Life with the Lions. The records signal the start of a joint archival partnership between Indiana label Secretly Canadian and Ono's Chimera Music to reissue 11 of Ono's records, exploring her work from 1968-1985. Remastered and combined with photos, posters, and art objects (including reproductions of Ono's "A Hole To See the Sky Through" card printed download codes to access bonus material), these editions represent the label's intention to create "definitive" versions of these records. They are so thoughtfully presented they might even change the minds of a few Yoko deniers. Listening deeply to them, it feels impossible to argue against Ono's adventurous spirit and the emotional content of these collaborations between her and Lennon, each one a daring expression of love between two people.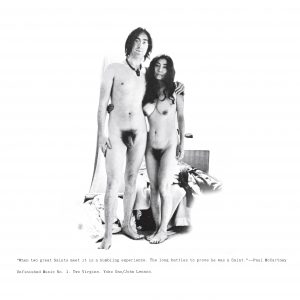 Which isn't to say that the music presented here isn't plenty bracing. It's easy to imagine a Beatles fan baffled as the needle touched down on these records, even one who'd been on board with the most out-there experiments of the Fab Four.
The first of the trio, Unfinished Music No. 1: Two Virgins, features atonal sounds, bird calls, occasional rhythms, and Ono's otherworldly vocalizations, ranging from coos to feedback laden shrieks. Recorded in one night, the record is feverishly erotic. (John and Yoko made love at dawn after the recordings were finished.) It's a challenging listen, even to the most attuned, but with time you can recognize the playfulness, ecstasy, and freedom on display. It was a smash, in its own way, debuting at number 124 on the Billboard charts (think about that) and generating a significant amount of controversy when U.S. authorities deemed its cover pornographic, sending officers to seize copies from shops.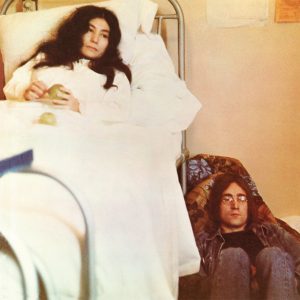 Unfinished Music No. 2: Life With the Lions, the first album the pair released in 1969, is less celebratory. (The next, Unfinished Music No. 3: Wedding Album is slated for reissue in the future.)
It opens with an improvised piece recorded live at Cambridge University on March 2, 1969. Yoko provides vocals and Lennon plays a feedbacking electric guitar, with saxophonist John Tchicai and John Stevens on percussion joining end near the end of the piece. But it's side two that takes their ambition to document their lives together to intensely personal extremes.
Recorded at Queen Charlotte Hospital, it includes a recording of the couple's unborn child's heartbeat, followed by "Two Minutes Silence," a soundless elegy commemorating the loss the child, John Ono Lennon, due to complications. Upon listening, it's impossible not to recognize the sadness on Ono and Lennon's faces on the album cover.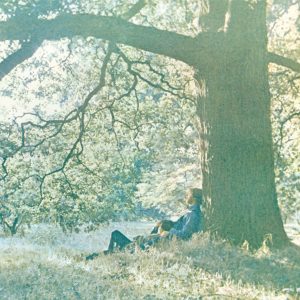 That mournfulness makes the aggressive grandeur of Plastic Ono Band all the more thrilling. Released in 1970, it established Ono as a primal futurist force in rock & roll. On the pioneering "Greenfield Morning I Pushed an Empty Baby Carriage All Over the City," she recites lyrics from her art project Grapefruit over a George Harrison sitar sample and processed drums by Ringo Starr. On "Why" you can hear the eventual birth of punk, noise, Sonic Youth, the B-52s, and numerous other radical forms of expression.
On "AOS," recorded in 1968, she teams with free jazzers Ornette Coleman, Charles Haden, David Izenzon, and Edward Blackwell. Printed in the liner notes are instructions to Coleman from Yoko. "Think of the days when you allowed silences in your life for dreaming and thinking of dreaming. This is no shit. No 'mood' or whatever you call it. It's real." The band droning behind Ono, it's impossible not to dwell on those words.
Yesterday, following the announcement of the election of Donald Trump, I found myself slipping into fear and seeking sounds to help make sense of it. I played Marvin Gaye's What's Going On and Pharoah Sanders' Karma. They helped, provided solace and context. But listening to Plastic Ono Band provided something different. It provided a spark. In the record I hear only fearlessness and strength. Yoko still exhibits that power.
"Uncertainty is scaring all of us," she tweeted November 9th. "Know that you are not the only one. Let's walk hand in hand into the unknown tomorrow. We'll be alright." Her exploration of the unknown on this trio of albums is a fitting soundtrack to her necessary words. words / j woodbury
Only the good shit. Aquarium Drunkard is powered by its patrons. Keep the servers humming and help us continue doing it by pledging your support via our Patreon page.