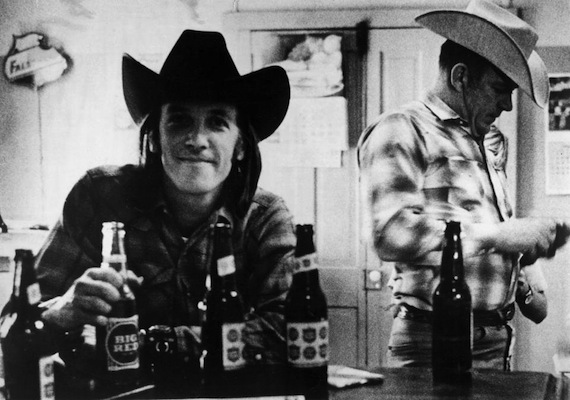 Tradition runs rampant around Thanksgiving: generations of old recipes, football, Alice's Restaurant, The Last Waltz, and, of course, a parade of balloons shutting down NYC. What else do you need? If you thought you were covered in the Thanksgiving tradition department, we did too…until a few years ago, when someone blew the dust off a long lost tape – Doug Sahm's Thanksgiving Jam.
Thanksgiving weekend, 1972: the Grateful Dead found themselves in Austin, allowing Garcia and Lesh to rendezvous with an old Bay Area running buddy, Mr. Tex-Mex himself, Doug Sahm, and piano-journeyman Leon Russell, at the famed Armadillo World Headquarters for a musical cornucopia of roots music. No genre was left untouched — blues, bluegrass, R&B, rock & roll, honky tonk and, naturally, Bob Dylan. All played with an ad hoc band, including members of Texas psychedelic pranksters The 13th Floor Elevators and Shiva's Headband, with a setlist that effortlessly bounces from hellcat versions of Kristofferson's "Me & Bobby McGee" and the Stones' "Wild Horses", to a don't-spill-your-beer "T For Texas", saddled with stompin-the-nails-out-of-the-floorboard cuts like "Hey Bo Diddley" and "Money Honey". This is a shitkicker of show, best served turned up, with fistfuls of turkey and pint glass of your favorite sumthin'. words/ d norsen
download/tracklisting after the jump…


Download: Doug Sahm And Friends — Austin, TX 1972 (zipped folder)
November 23, 1972 — Armadillo World Headquarters, Austin, TX
Note: this two disc collection was compiled from a three disc set via Lance at Adios Lounge.
First Set
01 High Heel Sneakers (Tommy Tucker)
02 Wild Side Of Life (Hank Thompson)
03 Swingin' Doors (Merle Haggard)
04 Me & Bobby McGee (Kris Kristofferson)
05 Stormy Monday (T-Bone Walker)
06 That's All Right (Mama) (Arthur Crudup)
07 Come On In My Kitchen (Robert Johnson)
08 T For Texas (Jimmie Rodgers)
09 Mr. Tambourine Man (Bob Dylan)
10 (Is Anybody Goin' To) San Antone (Charley Pride)
11 Sugarfoot Rag (Hank Garland)
12 I'm So Lonesome I Could Cry (Hank Williams)
13 Jambalaya (Hank Williams)
14 Today I Started Loving You Again (Merle Haggard)
15 Columbus Stockade Blues (Traditional)
16 Honky Tonkin' > Dear John (Hank Williams]
Second Set
01 Orange Blossom Special (Bill Monroe)
02 Kentucky Waltz [Bill Monroe)
03 Big Boss Man (Jimmy Reed)
04 Searchin' (The Coasters)
05 Those Lonely Lonely Nights (Earl King) > Shake A Hand (Faye Adams)
06 Hey Bo Diddley (Bo Diddley)
07 It Takes A Lot To Laugh, It Takes A Train To Cry (Bob Dylan)
08 A Hard Rain's Gonna Fall (Bob Dylan)
09 Wild Horses (Rolling Stones)
10 Slippin' Into Christmas (Leon Russell)
11 Money Honey (Drifters/Elvis Presley)
12 Chug-A-Lug (Roger Miller)
13 Roll Over Beethoven (Chuck Berry) > Good Golly Miss Molly (Little Richard) > Roll Over Beethoven (Chuck Berry)
The Players: Doug Sahm, Leon Russell, Jerry Garcia, Mary Egan, Benny Thurman, Phil Lesh, Jerry Barnett