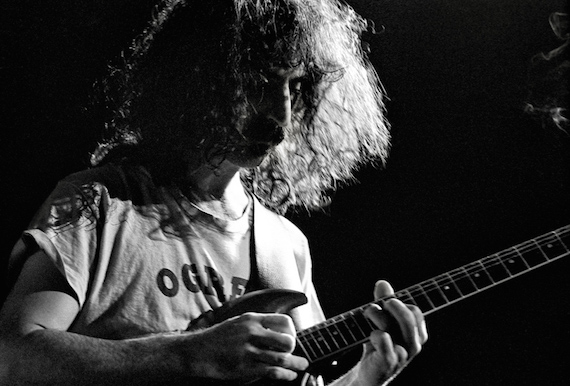 In Frank Zappa lore, 1972 is often shortchanged. The year before he toured with Flo and Eddie, witnessed a venue in Montreux burn to the ground during a gig, and closed out the year by being pushed off a London stage. In 1973 he enlisted George Duke, Napoleon Murphy Brock and Ruth Underwood to record his highest-grossing album, toured the world and shot a concert film at LA's Roxy nightclub.
But what of 1972 itself? It was a typically busy for Zappa: he released two records and worked on a few more, toured across Europe and North America with two different bands and recorded three live albums. But for decades most of this work remained commercially unknown. Aside from a handful of bootlegs there was scarce documentation of these live shows, just chatter about how they were unlike anything he'd done before — or would do after. Horn-drenched arrangements, long blues-based jams…songs he'd debut on this tour, never to play again.
Though in recent years that has changed. About a decade ago the Zappa Family Trust released Imaginary Diseases, a snapshot of this so-called Petit Wazoo Orchestra. And now, earlier this month, UME and the ZFT issued Little Dots, something of a sequel to Diseases. Like its predecessor, the material on Dots is culled from several dates throughout the tour focusing on loose, bluesy jams which is something this group did a lot and did well. With a horn section including Bruce Fowler and Malcolm McNab and a rhythm section featuring Jim Gordon and Dave Parlato, the group goes off in all directions. "Rollo," for example, begins as an orchestrated march morphing into a loose, funky groove.
But the set's real treat is when the ten-piece band stretches out on Zappa's open-ended compositions. The first half of "Little Dots" opens with an orchestrated section before everything drops away for an extended bass and drum jam, with Zappa moving in for a lengthy guitar solo. While his playing on this may not be at the same level as it would get later in the decade, it's more adventurous than anything he committed to a studio record around this time.
Another indispensable treat is an early version of a later Zappa staple: "Cosmik Debris." Over the years Zappa's lyricism would take a sharper, more cynical bent, but in 1972 he was still a little more irreverent and funny; here, his song about mysticism and paying-for-enlightenment lacks the jaded cynicism of his later material. Armed with a horn section the song is given a boost his later bands couldn't provide. It winds into a tasty solo, too.
It's this attitude that really stands out in regard to this period of Zappa's music. Later, his tightly rehearsed bands would play his more cynical-angled songs, often with the only variations coming in via Zappa's regular guitar solos. But on Little Dots Zappa generally lets his crack band do the talking: extended group improvisations, trumpet and slide guitar solos, songs like "Rollo" or "Little Dots", these were all a thing of the past by the end of his next tour, replaced by songs about yellow snow, Richard Nixon and penguins in bondage.
In short, the collection is a welcome glance into a period often overlooked and hits the musical sweet spot right between Hot Rats and Grand Wazoo. Let's hope there's more where this came from. | m milner
For Heads, by heads. Aquarium Drunkard is powered by its patrons. Keep the servers humming and help us continue doing it by pledging your support via our Patreon page.