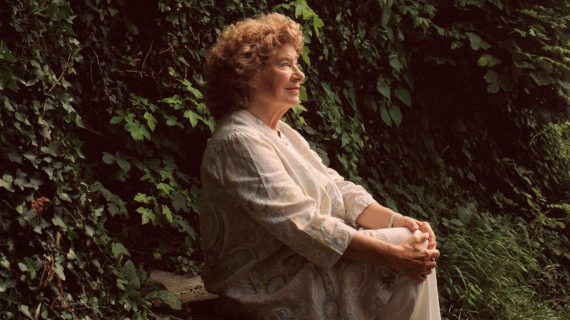 Including Shirley Collins' album Lodestar in our 2016 Year in Review feature, we wrote:
"Returning with her first recording in 38 years, song collector, treasurer, and interpreter Shirley Collins unites ancient English folk ballads to Cajun reveries, presenting even Lodestar's 16th century material resolutely in the present tense. She finds dark humor and pathos in these songs, her voice, regained after years of disuse and sickness, sounding warm and present. Surrounded by fiddle and hurdy-gurdy, Collins presents the traditional as avant-garde and her relationship to these songs goes far beyond singer into the realm of inhabitation."
At 81, Lodestar finds Collins in fine form. It connects to her earliest works — which helped spark the English folk revival — but is rooted in the present. AD spoke with her about putting the record together.
Aquarium Drunkard: Lodestar is a captivating record. You've long struggled with dysphonia but began singing again in 2014, at the behest of David Tibet of Current 93. When and how did it start to feel possible for you that you'd make another record?
Shirley Collins: Well I guess after the gig at Union Chapel, London in February 2014, when David Tibet persuaded me to sing after years away from the live stage. David proposed to make an EP of the two songs ("All the Pretty Little Horses" and "Death and the Lady"). But there were other songs I wanted to sing, and with a bit of encouragement, and an offer from Domino, I went ahead.
AD: How did it feel recording again?
Shirley Collins: Anxious at first, but then I really started to enjoy the process as I was working with such good and understanding musicians. Also, the technology had caught up with me, and we were able to record at home. In a way, it was like making a field recording.
AD: What draws you to a song? There's dark humor and pathos and violence and playfulness in this batch of songs; is there a kind of defining element that you seek out in a song?
Shirley Collins: No, not really. Each songs appeals on its own merit. I'm fascinated by the tradition of English songs as they deal with every emotion. And each one appeals in its own way. First of all it's the story, the words. And then the song is completed by a melody. Since there are so many versions of the songs, it's up to me to find the one I like best.
AD: There's a version of "Death and the Lady" on Lodestar, a song you recorded with your sister Dolly in the 1970s; can you tell me about how your relationship with a song grows over time? How do the songs change for you as you sing them over decades?
Shirley Collins: Bummer of a question! What can I say about a song I think about over decades? You could say, I've always been fascinated by this song, and for Lodestar I had to slightly change the tune, as the way I did it in the 1970s is out of my present range. I had to find a new arrangement, and Ian Kearey and I came up with what you hear on Lodestar. You could say I feel this makes it more relevant for today. It's a fresh look at the song.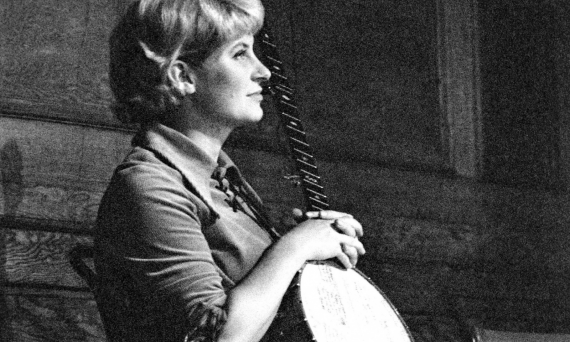 AD: The album features English, American, and Cajun traditional material. You've spent your career exploring these kind of songs. What was your musical upbringing like?
Shirley Collins: Well, from childhood on I heard English traditional songs, some of them sung by my grandparents. Our uncle played us music by Handel and Purcell on a wind-up gramophone. And my sister Dolly and I used to sing at home; songs we learned off the radio, and grand-dad's songs. I was also fascinated by the fact that these British songs were still being sung in the Appalachians and Ozark mountains.
AD: You met Alan Lomax at a party in 1954. You began working with him and some years later went with him to the American south to document the music of the region. What was it like listening to artists like Bessie Jones, Mississippi Fred McDowell?
Shirley Collins: It was a revelation hearing voices like these. Their songs and blues opened my ears to a whole new appreciation of what remarkable music was out there, but still mostly hidden from the public. So I'm proud of my part in helping to bring them to wider attention. Can you imagine your musical life without either Bessie or Fred?
AD: How did that trip inform the music you began make?
Shirley Collins: It taught me how to sing, reinforcing my idea of how songs should be sung, that is straightforwardly and without the singer's ego showing through. So that it's the song that is the thing, the song is what matters.
AD: You wrote a book about that time, America Over the Water. I understand you're writing a second book. What does it cover?
Shirley Collins: Yes, I am. It covers the rest of my life from the 1960s through to the present day. It's also about the landscape I live in – the great chalk hills of the South Downs that rise up from the English Channel, like the iconic White Cliffs of Dover – and the music that comes from that landscape. The book has further memories of growing up in Wartime Southern England. You could say it's an honest account of it all.
AD: Returning to England, you recorded albums like Anthems in Eden, which proved influential to the burgeoning folk/rock movement; what was in the air that inspired younger musicians to begin exploring heritage music?
Shirley Collins: Ask them [Laughs]. Perhaps it was a feeling of independence, away from global music big business, the feeling that the music belonged to them, and a pride in their own culture. If I had any part in collecting songs and putting them into younger musician's awareness, then I'm delighted.
AD: You recorded with members of Fairport Convention, Heron, obviously your husband at the time Ashley Hutchings and Albion Band – and on Lodestar you play with Ian Kearey, Osian Brown, and musicians associated with the avant-garde and industrial music scenes. Do you feel like there are enough musicians exploring the intersection of traditional and modern music?
Shirley Collins: Yes, it's a start, there is so much that musicians of all kinds can learn from traditional music, keeping it relevant. I encourage people to explore what the songs have to offer, whilst staying true to the spirit of the songs themselves. | j woodbury
Aquarium Drunkard is powered by our patrons. Keep the servers humming and help us continue doing it by pledging your support via our Patreon page.