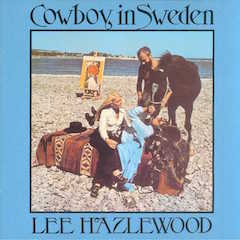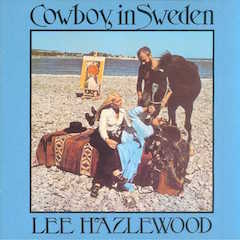 Hey Cowboy. In my experience listeners first encounter the orbit of Lee Hazelwood in one of two ways; either via his work with Nancy Sinatra, or by way of  1970's Cowboy In Sweden – his opus.
Beginning with the release of their 2012 compilation The LHI Years, Light In The Attic Records have been faithfully reissuing Hazlewood's discography and, in turn, reinvigorating his legacy. The latest in the series, a reissue of Cowboy In Sweden, is arguably the most significant release in the series yet.
Alternately recorded in the spring of 1970 in Stockholm, and a house on the island of Gotland (where the album covers for 13 and A House Safe For Tigers were shot), the lp was one of several fruitful collaborations with Swedish filmmaker  Torbjî¶rn Axelman. In terms of atmosphere, Cowboy is both defined and augmented by the dual vocals of Suzi Jane Hokom and Nina Lizell, who collectively offset Hazlewood's baritone, imbuing the collection with an air of levity an grace.
Speaking to Aquarium Drunkard of the records import, label founder Matt Sullivan notes "Cowboy In Sweden is Lee's undeniable masterpiece. It's that moment when he's running from American ladies and the law (praying his son wouldn't be drafted), trying desperately to create a hit after so much success in the 60s, all while trying to keep his struggling label afloat. CBIS ultimately marked the final album released on LHI."
The LITA reissue boasts a pair of bonus tracks, alternate versions of "Easy And Me" and "Pray Them Bars Away". Below, check out both a taste of the former and stream the Axelman/Hazlewood film Cowboy In Sweden — a project lovingly resuscitated via Light In The Attic as part of the deluxe edition of the lp.
Lee Hazlewood :: Easy And Me (Alternate Version)