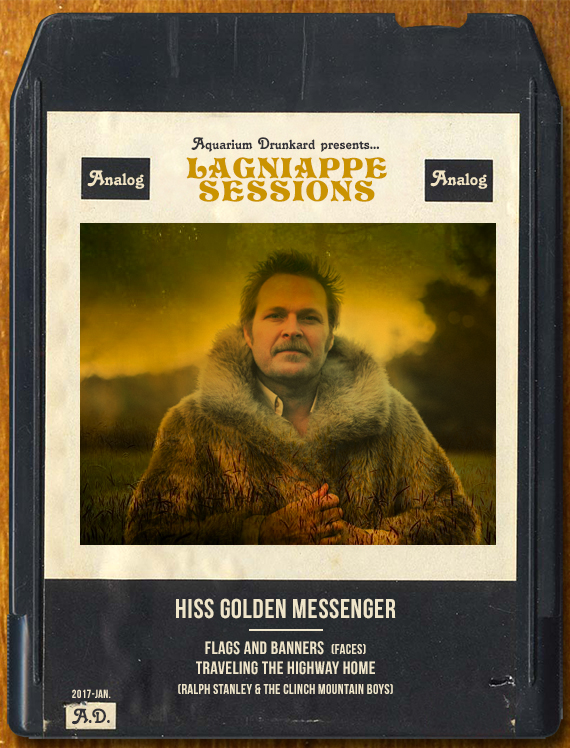 Lagniappe (la ·gniappe) noun 'lan-ˌyap,' — 1. An extra or unexpected gift or benefit. 2. Something given or obtained as a gratuity or bonus.
Over the last couple years, the songs of M.C. Taylor and Hiss Golden Messenger have served as constant companions. On their latest album, Heart Like a Levee (Merge Records), HGM offers up songs about responsibility and love, duty and struggle. Songs for these times (and all times). "You can't choose your blues," Taylor sings, "but you might as well own them."
For this installment of the Lagniappe Sessions Hiss Golden Messenger headed to Fivethirteen Recording in Tempe, Arizona, to lay down the gospel standard "Traveling the Highway Home" and the Faces' "Flags and Banners." Hiss Golden Messenger's M.C. Taylor, in his own words, below.
Hiss Golden Messenger :: Flags and Banners (The Faces)
"Flags and Banners" is a tune co-written by Rod Stewart and Ronnie Lane. It appears on the Faces album Ooh La La, though my favorite version of it appears on a compilation of BBC recordings that Ronnie made with his band Slim Chance after leaving the Faces. If you can find that version, listen to it. Ronnie remains one of my biggest inspirations at a time in my life when I'd be hard pressed to name any other idols. I have very few now. But he did things his own way, in his own style, even if it meant throwing it all away.
Hiss Golden Messenger :: Traveling the Highway Home (traditional)
I learned "Traveling the Highway Home" from Ralph Stanley's Clinch Mountain Gospel album, which is one of my favorite recordings. The song is something of a gospel bluegrass standard– I have a record with Molly O'Day singing a very different version– but the way Ralph does it, with a young Keith Whitley and Ricky Skaggs as members of his band, is special. Though perhaps I'm misinterpreting the lyrics to apply to my own life as someone more or less always on the road, this is often a song I sing to myself on tour. Take one step out of your on front door on a two week run and you're traveling the highway home, for sure.
This installment of the Lagniappe Sessions recorded at Fivethirteen Recording/ mastered by Kim Rosen, Knack Mastering
Lagniappe Sessions Archives / imagery via d norsen
Aquarium Drunkard is powered by our patrons. Keep the servers humming and help us continue doing it by pledging your support via our Patreon page.