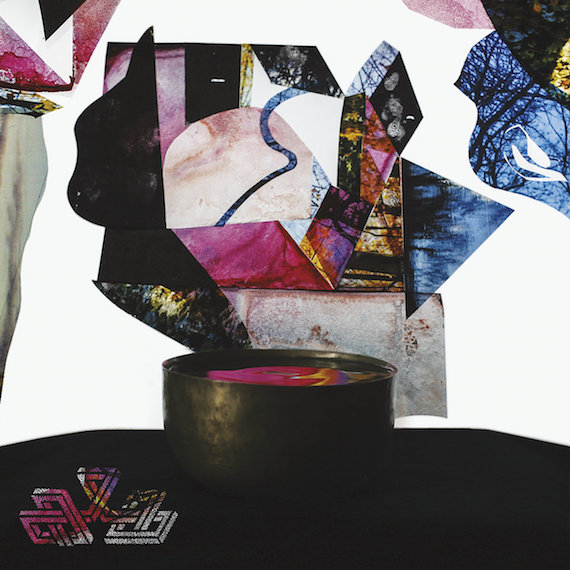 At first glance Mind Over Mirrors and Paradise of Bachelors may seem like an odd fit. After all, this will be the first release from the North Carolina label that doesn't feature a guitar. Jaime Fennelly, the songwriter and mastermind behind the Mirror, prefers to compose his songs on the harmonium. But upon further analysis, Undying Color (Out 2/17), is fueled by the same cosmic drift that underlies the core ethos of Paradise's philosophy. This is an album that celebrates the questions rather than yearns for answers. We recently spoke with Fennelly about solitary lifestyles, the brutal Chicago winter, and expanding Mind Over Mirrors into a full band.

Aquarium Drunkard: Are you in Chicago right now?
Jaime Fennelly: Yep. I'm just getting ready to accompany Daniel Bachman for a couple of shows. Hopefully playing on a couple of tunes with him, too.
AD: He's awesome.
Jaime Fennelly: Yeah, he's a good buddy. He's picking me up and we're heading to Milwaukee tomorrow.
AD: How did your relationship with Paradise of Bachelors come about? You two seem like an odd fit.
Jaime Fennelly: [Laughs] There are actually no guitars on this album at all! I met Chris Smith (label co-founder, along with Brendan Greaves) a long time ago in Philly when he was playing in Espers and I was playing in PeeeSsEye in New York. We played in Fishtown in Philly. I met Chris in the early 2000s. And then after that, I started hearing about Paradise of Bachelors from Steve Gunn and Chris Forsyth–who I played with in PeeeSsEye. I was aware that they were putting out their [Gunn and Forsyth] records and other records, and I was really into the way they would contextualize the music. Brendan's essays for the albums–just the way he created a framework for the music–I found really interesting. He doesn't use flowery language the way some labels do, he really talks about music from a more historical, mythological place.
That really resonated with me. When I did the first record with Immune, When The Rest Are Up At Four, I had asked Eric from Immune if we could approach Brendan to write the notes for that album. That's probably the first time I had any communication with Brendan. We sent him the album and he was really into it. He sent us back this essay that I was really blown away by. We did a similar thing with the next immune record, The Voice Calling. When I started touring that record on the East Coast, I saw Chris in Philly and Brendan in Durham. We just started talking about the idea of working together. I started working on this Mind Over Mirrors project, and I was trying to think how I could expand the project further–beyond doing the dual work with Haley [Fohr]. When ideas started brewing, I mentioned it to Brendan and Chris, and they were really interested in the ensemble expanding. So we went for it. I worked on that record for a year pretty much on my own before bringing in the rest of the group in the final months.
AD: You wrote the first parts of this album in a Wisconsin cabin. What drew you to that spot?
Jaime Fennelly: First of all, just getting out of Chicago, especially in the winter…Winter in Chicago can be pretty brutal, but winter in a rural area can be really beautiful. So there was definitely that desire of wanting to create some sort of environmental space for myself to work on music and have less distractions. I have some friends that own 80 acres and a farmhouse with a guest cabin in the Driftless region about an hour and a half west of Madison. I've been going there once or twice a year since I moved to Chicago. Before I moved to Chicago I had lived in Seattle for a short period of time, and right before that I lived on this small, five square mile island in the Pacific Northwest. That was when I started envisioning Mind Over Mirrors as a solo project. I think putting myself into some rural settings with less distractions and environmental, natural points of inspiration and resonance was important. Now that I live in a city, those inspirational points for Mind Over Mirrors have maintained, but my life looks vastly different than it did at that time. It's nice to still be able to lock into that experience for a concentrated period of time.
AD: Speaking of the nature of the album…I think Brendan probably wrote the essay for this new record, but it includes a John Muir quote ["The snow is melting into music."]. What role does nature play in your songwriting?
Jaime Fennelly: Yeah, when Brendan showed me the essay and that John Muir quote was included at the beginning I was quite astounded. I felt like it made a lot of sense, the transformation aspect of the wording and what it's describing. A lot of it has to do with cycles and patterns that exist in the environment and are very first nature or second nature to the human experience. It's obviously something people are ignoring on a daily level–including myself at times–but it's important to notice.
I grew up near a beach and on the water fishing and clamming, but also living 30-40 minutes from New York City. Having this combination of the urban and natural environments was important for me. When I moved to the northwest and immersed myself in a radically different experience, there was something that clicked for me in terms of appreciation and lifestyle. Various musics, too–musics that are connected to more rural experiences. Folk music, certainly from the United States, but also from around the world.
AD: How did you end up in Chicago?
Jaime Fennelly: Having lived on a remote island for three years after growing up in New York and having that in my blood, I started to get that itch again–to play shows and make records; to do things beyond living off the land in a fairly difficult way. Seattle was a stepping stone to that, but unless you're an IT person or a corporate person, it's pretty hard to make a living in Seattle. The cost of living is quite high. My partner has a long standing history of living in Chicago, and I also knew I wasn't going to move back to New York. When I was living there, I was getting pushed further and further out and it became wildly expensive to live there as an artist. So Chicago felt like a really good balance city that is a drive to the east coast and has a lot of musical history and quite a bit of musical action going on it currently–which I wasn't even aware of when I moved here.
AD: Now you're pretty well involved with many of the musicians playing in Chicago. How long did it take you to find your footing amongst that community?
Jaime Fennelly: I'd say three or four years. I think it takes a longer time as you get older to…I don't know, I guess it's a blanket statement. But I'm in my mid-30s. I felt like when I was in my early 20s it was really easy to just acclimate into some new experience. As I've gotten older, I know more about what types of experiences I like to be in, and what types of people I enjoy. A lot of it when I first moved to Chicago was trying to sort shit out, like housing, how to make a living, and what venues were fun to play at. Now it feels like I'm pretty ingrained in Chicago.
AD: What instrument did you write the new album on?
Jaime Fennelly: My setup for this album is an Indian Harmonium and two Oberheim SEM synthesizers and a two-voice synthesizer. I was using the synthesizers quite a bit while writing the record, but I flip-flopped between being intentional about all my parts being straight-up synths. I worked hard on powering up the harmonium and not just turning on my synths and trying to figure out patches. I feel like I've made a few records as Mind Over Mirrors where the synth has taken a predominate role. The record I did with the Hands in the Dark label, Check Your Swing, features a lot of darker synth music, which I like quite a bit, but I was trying to focus on the harmonium with intention.
The four SEM's strangely act as a counterpoint to the harmonium, though. The harmonium has four sets of reeds for each key, so you play one note with a really rich, harmonic sound as the four brass reeds vibrate. Having the four modified Oberheims was really interesting because I could do similar things in tuning that seemed quite similar to what the harmonium was doing, but electronic. I was trying to see how the two instruments could meet in the middle.
AD: When you were writing these songs did you know that you were going to get contributions and collaborate with other musicians?
Jaime Fennelly: On this particular record, I had the idea that it would be this particular group–Jim [Becker], Jon [Mueller], Haley [Fohr], and Janet [Beveridge] because I had already reached out to them about working together in some capacity. I was thinking, 'Oh, it would be really cool to have a second vocalist around Haley.' Janet seemed like a really selection. She was into it. Jim and I had played together before, and I knew he had a diverse range of musical interests. Jon had invited me to work on a project with him a year before I went up to Wisconsin. So we all had talked a lot about playing together. I wasn't quite sure how the music was going to come together, but when I was working on the music, I was aware that I was creating skeletal structures and not occupy every sonic space available.
AD: I want to talk a bit about repetition. Your music has a philosophical bent to it and I can't help but tie in the title, Undying Color, with the circularity and repetition of the album. How do you think the two are connected?
Jaime Fennelly: I was thinking about the title for quite some time and I was really into this idea of how fabric is dyed and part of a process that eventually becomes clothing. I thought about the reverse of that; the process of pulling the dye out of fabric. Around that time I was present for the final days of my uncle's life and I was there when he died. It was really intense and sad. It was a profound experience I had never had before and so that was completely present in my day to day existence. I started thinking about dying and life and the cyclical creation of life and taking it away; the natural process of it. I also thought about how these occurrences happen in objects or in the abstract as well, just trying to think about it from a poetic standpoint, with color having a vastly wide spectrum that can be symbolic of many different things. I'm talking fairly abstractly, but it's an abstract idea.
AD: This album was conceived and written–for the most part–over a year ago. What's it like to have the album re-emerge after it has been finished for such a long time?
Jaime Fennelly: The positive thing is that the band on the record have been playing together as a live band. So it still feels relevant to me and that's actually been a really cool challenge, trying to figure out how to play my parts in these pieces. I tried to keep both feet in the recording process and not be overly concerned with taking notes about how to recreate it, but then I would try to put my third foot in the third space of, 'Oh yeah. I might want to recreate this.' So putting my head in the space of reconfiguring these pieces as well was important. Jon did three different drum overdubs on some pieces, which is impossible live. But one of the awesome things about Janet is that she's a phenomenal drummer as well as a vocalist, so she's now playing along with Jon even though she didn't play drums on the record. It's such a completely different experience, especially in the live context of previous Mind Over Mirrors shows where it's me setting up on the floor in front of the PA with the audience around me in a big circle. Now it's a full band with two drummers and a fiddle and a concert bass drum. The whole shape of the band has really changed. I think the fact that we're playing the material now is keeping the album relevant for myself. words / will Schube