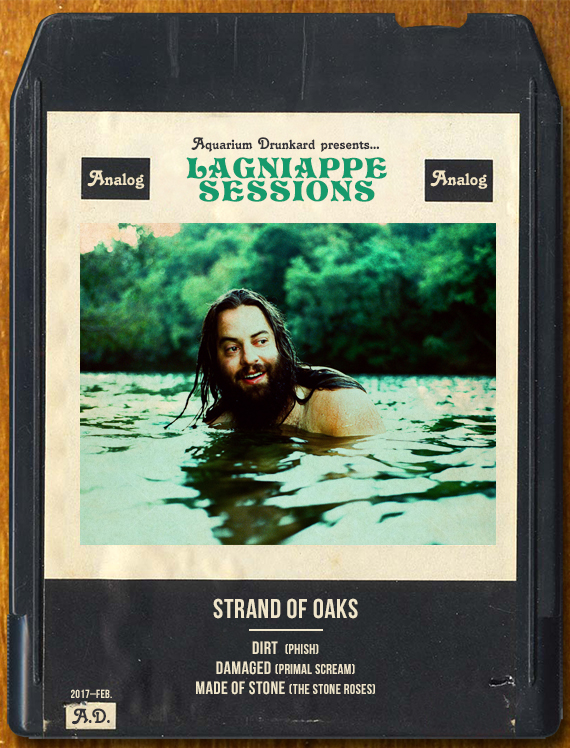 Lagniappe (la ·gniappe) noun 'lan-ˌyap,' — 1. An extra or unexpected gift or benefit. 2. Something given or obtained as a gratuity or bonus.
Beginning in 2011, one of the first Lagniappe Sessions commissioned was Timothy Showalter's (then nascent) Strand of Oaks with a pair of disparate covers (Michael Hurley and Moby). True to form, Showalter returns with his second session paying tribute to Glasgow's Primal Scream and Manchester's Stone Roses…along with a recent discovery of his own, the music of Phish. Showalter, in his own words, below.
Strand of Oaks :: Dirt (Phish)
I might be the newest Phish fan in the world. I was never exposed to them until this summer. My manager asked me to go to both nights Phish played at Wrigley. Of course! So in anticipation of the show I started listening to a lot of their music and quickly fell in love. Those two nights at Wrigley we're some of the most genuinely fun times I've had in a long time. Just getting to spend time with my manager Ryan, not in any work capacity, us just having fun. And if anyone ever has doubts about Phish, please just go to a concert. Being basically hugged by 30,000 people is hard to combat against. I needed those fans and needed those four wonderful musicians that night. I chose "Dirt" simply because it basically has the same chord structure of an Oaks song (which is good because I don't know that many). Its also just a beautiful melody.
Strand of Oaks :: Damaged (Primal Scream)
Screamadelica is easily one of my top five records ever. I dare you to find another record that creates its own utopia more. I've listened thousand of times and it's one my beacons of inspiration. I wanted to do "Damaged" because the lyrics speak so much to how I love my wife. "Stoned in love with you", – yup, I could never say it better. Bobby Gillespie's range is really underrated too. I had to stretch to hit some of those notes. I also refused to touch the guitar solo, no way. That is one of the prettiest, perfect selection of notes I've ever heard. Pure ecstasy.
Strand of Oaks :: Made of Stone (The Stone Roses)
This song has lifted me from darkness ever since I was a teenager. When I decided to cover it, I started to do a pretty literal translation of the song. It obviously wasn't working because those four humans cannot be replicated EVER. Then I picked up my acoustic guitar and added a shit ton of woozy chorus and delay and the song started working. But so different, it quickly become terrible touching and bittersweet. "Sometimes I fantasize…" took on a whole new meaning, thinking about these dark, dark times we are living in. Knowing how much hope and beauty the Madchester scene represented made me long for that in my own life and the world I live in. I want that light to be in all of our lives. Whether through friends, good chemicals, and general love for another, I just want that so, so bad right now.
I recorded these songs in the midst of doing a lot of press for my new record, and having a general sense of anxiety how it will be received. So getting to completely blow off emails, texts, and phone calls, in order to get these songs done before tour was a total gift. I've spent hundreds of hours at my little desk and broken midi keyboard demoing and writing. I still don't know how to make shit sound "normal" but I actually embraced that even more with these three songs. It's weird the only time I'm ever thrilled with my vocals is at my house with my 50 dollar microphone (that's also broken, I think). It's a sensitive mic so typically you can hear my cats fighting in the background or my wife walking around. I love being reminded of that. I have no idea how to properly mix and can barely get the right levels, but those human elements that happen when your home surrounded by people and things you love are what I cherish most.
I hope everyone enjoys listening to these as much as I had making them. Music made for no other reason than to make music. That's heaven for me. Peace – Tim
Previously: The Lagniappe Sessions :: Strand Of Oaks / Michael Hurley, Moby
Lagniappe Sessions Archives / imagery via d norsen