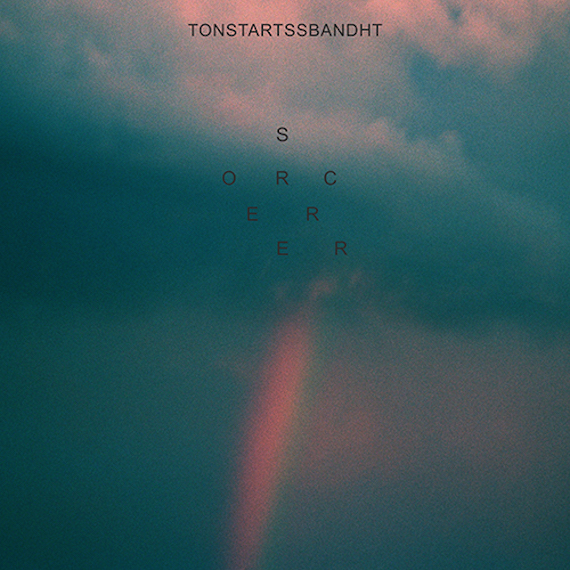 Tonstartssbandht, the Orlando-based duo of brothers Andy and Edwin White, return with a new studio lp, Sorcerer, due next month via the ever-evolving Mexican Summer label. Having cultivated a strong following for their mind-blowing and energetically boundless live shows, the brothers have long been sculpting their own blend of spaced-out krautrock and improvisational psych, perhaps most evocative of former San Francisco stalwarts Thee Oh Sees.
But where John Dwyer's vehicle has evolved into a fiercer psychedelic rock form, Tonstartssbandht takes its time, (see the album's three song track-list, it's shortest number clocking in at nine-and-a-half minutes), allowing them a sonic spaciousness that enters an orbit of jammy neo-psych-folk, cloud-bound vocal harmonies, and spacey ambient soundscapes. The brothers White are dynamic and invigorated, slowly building their way to chaotic climaxes of pure art rock energy, unadorned and bursting at the seams. Again, to witness it live is to see it flower it in its fullest form. Below, check out the title track, the first taste of what will surely be an engine to elevate these psych pioneers to their next logical step — expanding further into the cosmos and into the ears of the adventurous. A spiritual experience, if you want it.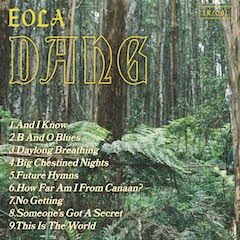 And speaking of spiritual, major high five to brother-in-arms Alex Spoto (who, in a discussion of Tonstartssbandht, once perfectly described their music as "kraut-duo fantasias") for the tip on Eola, the self-described "a capella DIY gospel" solo outfit of Edwin White. The spectacular lp, Dang, was quietly given life by Leaving Records last September (the same pioneering label that recently brought us Josiah Steinbrick's brilliant BANANA lp). Futuristic psychedelic hymns abound on Dang, a record of truly progressive spiritual music. White's echo loops and pedal effects create a vessel of space-age / swamp-drone / chamber gospel, that, far from straying into the sacrilegious, embraces an avant-garde approach to the sacred — channeling wide-ranging influences as eclectic as 50s barbershop quartets, old blues spirituals, the psychedelic playhouse harmonies of Pet Sounds and Smile era Beach Boys (see the undeniably catchy "Someone's Got a Secret"), and even the long-lost Brooklyn quartet Suckers (whose vocal-focused breed of indie pop feels closest to some contemporary kindred spirit). Have a listen to "How Far am I from Canaan?" — an old-world spiritual that White transforms from its Sam Cooke & the Soul Stirrers gospel stomp and even rawer origins, warping it into something which transcends the song's biblical holy land roots and merges it with the new cosmic frontier. words / c depasquale
Eola :: How Far Am I From Canaan
Elsewhere: Tonstartssbandht recently drafted a Spotify playlist and, unsurprisingly, their fascinating taste runs the spectrum from Washington Phillips, Italian folk music, Congolese rumba, The Velvet Underground, 60s bubblegum soul, LA outsider psych outfit Drugdealer, The Supremes, 80s English melancholia, zydeco, and beyond. A heady brew from some heady bros. Dig in.