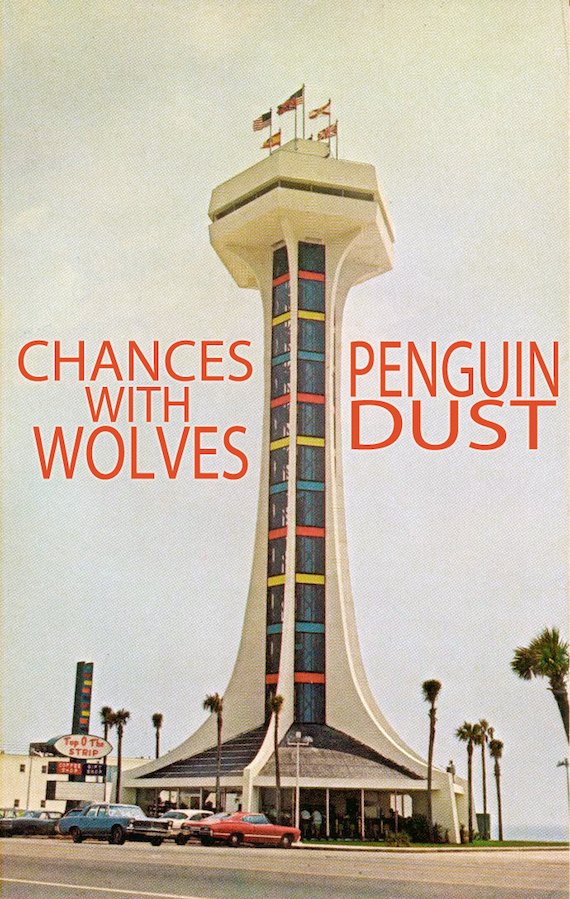 Our guest mixtape series returns with the fourth offering via our east coast compatriots, NYC's Chances With Wolves: Penguin Dust – A Mixtape. As always, it's a heady/essential brew.
Records are magic. Some of them cast different sorts of spells from others but all of them contain some amount of encapsulated air from the rooms they were recorded in. They become little vessels for cultural information. Penguin dust. We wanted a place to put some of these magic vessels on display — a place they could live and be popped open like corked bottles so their stored atmospheric magic dust could breathe again.
Intro
High Tech – Serious Bizness
Cleo is Back – The Exciters
Lan Me Bougonne – Pierre X
Slacking Off – The Nassauvians
Hippy Heaven – Earl Coleman and the Latin Love In
Yo No Soy Hippie – Arty Valdes
The Way Out – United Methodist Parish in Bushwick
Songs of Deliverance (PT. 1) – Roy Hytower and the "Crowd Pleasers"
I Ain't Never Seen a White Man – Wolfman Jack
Do Your Thing – Glen Adams
House of Lords (Joe, Beat the Drum) – Isidro (Chico) Misquez and His House of Lords Orchestra
Mr. Thunder – Mod Singers
Fried Rice – Jo Barbara
Runaway – Cecilio "Ces" Wilmot
I'll Never Let You Go – Carl Walden
Girls I'm Here – The Bennetts
Killing Me Softly – The Bermuda Strollers
Nasty Sex – La Revolucion De Emiliano Zapata
Man Was Born To Share The Pains Tony Grey & The Black Kings
Previously: AD Presents: Chances With Wolves 3: High Places / A Mixtape
Pssst…Aquarium Drunkard has launched a Patreon page, which allows readers and listeners to directly support our online magazine as it expands its scope while receiving access to our secret stash, including bonus audio, exclusive podcasts, printed ephemera, and vinyl records. Your support will help keep an independent cultural resource alive and healthy in 2019 and beyond.