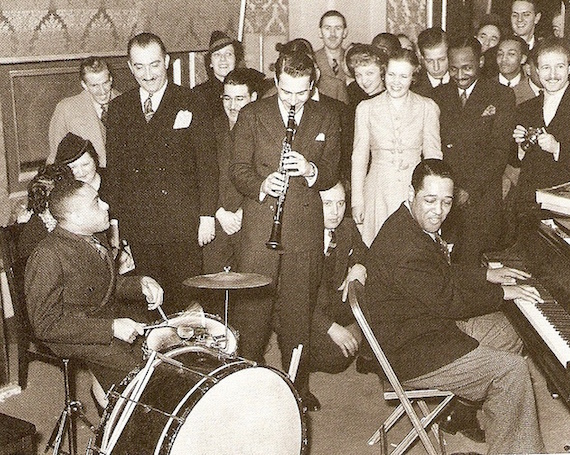 Helen Oakley Dance was a pioneering record collector, jazz writer, producer and promoter. During the 1930s, she promoted the first jazz "concert", where pop music was first played to listen to rather than as a reason to dance, and the first multiracial jazz band. For her, promoting black musicians was a way of promoting civil rights. In an age of Beyoncé and the Grammys, of Black Lives Matter, of Kanye and Trump, her story, of music and equality, of Jim Crow and the rise of fascism, deserves to be more widely known.
By the time she spoke to Mark Tucker from the Yale Oral History of American Music project, Helen Oakley Dance's memory was not as sharp as it once was, and she sometimes stumbled over her words. It was 1987, and she couldn't remember exactly which song Duke Ellington had been playing when she cried, standing at the side of the stage, one evening in the 1930s. She began to talk about the musicians she had known back in Chicago, and became a little lost: "I used to write about Jess when he was playing in the cellar, and playing… getting off at eight a.m. in the morning, and nobody knew about him. And, also, there was a… the Chicago Rhythm Kings, or… My memory is poor, Mark."
"It's the thing when you don't refer back to these same sets of things," she said, "the names that you know very well escape you." She called over to her husband, Stanley, whom she called Stanny. "We might need Stanny for some dates and some names, because…" Stanley, like Helen, was a respected jazz writer, particularly about Ellington. He'd first become well known in his native England, and had delivered the eulogy at Ellington's funeral, but he deferred to Helen as the true pioneer, as a writer, producer, promoter, record collector, and civil rights activist: she "was there first", he said, if people asked.

The couple lived in "a sleepy community," Francis, their second son, remembered, and their house on Bittersweet Hill, in Vista, California, had hazy views over the valley below. They had retired here from Connecticut, to be closer to their youngest daughter, and two of their three grandchildren. An hour or so up the coast, the ship on which Stanley had first sailed to America was now a floating hotel, on the National Register of Historic Places.
When she died, in 2001, Helen's obituaries retold her long life, and the Jazz Journalists Association named an award in her honor. Nevertheless, according to Nate Chinen, the award's most recent recipient, a "shroud of obscurity" still hangs over her work. Her greatest achievements, important as they are, have lingered in the jazz histories or the more adventurous pop music books, but often uncredited, or assigned to someone else. At best, she became a minor character in other people's stories.
The most famous of her achievements came when she was twenty three, on Easter Sunday 1936, in the Joseph Urban Room of the Congress Hotel, Chicago. The room was named for its designer, who had worked for the Chicago World's Fair, and the Metropolitan Opera, and on interiors at Mar-a-Lago. It was a grand, society venue; three years earlier, the Democratic Convention had been held at the Congress, as Franklin Roosevelt accepted the Presidential nomination. Seven other presidents had previously visited. In 2007, while campaigning, Barack Obama spoke to striking union workers outside.
That Easter Sunday, Teddy Wilson, the son of a Tuskegee professor and a librarian, played piano in the Urban Room. He was just a few months older than Helen and, according to the notices in the press, he was "colored". He played with two others, both sons of Eastern European immigrants: Benny Goodman, a Jewish clarinettist who had grown up a couple of miles from the hotel, and Gene Krupa, whose Polish Catholic parents were from the city's South Side. Goodman's full orchestra had first played at the Congress six months earlier — "his hot rhythm is exceedingly popular with collegians and high school youngsters", the Chicago Tribune observed — but this makeshift trio was different. Although they had already recorded together, this was their first public performance, the first major multiracial group in America.
This was, according to Helen in Sally Placksin's Jazzwomen, "the first time that black and white had been presented together that way publicly." She had paid for Wilson's train ticket from New York, and persuaded Goodman that he should be featured during an intermission of his band's show. "Racial integration was not a personal cause with Benny," she told Goodman's biographer, Ross Firestone. "Not that Benny was against it. He just couldn't envision what might be… He was afraid that if he and Teddy played together in public, it might not be found acceptable." In the year that she died, in Ken Burns' "Jazz" documentary, stuttering a little, she remembered Goodman telling her that "I'm not going to wreck everything, to present a black talent in the middle of everything…". "And of course," she told Tucker, "it went over tremendously right from the beginning… And it was reported in Time. Life, no Time, I think."
Both the full Goodman band and the trio were hosted by the Chicago Rhythm Club, the first significant group of jazz record collectors in America, which Helen had founded. The full band shows were the first time that jazz had been presented as a "concert" in America, rather than a reason to dance. Down Beat reported that dancing couples were "instantly booed" by those who "preferred to listen and watch". For the first time, Goodman's band was billed specifically as "swing", "as if it was something in a foreign language," he remembered. This was an important moment in pop history; in "How The Beatles Destroyed Rock'n'Roll", Elijah Wald, without mentioning Helen, suggested that "unadulterated dance music, without novelty specialties, catchy choreography, or symphonic pretensions was for the first time being treated as a serious concert style".
The significance of the trio's performance was greater still. Praising the sight of "a colored boy of great talent… playing to generous applause night after night on the sole basis of his merit as a musician", Down Beat observed that "in a world sick with carbuncles of hate, ravished with fevers of race discrimination and nauseated by dictatorships based on persecution and disciplinary rule of the masses by force, it is refreshing as all hell to witness an example of fine sportsmanship in any line of endeavour." The New Republic noted that the group was "a collective thing, the most beautiful example of men working together to be seen in public today". In 1937, in the film Hollywood Hotel, the trio, plus vibraphonist Lionel Hampton, starred in one of the first integrated scenes in American cinema. (Ronald Reagan also had a small, uncredited part.) Writing the following year, Helen noted that "colored attractions are now definitely in demand throughout the entire country, and they have become an unmistakeable box office draw with which to be reckoned."
Organising the trio's performance was a specific, pointed protest. When Wilson played with Goodman, black musicians in Chicago were forbidden from joining the musicians' union and, with the majority of the city's housing still segregated, it would have been illegal for both to live in most Chicago buildings. Even at the Congress, according to bassist Milt Hinton, speaking to Storyville magazine, bands were "confronted with a lot of racial prejudice". He remembered playing at the 1933 Democratic Convention, and being made to enter and leave by the back entrance, prohibited from eating at the hotel. In his autobiography, Wilson recalled having to stay in separate hotels to the rest of Goodman's band. He had hoped, he wrote, to combat "the picture of the Negro in the white world as a clown, a buffoon, an illiterate happy person who jammed all day".
For Helen and her rich, white, well-connected friends, as well as being a fashionable diversion, promoting black music was inherently political. John Hammond, the leading producer and jazz writer of the time, wrote that "to bring recognition of the Negro's supremacy in jazz was the most effective and constructive form of social protest I could think of." After moving to New York, Helen promoted a series of ground-breaking concerts, often with Hammond: the "From Spirituals to Swing" concert, which did so much to popularise the country blues; Goodman's 1938 Carnegie Hall concert; the battles of the bands at the Savoy, the first integrated dancefloor in America. According to Hammond, these events were "an opportunity for a large number of influential Northerners — both black and white — to see and hear authentic black music as it sounded at its point of origin", which "might prompt the audience to consider how much Americans of all colors had in common". "Thousands of people turned out," Helen told Placksin, "they had mounted policemen all over the pavements".
As well as her promotional work, Helen also ran the Variety label, and produced recording sessions, as one of the first female label bosses and producers. "I hired the guys and told them what I wanted them to play, and stood in the control room, and decided whether it was happening or not," she told Tucker. "I knew who I thought should take the, you know… who should be featured. I mean, I've always been that way. I always… as far as possible I used to throw my weight around, to try to get the people that should be featured, featured, because very often they weren't."
While Helen was living in New York, during the war, her brother, Rupert, was killed. She soon volunteered for the US Women's Army Corps, and was assigned to the Office for Strategic Services, the forerunner to the CIA. According to her son Francis, while she was stationed in Algiers and Livorno, she "assisted in the disposition of US undercover operatives and radio technicians being sent to occupied countries" and trained "renegade German soldiers… as spies." Most of her peers — writers, producers and collectors who became more well-known than Helen — never enlisted.
After the war, Helen returned to New York, and married Stanley in January 1947. He was deaf in one ear, so hadn't fought in the war, but had volunteered for the Royal Observer Corps, spotting German bombers over England. He had been close friends with Rupert, when he was stationed in London. He had known Helen's sister Cynthia too, and his mother was convinced that he would marry her. It was "very hard to decide", Stanley told Tucker.
"The subject came up about Stanley collecting me," Helen remembered, laughing, forty years later, "… and somebody else had wanted to collect me over there, and… in England… and so I wrote Stanley and I said, 'You wouldn't like to come over here and collect me, would you?' And Stanley said he thought it mightn't be a bad idea. And so, this is what we did. He came over and we decided, 'Alright, we'll get married'."
The couple had first met a decade earlier, at a jam session in New York which Helen had produced, but they had been aware of each other for even longer. Without meeting, they had both been at the same Duke Ellington concert in 1933, in London, while Helen was on a family vacation. It was here she first saw jazz presented in a concert setting, for ardent record collectors, and read the British music press, ideas she stored away until her time in Chicago. Both had also written for the French magazine Jazz Hot in the thirties, and Helen had been billed as the top contributor in advertisements, even above John Hammond. Stanley, who hadn't been billed at all, wrote his first book in 1945, a thin pamphlet which praised Helen's early writing for Down Beat. Eventually, they began to write letters to each other.
When they married, Helen moved to England, and the couple lived in a fifteenth century house owned by the Stanley's family. Helen's musical work slowed, even as jazz grew to respectability. Ellington stayed with them when he toured Europe and, together, they met the Queen. In 1959, when the youngest of the four Dance children was six months old, they moved back to America, to a property owned by Helen's father, in Rowayton, Connecticut. During the sixties, in what spare time she had, she became a civil rights campaigner, working with organisations in the local Catholic diocese, on housing or education.
Helen never regained her pre-war reputation. She was "too busy raising a family to do other work," she told Placksin, although she "usually contributed a chapter here and there to the series of books Stan had begun." "For the record, I was never really career-minded," she said, "my priorities were reversed, because I wasn't that hungry for gold. All my feel was for the music and for the people who played things you wanted to hear".
When they retired to California, even as her memory worsened, she worked on "Stormy Monday", the only book she would publish, a biography of T. Bone Walker. It was issued the same year she spoke to Mark Tucker. In the acknowledgements, she wrote that "my greatest debt… is to my husband. His background knowledge of the subject and uncompromising standards have been a constant source of enlightenment and inspiration."
After Stanley died, in 1999, Helen moved away from Bittersweet Hill, to an assisted living community in Escondido, which specialised in "memory care". They had been married for fifty two years, and had attended state dinners with four presidents. In 2001, "Stormy Monday" was inducted into the Blues Hall of Fame as a "Classic of Blues Literature". Four days later, after suffering a heart attack and breaking her hip on Mother's Day, she "peacefully passed on to her reward in the presence of all her four children", Francis remembered. In her obituary, The Guardian commented on her "lasting contribution to jazz glory", before remarking, in a way that was missing in Stanley's obituaries, that "throughout her life, she maintained her enthusiasm for jazz, in addition to her family duties."
In the house on the hill, that January in 1987, Helen talked at length to Tucker, about Duke Ellington, and her brother's death, and how her sister died in a plane crash with her British husband. She talked about Stanley's "integrity" — "he's the soul of… honesty… of…" — and the "dangerous" wives of Ellington's sidemen, suspicious "because everybody was having a tremendous time on the road". She remembered that the band "weren't welcome at the best hotels, and we were very mad about that." She recalled watching Ellington compose the song that Ella Fitzgerald would sing at his funeral, and how he loved ice cream, and how she pushed herself into the early jazz world. "I knew enough to know that you have to barge in if you're going to get anywhere," she said. "You had to promote yourself. You just talked yourself into jobs, you know."
As she told her stories, she struggled to remember the name of the paper that she had written for in Chicago, and the name of a musician she had known: "gosh my memory is getting bad," she said, "what's the darling trumpet player?" She was concerned that she was being "too long-winded" — "beautiful," Tucker reassured her — and she shouted at the family dog, and answered the door when the bell rang. "I can't imagine why this place feels so cold but it must be because the sun's gone down," she said, and asked Stanley to check if the windows were open. Before the tape ran out, mid-sentence, she worried that she couldn't see the recorder in the last of the fading light. words / j robinson