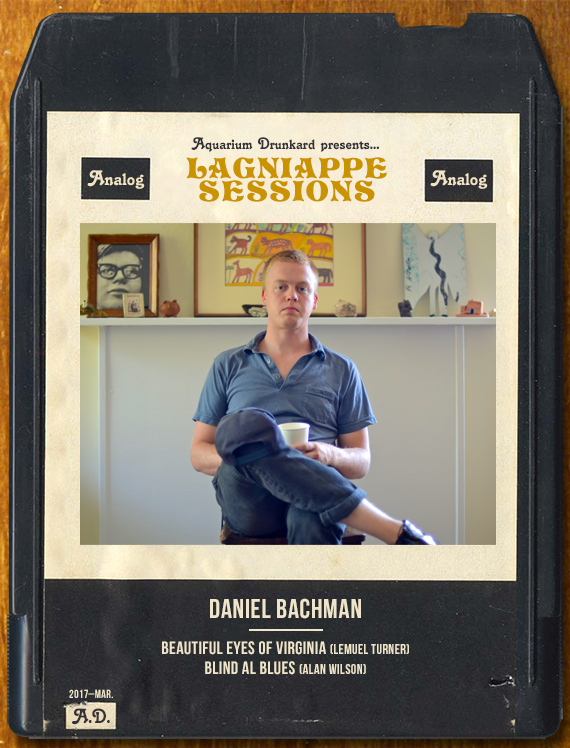 Lagniappe (la ·gniappe) noun 'lan-ˌyap,' — 1. An extra or unexpected gift or benefit. 2. Something given or obtained as a gratuity or bonus.
Guitar journeyman Daniel Bachman returns with his second Lagniappe Session. Fresh off his excellent 2016 self-titled album, Bachman's proved himself one of the most nuanced guitarists in his field. Beyond its technical aspects, Bachman's playing stirs deep feelings, as do the recordings here, of Lemuel Turner's 1928 "Beautiful Eyes of Virginia" and a reconfiguration of Alan Wilson/Canned Heat's "Blind Lemon."
Daniel Bachman :: Beautiful Eyes Of Virginia (Lemuel Turner)
I went to Joe Bussard's house a couple of weeks ago with my sister Sarah and he played this tune because I told him I like that kind of guitar music. Lemuel Turner was a steel guitar player who made four steel guitar solos for Victor Records in 1928 and to my knowledge this one has never been released since. John Troutman recently published new information on Turner and we now know he was from McComb City Mississippi. It's also known that he served in World War I in France. He was severely injured from gassing, early chemical warfare, and spent six years in a San Francisco hospital. It was while Lemuel was here that he learned to play in this style. I think it's a nice and unusual tune.
Daniel Bachman :: Blind Al Blues (Alan Wilson)
I have been trying to get this one tight for about a year now and got a recording of it on my phone recently. "Blind Al Blues" is the name I gave it because I thought the name "Blind Lemon," which Alan Wilson calls it on the recording, doesn't fit the way I'd like it to. And also I'm pretty sure he wrote this song, so why not name it after him? I got really into Alan after reading this great biography written by Rebecca Davis. Alan was born in Boston and grew up in the Arlington Heights neighborhood. He went from trombone to harmonica to the guitar, played with Fred Neil, penned the theory for Fahey's thesis on Patton and was involved in early environmentalism, especially concerning the Redwood forests in Northern California, along with countless other contributions. Alan seems like he was a brilliant and complicated guy. There are two other songs from this same tape and the recordings are on YouTube and some German Canned Heat CD.
Previously: The Lagniappe Sessions :: Daniel Bachman / First Session
Lagniappe Sessions Archives / imagery via d norsen