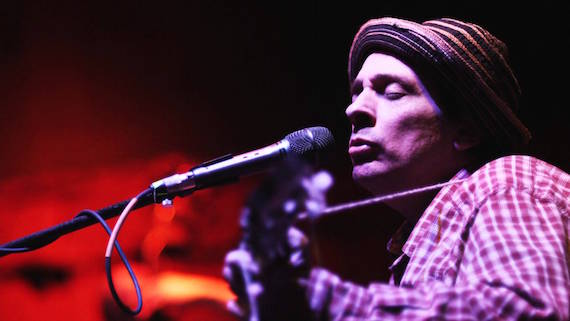 2017 is shaping up to be a great year for fans of Vic Chesnutt as New West Records is slowly re-releasing, in gorgeous expanded color vinyl editions, most of his albums originally released on the now defunct Texas Hotel label. Both Little and Drunk have been already been re-released, with Is The Actor Happy? scheduled for this month. More are scheduled to come through June with an additional as-yet-unnamed title to come in the late part of the year. But Aquarium Drunkard was recently gifted a track, by Elf Power's Andrew Rieger, that won't appear among any of the fantastic bonus tracks.
The moment the soundcheck-recorded song starts, you'll probably recognize the notes. And if you're a fan of Athens music in general, then you also probably recognize the guitar style of the person playing it. In this case, it's a pair of Athens luminaries, Vic Chesnutt and Rieger's band Elf Power, taking a turn at one of R.E.M.'s most well-known songs. It's the one whose video award-winning ways got an acceptance speech hijacked by a becostumed Beastie Boy.
In March of 2009 – a scant nine months before his suicide – Vic Chesnutt took part in a tribute concert to R.E.M. at Carnegie Hall in New York. The list of players that night is astounding, ranging all the way from Patti Smith to Victoria Williams to Calexico to Darius Rucker, but of course Chesnutt's relationship with R.E.M. went back nearly 20 years at that point, having been "discovered" by Michael Stipe, who produced his first two albums. Throwing Muses also played that night, and Kristen Hersh wrote about the concert in her memoirs about her friendship with Chesnutt, the essential read Don't Suck, Don't Die.
Chesnutt was his normal, prickly self that night. He made loud comments about the food backstage. He repeatedly called and hung up on Michael Stipe while R.E.M. was soundchecking. But when it came to the performance:
"You [Chesnutt] looked…like a well-rested hick, like you were wheeling out to the back porch to shell peas or something. Incongruous in Carnegie Hall…You radiated a rumpled focus that nobody could imitate. Except maybe somebody waking up on the widewalk in a good mood and that almost never happens…
Your secret turned out to be that you could play R.E.M. covers and sweep the floor with the rest of us…You? Killed us. 'Everybody Hurts' and in your hands, it rang heartlessly true…But yeah, cuz it's not like you invented any of the other chords you played or the words you zapped with your alchemy to turn them into your lyrics. It was a twisted thing that you brought to the table. Popping open the genie bottle, you twisted someone else's song; kept twisting and twisting until you'd wrung every tear out of it and us."
Hearing Chesnutt sing "Everybody Hurts" this close to his own death is in some ways troubling, but this performance echoes his song "Flirted With You All My Life" from his album from that year, At the Cut. The latter was written from the point of view of someone who'd attempted suicide before; the former is a plea from someone who is watching the person in action. Both reside in places uncomfortably close to his own death.
But while the temptation to be sad that Chesnutt would sing this song and yet seem to ignore its message is there, what expertly borders on maudlin entreaty in the original song becomes something greyer and brighter in the hands of Chesnutt and Elf Power. Much like the aforementioned "Flirted…", this version of "Everybody Hurts" is a document of a moment in time. As the band joins in piece by piece, as the song becomes a righteous cry against the dark, another story within one well-told is unleashed. And on that night, on that stage, in those words and those guitar notes at least, Vic still exists, expressing his feelings, at uneasy peace with his surroundings. As fans, you always wonder what could have been. It's selfish in a lot of ways. But we also get to marvel at the moments that were and are. Despite his death, that is where Vic Chesnutt lives still. words / j neas
Vic Chesnutt :: Everybody Hurts