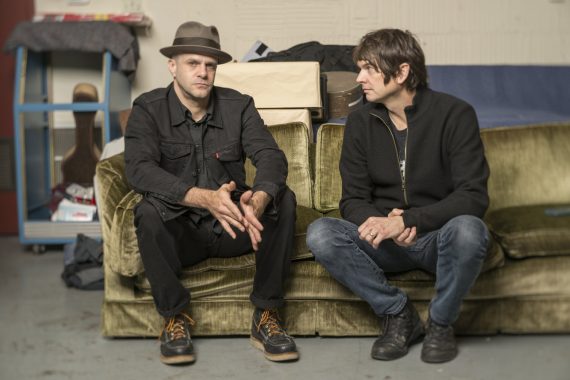 Bassist Darin Gray and percussionist Glenn Kotche first began playing together nearly 20 years ago, when they hunkered down in the studio with "mutual best friend" Jim O'Rourke to record what would become his 1999 album Eureka. Not long after, they formed a duo, On Fillmore, rooted in a shared love of experimentation, free improv, and field recordings, but also, a tangible personal connection that Gray says was apparent immediately.
"It was an instant thing – from the first time we played together," Gray says. "It would be too romantic to say that I knew we were going to play together forever, but like, it was almost like that. It was one of those weird moments that not only musicians have, but just human beings have, where you just know. You know this is right, you know something special is happening. I've learned to appreciate those moments, because there's not that many of them in life."
Both maintain a tight schedule — Kotche as a member of Wilco and a solo composer, Gray as a touring member of Jeff Tweedy's side group Tweedy, among other commitments — but there's a palpable sense of joy when they are able to make recordings together. Last year, they played on guitarist William Tyler's stunning Modern Country, and now, a new On Fillmore LP,  Happiness of Living.  Recorded in  Brazil, the two opened up their sound with a wide cast of collaborators, including Ciara Banfi,  Domenico Lancelotti, Alexandre Kassin, Caetano Veloso's son  Moreno Veloso, vocalist  Gabriela Riley, and Mauro Refosco of Thom Yorke's  Atoms for Peace.
AD caught up with Kotche and Gray individually to discuss the kaleidoscopic, layered sound of the record and discuss why Brazil — and On Fillmore — maintain special places in their hearts. Those conversations, condensed and edited, presented below.
On Fillmore :: Jornada Inteira
Aquarium Drunkard: What space does On Fillmore occupy for you creatively?
Glenn Kotche: It's always scratched an itch I don't really cover in a lot of my other work. It's just been a great partnership with Darin to just follow our whims. It's just very different from my composing or even my solo playing, and especially from Wilco. We push each other to not put up any walls and just have open minds. I don't think On Fillmore feels like anything else I do.
Darin Gray: On Fillmore is definitely not a side project. It's always there. It seems like we take really long gaps between working together, but actually we don't. We've done film scoring, some commercial work. We always have something on the burner we're doing. We've recorded hours of stuff that hasn't been released. It occupies a huge part of my mental space. I consider it one of my main things, if not my main outlet at the moment.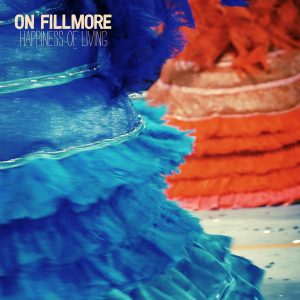 AD: You guys whittled this record down from something like an eight-hour block of recordings made in Rio De Janeiro. How did that process work?
Darin Gray: We went to Brazil and recorded this record with all of our friends. We ended up with eight hours of material, much of which was not songs. It was just feelings and feels and whatnot. We brought them back to Chicago and worked on them with – really, at this point he's the third member of On Fillmore, – our friend Pat Burns.
We basically broke it down into songs, or as close to songs as we make, and we went back into the studio for overdubs: melodies, whatever, little things to make it more coherent. And then we mixed that. So, it was a pretty laborious process.
Glenn Kotche: A lot of that was just letting the tape go and see what happened. We just had fun. We didn't want to exclude anything that might be magical.
AD: What was the mood like recording?
Darin Gray: The mood was joyous. All the way through. There was never a moment, from the begin of recording to mixing and mastering, that wasn't joyous, which I can't say for any other record I've ever been involved with. That doesn't mean that struggle with other records was bad, but this was a joyous process from beginning to end. We knew we'd captured something special down there.
Glenn Kotche: It was completely joyous and jovial; which is probably why the record's called that. It was jut a great hang.
AD: You originally went to Brazil in 2005 to play the Perc Pan Festival in Salvador. Did that experience help shape the direction of On Fillmore?
Glenn Kotche: I think a lot of our music was informed by that experience, especially our live approach. We began to think, "Let's not overthink things, let's have fun." That whole spirit of anything goes, the idea that there's nothing between the audience and us, came from that first trip.
Darin Gray: That's something we gained specifically from going to Brazil, is operating in that manner. Honestly, it saved this group in a lot of ways. We couldn't operate any other way now, because of our touring schedules and work. We have to be able to throw something down that's high level at the drop of the hat. We don't have time to do anything else.
Glenn Kotche: The things we saw in Brazil, the culture, the inclusiveness, that was our expectation upon return. I'm sure if you live there all the time, you don't have the same impression, just like any place. But we're there so little that we can put it up on pedestal. We're such fans of the music from there, it's a magical place to us.
AD: Was there kind of a concept of what you wanted to achieve musically, regarding blending your approach with the musical vocabulary of Brazil, Tropicî¡lia, bossa nova, etc?
Glenn Kotche: Not stylistically at all. I studied all those grooves in college, samba, bossa nova, a lot of Afro-Cuban drumming stuff, but the other drummer on record, Stephane San Juan, he's a French guy. He cut his teeth drumming in the UK and he also lived in Mali, working with Amadou and Mariam. So nothing we played was a traditional samba or bossa nova; it was all a mashup. I don't play in any authentic Afro-Cuban bands or ensembles, I just take the fundamentals of the rhythmic concepts…and make them my own. I just collide them into whatever the situation is. I don't treat them pristinely. There was no attempt to make a Latin or Brazilian record, it was more like we're combining these musical personalities. We're all from all over the place.
Darin Gray: I wanted to keep it open. I didn't at all want to do a specific bossa nova, samba, or forrî³ record. While you can't help but reference those things – it's impossible not to – I knew I just wanted those to be reference points. I feel like we made a very Brazilian record, in that it's not bossa nova, samba, forrî³, any of that – it's a blend of everything. words/j woodbury