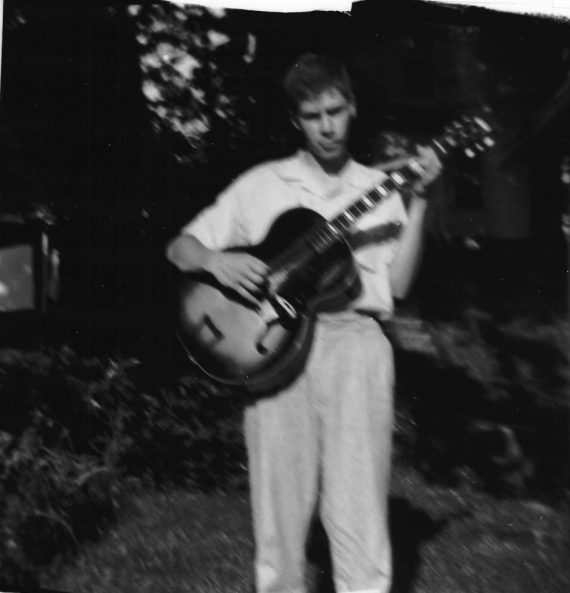 Recently, Josh Rosenthal, proprietor of Tompkins Square and author of Record Store of the Mind, reached out to us with news that acoustic guitarist Suni McGrath had passed. Introduced to many by the Imaginational Anthem, the acoustic guitarist's work is treasured by guitar soli aficionados. Rosenthal, with a remembrance in his own words, below…

__________________________________________________________________________________
I don't know why I'm so surprised when one of my obscure guitar heroes dies without a trace, and I have to find out through vague back-channels some three months after the fact. But guitarist Glenn Jones informed me this week that he heard via an online guitar chat group that Suni McGrath had passed. So I looked online and found this small obituary , like so many millions of others, with no biographical detail. No mentions on any music-related site. Nothing.
Suni was one of the first artists I tracked down when I started my label, and he recorded his first music in decades for Tompkins Square. He wrote me letters over a period of a year or so, with photos, details of his life. I was honored to know him and thrilled to get to record him. I felt compelled to write a proper obituary for Suni McGrath. Farewell to "the old fingerpicker", as he used to sign off in his letters….
Harold J. "Suni" McGrath
July 7, 1943 – Jan 11, 2017
Harold James "Suni" McGrath, an innovative 12-string guitarist whose experimentation with exotic scales, modes and polyrhythms were captured on recordings in the late 60s and early 70's, died January 11 in Richmond, IN. He was 73.
McGrath's distinctive style earned him a reputation among instrumental guitar aficionados alongside his contemporaries John Fahey, Robbie Basho, and Leo Kottke, despite having a small, long out-of-print discography and limited live performing career.
Born July 7, 1943 and raised in Indiana, McGrath grew up in a musical family of Irish and French descent. His grandfather played Celtic music on the flute, he would hear traveling Appalachian fiddlers who came through town, and he listened to a gypsy music program on the radio. In 1960, Suni began hanging around the "Greenwich Village of the Midwest," Antioch College in Yellow Springs, OH, playing at a local spot, The Bakery. He married an Antioch student named Janice, a classmate of fellow guitarists Ian Buchanan and John Hammond.
In December 1961, Suni arrived in Greenwich Village, New York City, playing the club circuit as a 12-string instrumentalist, unusual for the time, commingling with Ramblin' Jack Elliott, Bob Dylan, Dino Valente, and Richie Havens among others, and studying under Rev. Gary Davis and Mississippi John Hurt. In 1962, McGrath played his first formal concert in Detroit arranged by the Detroit Folklore Society, also featuring The New Lost City Ramblers. The following year, he was signed to Piedmont Records as a result of what Suni later described as his "unscheduled, defiant" performance at Newport Folk Festival. The Piedmont album was shelved and remains unreleased.
McGrath signed to Maryland-based Adelphi Records in 1969 which produced three albums: Cornflower Suite (1969), The Call of the Mourning Dove (1971) and Childgrove (1972). Full of odd time signatures and wildly diverse musical cues, the albums feature Japanese, Flamenco, Mississippi blues, gypsy, and Celtic influences. Despite never having been reissued in any format (or perhaps because of it), the albums have taken on a hallowed reputation in guitar circles.
Over the decades, McGrath took odd jobs and continued to play occasionally in church and at restaurants near his home in Indiana. Video of a few such performances exists on YouTube, some accompanied by his mother Harriette, whom he lived with until her passing. In 2005, McGrath contributed a newly recorded track, "Train Z", to Tompkins Square label's first guitar compilation, Imaginational Anthem. He also recorded an album, Seven Stars, and a 7″ single for the label in 2006. words/j rosenthal
Photograph: August 1961, 18 years old, with Harmony guitar. Photo taken by his sister, nine years old at the time.