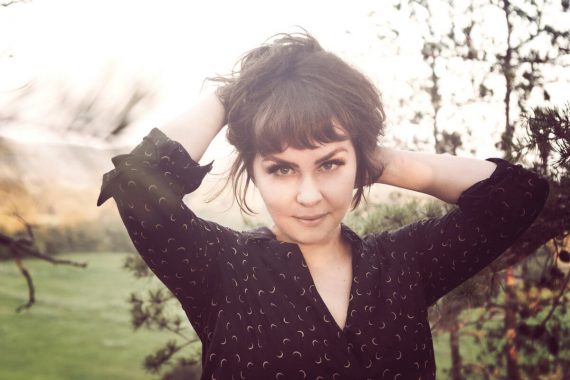 Coco Hames likes to crack wise about "getting away with it" — as if her career as a musician and record store  is some trick she's pulling off. But the singer/songwriter's newly released self-titled solo debut is no fluke or chance occurrence. Though it's  her first for Merge Records and first released under her own name, it's a work of undeniable craftsmanship, honed over years. The LP finds Hames  expanding on the garage rock of her band The Ettes, maintaining that group's direct punchiness, but adding sun-dappled country soul, R&B,  jangle rock, and classic Spector Wall of Sound pop to the mix. Twangy and sly, the album reflects Hames'  roots in the South. It's easy to hear  noted inspirations  Patsy Cline and Bobbie Gentry in songs like "I Do Love You" and "You're Calling Me," but Hames still rocks  too, particularly on the charging "I Don't Wanna Go." Though it's not easy to categorize — pitched somewhere between a power pop record and a traditional singer/songwriter outing — it feels whole and natural within Hames' discography. The same spirit she caught on tape with The Ettes is here, only matured and refined.
Coco Hames :: You're Calling Me
AD caught up with Hames over the phone from her place in Memphis. The conversation was freewheeling, with Hames bouncing from Simpsons  and  Broad City  references to discussing writing songs for Tom Scharpling's  long-running comedy/music program The Best Show, covering Tommy Stinson, and coming into her own as a solo artist.  This conversation had been condensed and edited for clarity. Coco Hames is available now via Merge Records.  
Aquarium Drunkard:  You've been writing songs for a long time. Have these  songs been kicking around in your head for some time now?
Coco Hames: I would say maybe half of them. Some of them were maybe gonna be on the next Parting Gifts record; one of them is fifteen years old. Straight up I wrote it when I was…oh, yeah twenty. I was kind of like, it was time, you know? I was just ready to make a record. The Ettes sort of petered out — I guess we broke up — but  Poni [Silver] and I are still really good friends. I remember, talking with [Reigning Sound and Parting Gifts songwriter] Greg Cartwright, and he told me, "You get tunnel vision when you're in a project like that." As individuals we're human beings and we all have stuff that we want to do that doesn't just exist in this vacuum of the band and that's okay.
After the band ended, there were like two years where I wasn't really writing songs for myself. I wrote songs for Gary the Squirrel on The Best Show. That was fun, but I didn't feel like I needed to do anything else. But eventually I was like, "Yeah, I'm a songwriter, this is what I do, and I love it. I think maybe I should put some songs out."
AD: You talked about tunnel vision and wanting to recognize your identity outside the context of a rock and roll band. Did you want to assert your own identity with this record?
Coco Hames: Yeah, maybe subconsciously. I was not a popular kid in school. I wore my headgear to school. [Laughs] I didn't understand why I wasn't "cool," because I thought I was cool. I sat alone with my horse figurines and my headgear and ate lunch at my desk or with my reading teacher. I didn't understand that other kids didn't think I was cool and I kind of pitied them because I was like, "I'm great!" I've always felt that way. I think I've got some sort of glitch socially where I just don't get certain things. One of the things I don't get is how to explain myself or that kind of thing with regards to my music. I'm a terrible storyteller and I don't know how to talk super great. [Laughs] That's why I write songs — I feel like everything is in there. It's still a little abstract to me because I'm not really sure what it means. I decide, "I'm gonna make this record, and I'm gonna ask my friend Jack Lawrence [The Greenhornes, The Raconteurs) and Julian [Dorio, The Whigs] to play on it." They said yes, so I thought, "Okay, don't say anything and it'll actually happen."
It was all kind of like that. Sometimes Andrija [Tokic], my really good friend and my producer, would say, "Yeah, this is good." And I'd reply "I don't know." I'm still kind of in the space that it's a little bit freaky that [anyone's] heard it. Logically and practically, I know that you make records and you put them out and then people are supposed to listen to them. That's the process, that's the idea. But it's still a little totally crazy that anybody ever heard of The Ettes or that people are listening to this record now. I'm still like, "What? Really?" I don't know how old I need to get or how many records I need to put out before I'm like, "Yeah. That's the nature of the thing Coco, you moron." [Laughs]
AD: It's a very wide-ranging record. There are touches of garage rock, some country moments, soul, some girl group moments. It doesn't adhere strictly to one thing. Was that exciting for you?
Coco Hames: It was. It was a little bit weird too because I didn't set out to make a compilation grab bag. I'm really glad that we did it in sort of a place and a time and with a cohesive environment so that it doesn't sound completely disjointed, or like, "Let's do a song from every genre," like a crazy German schlager record. I wasn't trying to do that. One thing I really wanted to do was sing. Do you remember the Simpsons episode where Bart and Millhouse go over to Shelbyville? It's the "Lemon of Troy" episode. Millhouse says to Bart, "I thought you said you could read lips," and Bart goes, "I assumed I could." I've always thought that was the funniest thing ever, because that's what I think about everything.
I wrote these songs and had [a realization]: someone is going to have to sing this and it's supposed to me because I wrote it. I just assumed that I could. It was really funny to be in the studio with my arms raised up trying to do this singing thing. I've never really done that, I just assumed I could. Sometimes I write songs for other artists. I write them and I'm like, "Oh, this would be an amazing ballad for so and so." For a couple years I was doing that for other people, but instead of that I decided I'll just do them myself.
AD: It's a cohesive record, it's just also multi-layered. It seems to reflect your personality. It doesn't maintain one feel. It's got a lot to offer.
Coco Hames: I know who I am identity-wise and what I love musically. I understand that for other people "branding" is a big part of this thing. I don't have to do that. I know that might make it harder for people to understand what I'm doing, if you don't give them this package. That's why branding exists. But I operate without it for better or worse. I'm just kind of doing what I want and somehow people are supporting me and playing with me.
I think I approached it from the stand point of "maybe you'll never get to do this again." That's the way it was with the first Ettes record too. I called [producer] Liam Watson out of the blue, I was like, "I love the records you do. I would love to record with you. Can I send you a demo?" And he said yes. I sent him the demo and he called me and he was like, "Yeah I like it, I'll record you." I took out credit cards to buy flights and go to England and [record the record at Toe Rag studio] because I really thought it was just another adventure and I'll never do it again. Or rather, if I never do it again, it's okay. I think I kind of approached this the same way.
AD: You're probably going to get to make a solo record again — I think people are really going to like it.
Coco Hames: I would be very much like, "Really?" I was really sick this month and I binged a lot of Broad City, which I had never seen. I just made me feel very "not young," but I was like, "Look at these girls, they're so great." I don't mean to be — what wave of feminism are we on now, I don't know — but every woman I know is great and hard working and all these things. I don't mean to be apologetic about [my music]. That's not what I mean — I just mean in the grand scheme of things, it's like, if you call yourself a great musician or a great songwriter, right in your face is [Hames' current city] Memphis, Tennessee, being like, "Are you though? I'm glad you like what you do but in comparison to all that's been done it's like, hey." [laughs] That's more what I mean. I'm not lamenting being like, "Oh I'm not good!" No, I think I'm good. I'm just here and now and I care about what I do, but I temper it.
AD: You cover a Bash & Pop song on this,  "Tiny Pieces," as a duet with John McCauley from Deer Tick. What inspired that decision to include that one by Tommy Stinson?
Coco Hames: So I have this record store in Nashville called Fond Object and we have backyard shows. I booked Tommy to come play it because he was doing these unique shows at unique spaces on this tour. It's like the backyard of a record store where I have two goats and a pig and it's like yeah, of course he needs to play there. So I was talking to him and I was just like, "I really like this song."
I'm not sure what was going on in the recording of  "Tiny Pieces"  when Bash & Pop did it [for Friday Night Is Killing Me]. I don't know if there were drugs or not a lot of sleep or what, but there are some weird timing things and choices made on the record. We were playing the backing track live and were like, "Should we stick with those choices?" I wasn't comfortable editing them. I said, "It's not too super-freaky for you guys to play it like this, lets just play it like this." So I bet that's funny to have a recording that's very in the moment for you, with mistakes and weird choices, and 26 years later a band covers it with a commitment to all those choices. I feel like that's probably the weirdest thing. But Tommy's been very nice and very supportive.
AD: You wrote for the webzine Blurt, though much of your writing for the site was lost in a website crash in 2012. What was your beat for them?
Coco Hames: I would write about road stories and [they] might ask me to weigh in on something and I would. I remember I had a lot to say. A band is like a microcosm, and you do lose a lot of your individuality; you're all living in a band. I think those essays became my outlet to be who I was. I remember a friend of mine read a bunch of them, and I asked "Do I sound crazy when I write this stuff?" He said, "You sound like you need to get laid." Oh my god. [Laughs] I was writing all this observational stuff and all of my feelings were in there, because I don't really talk about them. Same thing with  songwriting: when you write, you put it all in there. I wasn't really minding my tone. It's like I'm half wild cat. Nobody taught me manners or when to dial it back.
AD: Are you still writing?
Coco Hames: You know, I'm not really at the moment, which is weird. I also used to have a blog which probably five people read, but there was a lot of words in that too. But I would, I feel like especially now because I'm about to turn thirty-five. It doesn't really mean anything good or bad to me, I just think it's remarkable. I'm like, how are you thirty-five, weren't you just twelve? I'm like, this is so strange because when I talk I'm actually the age of an adult woman human, and that is so weird. So I feel like if anybody wants me to write anything, I'd be happy to do it, as long as I can get away with it. That's how I go.  words/j woodbury