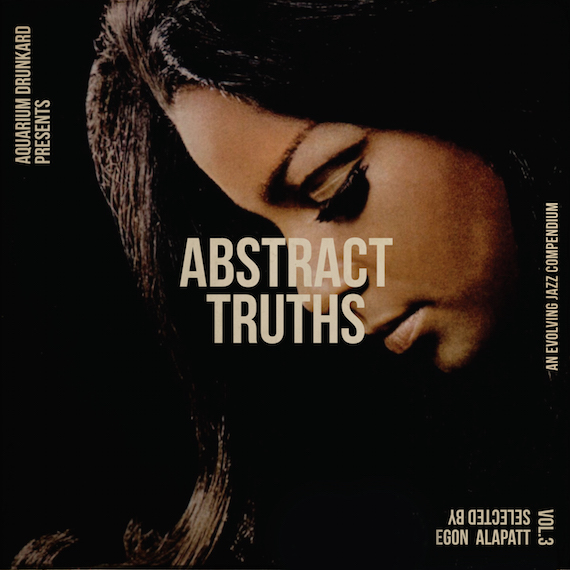 Volume three of Abstract Truths, An Evolving Jazz Compendium. If unfamiliar with the series, please first read here about the its genesis and intention. For this installment our friend, record collector and audio archeologist Eothen Alapatt, of Now Again Records, is behind the boards. Below, Alapatt shares some insight behind his 26 selects and beyond . . .
These are songs that I listen to and think of as jazz, even though many of the artists here aren't considered jazz musicians by collectors (or perhaps didn't consider themselves). For instance, that Phil Pearlman tune I find as intriguing and captivating as any long mode jazz tune, and it displays jazz conventions for days — but Pearlman himself considered himself a rock musician, and his music is loved by psychedelic collectors.
A good part — perhaps the majority of my collection — is jazz, and when I record my albums so I can listen to them in my car or whatever, I normally do so in a way that I hope makes for compelling listening. And that to me means finding similarities between what might be considered opposing tracks. In the case of that Pearlman track, I was listening to it next to the Clifford Jordan track, and found that they sat well together.
Rob Thomsett – New LIfe : Refusal
The Lightmen – Pschosomatic
Grant Union High School – Ain't No Sunshine
Placebo – Balek
Batsumi – Batsumi
Phil Pearlman – Beat of the Earth (Side A)
Pedro Iturralde – Bulerias
Don Cherry – Chenrezig
Georges Edouard Noelle – Chodo
Mankunku Quartet – Dedication To Daddy Trane And Brother Shorter
Tomorrow's Gift – Der Geier Fleigh Vorbei
Horace Tapscott – For Fats
and more …
Previously: Abstract Truths: Volume One // Volume Two
Pssst…Aquarium Drunkard has launched a Patreon page, which allows readers and listeners to directly support our online magazine as it expands its scope while receiving access to our secret stash, including bonus audio, exclusive podcasts, printed ephemera, and vinyl records. Your support will help keep an independent cultural resource alive and healthy in 2019 and beyond.