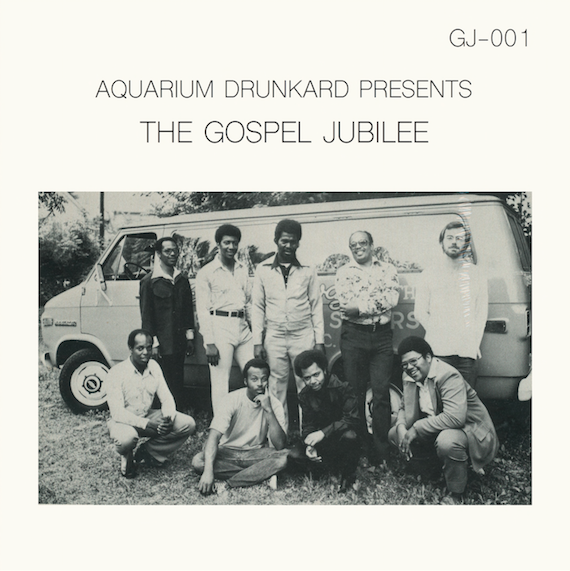 Many of the selections on the Gospel Jubilee were discovered in the moldy basement of a house that quite possibly belonged to a relative of Hoyt Sullivan, Jr., the impresario behind a handful of heralded black gospel labels such as Champ, HSE, and Su-Ann. These recordings arrive from groups on those sought after imprints, and others, that hailed from corners of the world like Charleston, SC; Albany, GA; Statesville, NC; Tampa, FL, and Nashville, TN. Musically, it's all here; unbridled vocals, furious guitars, possessed keyboards, cavernous grooves, and otherworldly harmonies. The 19 songs render a catharsis that will make your skin itch and your hairs stand on end. Finding this much positively insane music at once was the result of either dumb luck or divine intervention. The only thing for certain; it was meant to be shared with the masses.
The band pictured is the actual Gospel Jubilee, a group led by the Rev. Johnny Holloway of Raleigh, NC. Their mid-70s LP, Doing the Will of God, is one of the finest records of any genre that you will ever find. Seek it out. And if you dig this mix, tune into the Acme Radio Gospel Jubilee every Sunday at 12pm CST to hear more. words / j steele
The Gospel Jubilee – "Same God"
The Friendly Five Quintet – "He's Alright"
J.J. Farley & the Original Soul Stirrers – "Count on Me"
The Southern Gates – "Trouble In My Way"
The Violinaires – "Shadrach, Meshach, and Abednego"
Apostle Isaiah Revills Presenting the Holy Mighty Crusaders – "Jesus Is Coming Back"
The Bethlehem Gospel Singers – "Our Father"
Mt. Pleasant Choir – "Clean Hands"
Rev. Bobby Armon & the Armon Singers – "I Feel Like Flying Away"
Johnny Twillie & the New Exciting Whirlwinds – "We Can Rest"
The Supreme Angels – "Why (Storm of Life)"
The Sheppard Gospel Singers of Tampa, FL – "Treated So Bad"
Rev. Clay Evans & the Ship – "Love to the Lord Declared"
The Gospel Serenaders – "Sinner Man"
Rev. Mozell Davis and the Indiana Soul Searchers – "Don't Go Astray"
Rev. Luther Gamble & Nate Carr – "Only A Look"
The Gerald Sisters – "On the Battlefield"
The Dixie Travelers – "What's Wrong with the People Today"
The Mighty Wonders of Winston-Salem, NC – "Our Plea"
Related: Aquarium Drunkard Mixtape Archives
Pssst…Aquarium Drunkard has launched a Patreon page, which allows readers and listeners to directly support our online magazine as it expands its scope while receiving access to our secret stash, including bonus audio, exclusive podcasts, printed ephemera, and vinyl records. Your support will help keep an independent cultural resource alive and healthy in 2019 and beyond.