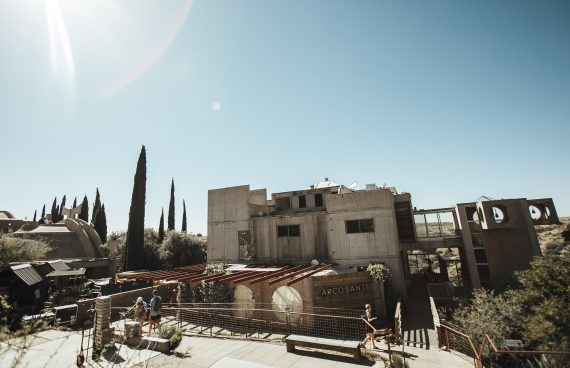 It's a Sunday afternoon at the FORM festival at Arcosanati. Mother's Day, actually. I'm watching Phil Elverum of Mt. Eerie sing the most pained songs about the mother of his daughter, his late wife, the artist Geneviî¨ve Castrée.
"Death is real," he sings over casual strums of his acoustic guitar, from a small stage under a gorgeous half-dome, one of the structural features favored by artist and architect Paolo Soleri. Founded in 1970, Soleri built Arcosanti in the Arizona desert atop the concept of "arcology" – architecture in alignment with ecology.
In many ways, this scene typifies what people might think about FORM from the outside. There's a cool breeze sweeping in from across the canyon. The desert sun shines over us, and there are dozens of clusters of artfully dressed and composed young people – the kind who might, without any affectation, refer to themselves as "influencers" or "creatives." But in this moment, none of the cynical jokes you might make about flighty millennials gathering in the desert for transformative, transcendent experiences could possible take root. Tears are welled up in my eyes; the moment's real.
"Death is real…it's not for singing about/it's not for making into art," Elverum sings. "When real death enters the house, all poetry is dumb."
I have only been once before, so I don't consider myself an expert, but: I think the chief idea of FORM – yes, the festival where Skrillex DJs by the pool – is openness. The kind of openness that means you sometimes look like a fool or say something grandiose. The kind of openness that allows strangers to share vulnerable things. Things like Elverum's private, wrecked songs, pulled from his new album, A Crow Looked At Me.
Though FORM charged admission for the first time in 2017, the festival still feels remote (maybe less so for those of us who call the Sonoran desert home, but still plenty removed from Phoenix's sprawl) and attendance is limited. This is a necessity, as Arcosanti is not built to accommodate Coachella-sized crowds. But there's always a danger of exclusion in the act of curation. FORM seemed to accommodate people of all stripes – I saw a few guys in metalcore shirts, even – but FORM's creative directors Hundred Waters and Moses Sumney most display their ideas about inclusion via the diverse selection of music on hand.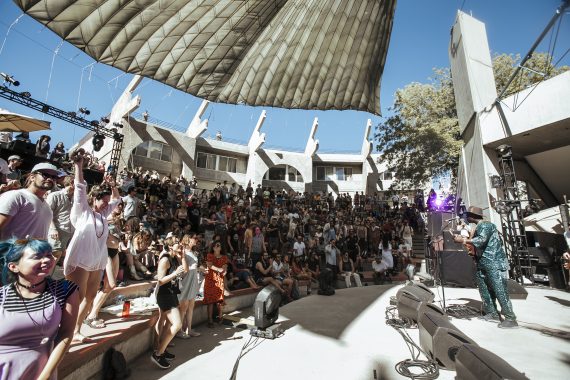 There were big names, including Deafheaven, Father John Misty, James Blake, Future Islands, Thundercat, Chelsea Wolfe, and Solange, but the sounds on the edges, the farthest flung from the idea of a center-point aesthetic, were most exciting.
Early on, fears of the so-called "Muslim ban" cast doubts on Syran wedding singer Omar Souleyman's ability to make the show, but thankfully he did. His infectious party jams served entirely different spiritual purposes on the Apse stage than Mt. Eerie's set, or the synthesized bliss of Kaityln Aurelia Smith, the desert blues of Vieux Farka Touré, the avant grade folk of Weyes Blood, or the existential rock of the Hotelier, but at Arcosanti, they all held together gracefully.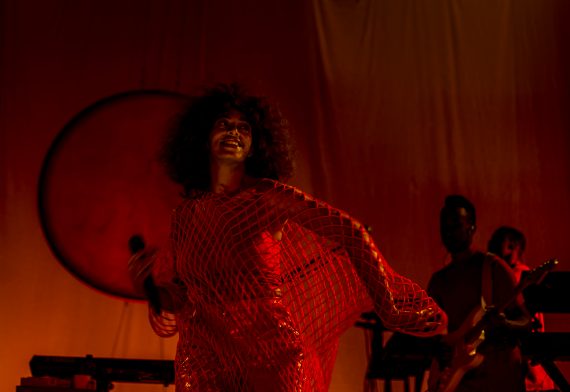 And perhaps most graceful of all was Solange's Friday night set on the Amp stage. Commanding her band with the control and poise of Prince or James Brown, Knowles' power was an undeniable tapestry of Afrocentric future funk. Her art-rock opus "Cranes in the Sky" sounded celestial; "Junie" bounced with wit; "Don't Touch My Hair" demanded autonomy. She moved unrestrained, and spoke with tenderness about her early work. "I used to be way weirder than I am now," she laughed, poking holes in the critical assessment that her work has grown stranger over time. Her music wasn't purely celebratory – "I'm weary of the ways of the world," she sang – but like FORM itself, it did provide a refuge. words/j woodbury; photos/Maria Govea