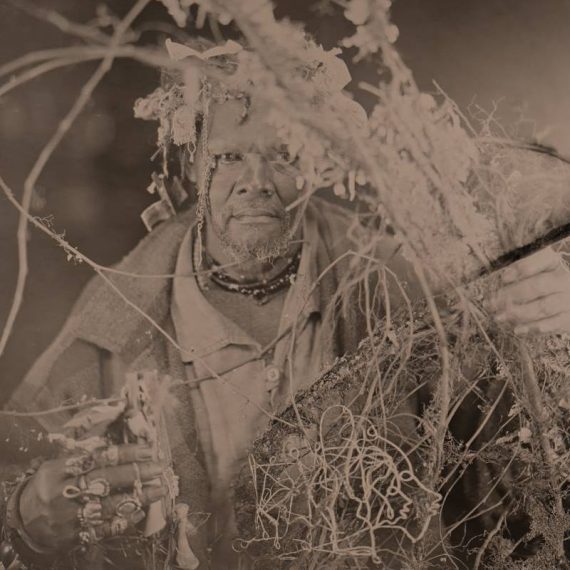 Welcome to Aquarium Drunkard's recurring Transmissions podcast. Today, we finish our mini-series in collaboration with the folks at Mexican Summer. In March, AD's Jason P. Woodbury headed out to Marfa Texas to attend Mexican Summer's Marfa Myths Festival, a four-day, multi-disciplinary celebration of art and music in West Texas, which resulted in his essay, "There's No Such Thing As Nowhere."
For this episode, Woodbury sits down with artist and musician Lonnie Holley. His sculptures, assembled from found objects, seemingly align each random component with meaning. In 2012, Holley released his debut album, Just Before Music, on Atlanta label Dust to Digital. Reviewing the record, AD's A. Spoto wrote, "He sings with an intense, emotional voice and unleashes lyrics without consistent meter or rhyme over gossamer keyboard lines that hang in the ether. His music is a blues nebula, splotched with riffy word jazz that shares in some rappers' collagist aesthetics as well as the runaway passion of a gospel preacher enlivened by the Spirit."
He followed it with a second, Keeping a Record of It, in 2013. Both featured improvised music and melodies, drawing on Holley's personal reserve of gospel, jazz, blues, and folk music. Like his music, this conversation is wide-ranging and freeform, a gentle and inquisitive exploration into how much meaning we're willing to grant the world around us.
Transmission Podcast :: Lonnie Holley
Subscribe to the Aquarium Drunkard podcast on  iTunes  or via  RSS feed. Lonnie Holley photo by Tim Duffy.
Dig into the podcast archives, which include interviews with Ryley Walker, Daniel Lanois, Damien Jurado, Eleanor Friedberger, Idris Ackamoor, Bonnie "Prince" Billy and more.