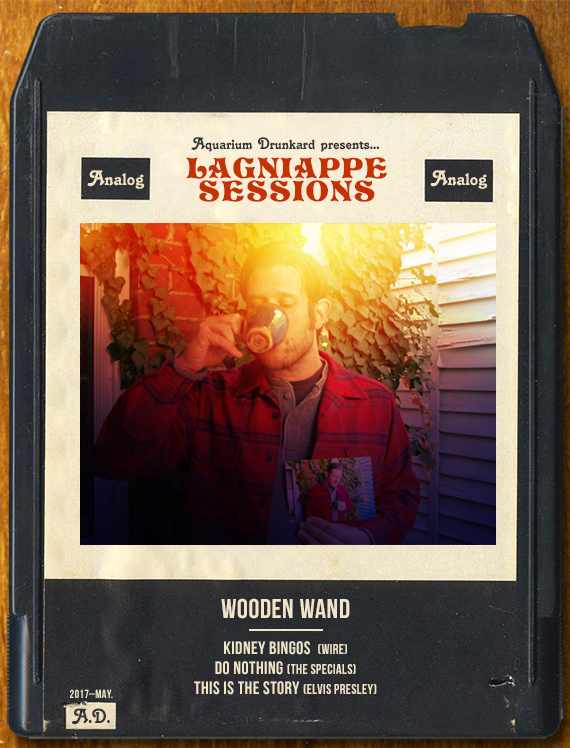 Lagniappe (la ·gniappe) noun 'lan-ˌyap,' — 1. An extra or unexpected gift or benefit. 2. Something given or obtained as a gratuity or bonus.
Earlier this month we caught up with James Jackson Toth whose long-running Wooden Wand project had just released its first new material in several years – the Clipper Ship lp. Following up his Lagniappe session from 2012 (covering Jonathan Richman and Born Against), Wooden Wand returns for this installment of the series paying tribute to late-sixties Elvis, late-eighties Wire and a re-imagining of the Specials' breezy "Do Nothing". Toth on his selections – in his own words – below . . .
Wooden Wand :: Do Nothing (The Specials)

This tune, from the very great This Are Two Tone compilation, is my favorite Specials song. I approve of its anti-materialist stance, and also appreciate its (likely unintended) subtext of total nihilism. My goal with this cover was to avoid, at all costs, the conspicuous 'upstroke' on the 1 and 3 associated with ska, which was far more difficult than I expected. The true trainspotters among you will probably immediately recognize where I nicked the drum sample from. Dedicated to the memory of Rico Rodriguez and John Bradbury.
Wooden Wand :: This Is The Story (Elvis Presley)
I could be described, if such a thing exists, as a casual Elvis fan. There are a couple of his records I like a whole lot, but I've never really taken the oath. My mother, on the other hand, was a big enough fan that she considered naming me Elvis, until dad came to the rescue and talked her out if it. Their compromise? Name me after James Taylor, instead. Sigh. Anyway, I tried to imagine this tune as something Neil might have covered circa Zuma. Of course, it ends up sounding nothing like that.
Wooden Wand :: Kidney Bingos (Wire)
This latter-day Wire song from 1988's fantastically-titled and somewhat underrated A Bell Is a Cup…Until It Is Struck could easily have been a big hit, had the mischievous contrarians who wrote it hadn't made it about…nothing. Well, not nothing: by privileging the sound of the words over their meaning, Wire creates a sort of postmodern tableaux that places this song on a continuum that includes both Finnegan's Wake and "Country Feedback." Whether viewed as impish art prank or a statement about the possibilities of language in pop music, "Kidney Bingos" is a singular achievement, the likes of which I have not heard elsewhere: an earworm with lyrics that are almost impossible to memorize.
Previously: The Lagniappe Sessions :: Wooden Wand / First Session
Lagniappe Sessions Archives / imagery via d norsen