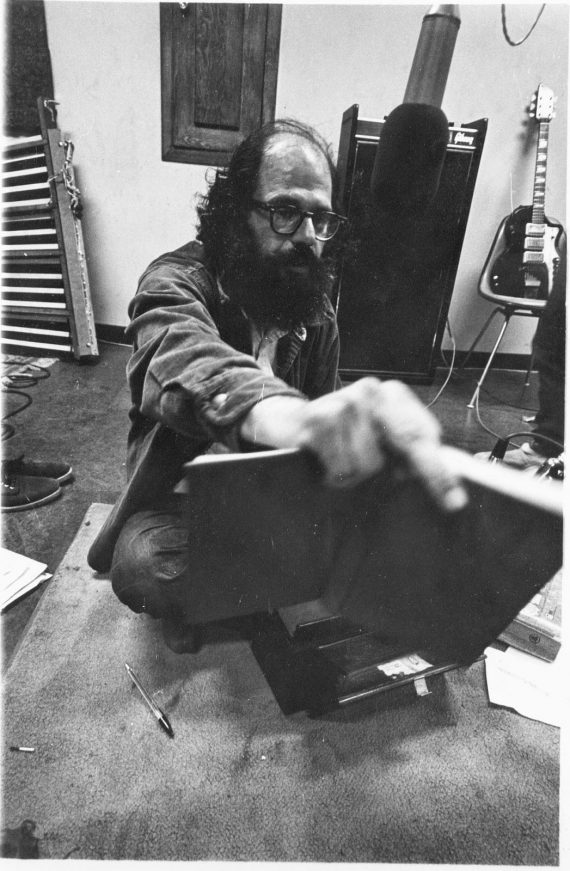 Between 1969 and 1971, Beat poet Allen Ginsberg took the poems of William Blake and set them to music – with musicians as diverse as Don Cherry, Elvin Jones, and Arthur Russell – Ginsberg recorded (with himself on lead vocals) dozens of these songs, some of which leaked out via an album on MGM in 1970 (making him label mates with the Velvet Underground). However, none of them have been properly issued on CD until now – and many have never been released in any form.
On behalf of the Ginsberg Estate, Omnivore Recordings releases a 2-CD set titled  The Complete Songs of Innocence and Experience by William Blake, Tuned by Allen Ginsberg on June 23.
The Ginsberg Estate has supplied Aquarium Drunkard with an exclusive animated video of one of the songs – which is a feast for the eyes and ears – plus an excerpt of reissue producer Pat Thomas' liner notes to give you a taste of the wealth of influence. Everyone from Van Morrison to the Beatles to Jimmy Page was a fan of Ginsberg!
In October 2016, Rolling Stone asked Van Morrison if he read Irish writers such as William Butler Yeats and James Joyce when he was a student. His reply:
"No. I was reading Allen Ginsberg. But I was definitely influenced by William Blake…. Blake was, in a lot of respects, a British nationalist. But he was beyond that as well in imagination and spirituality. You can't get much more blues than "Let the Slave" [in 1985, Morrison set Blake's poem to music]. I once saw Ginsberg do a gig at the Troubadour in L.A. He was doing Blake stuff. I thought, "This all connects."
In March 2017, I posed the question "Why did Allen choose Blake to set to music? to Gordon Ball — caretaker of Allen's farm during the 1960s and 70s and an editor of several of Allen's books:
Allen always saw poetry and music as linked, not separate art forms…. and had a long history with Blake going back to that 1948 vision or 'auditory illumination' as he called it — in that apartment in Spanish Harlem he was staying in. So that Blake was sort of his 'resident monster' for a long time. Allen more or less says that in his poem, "The Change" where he finally shuffles out from under the influence of Blake and always seeking something visionary. Nonetheless, Blake stayed with him, because there he is, five years after that starting to put all of Blake's "Songs of Innocence and of Experience" to music.
Last year, on behalf of the Ginsberg estate and Omnivore Recordings, I compiled a 3 CD box set titled Last Word on First Blues that focused on original folk, blues and rock songs that Allen composed and recorded between 1971 and 1984 accompanied by the likes of Bob Dylan, Jon Sholle and Arthur Russell.
There's a continuity with this collection —Sholle and Russell appear on this release as well — and as musician Alan Senauke pointed out to me (Alan appears on disc two — which features several previously unheard Blake poems set to music during July & August 1971 sessions in San Francisco), there was a foreshadowing then of the November 1971 First Blues New York City recording sessions with Sholle, Russell and Dylan:
Allen had an affinity for music, he'd been listening to Ray Charles early on, he loved music! I remember we rehearsed a version of "Jimmy Berman" [a playful Gay liberation song that was later recorded in New York and appeared on the "First Blues" album]. Allen would pull surprising references out of his mind during the summer 1971 San Francisco sessions that hinted at the breadth of his listening to folk music, R&B and jazz.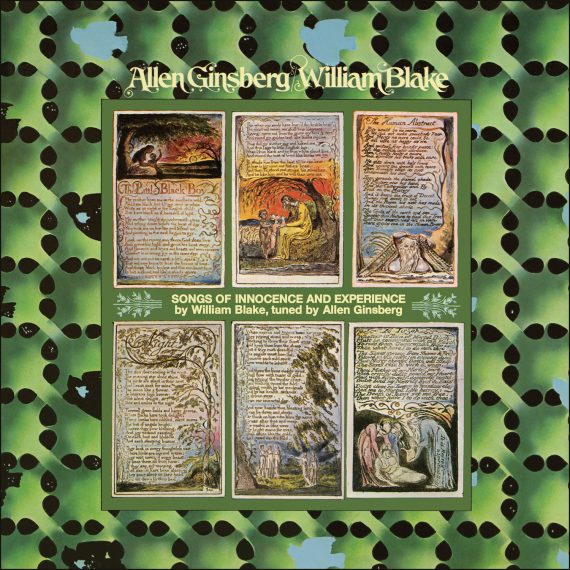 This package collects together numerous Blake poems that Allen set to music between 1969 and 1971. Disc two is packed with rarities, not only Blake material but also some wild Tibetan Buddhist mantras! A few of these 1971 recordings leaked out on the 1994 Holy Soul, Jelly Roll box set, but until now — the '71 San Francisco recordings have never been released in their entirety.
Disc one marks the first ever CD release of Allen's 1970 album Songs of Innocence and Experience by William Blake, tuned by Allen Ginsberg — plus two previously unreleased recordings from June & July 1969 album sessions. A version of Blake's "Grey Monk" (minus Elvin Jones fiery drumming on the released version, featuring simply harmonium, guitar, and vocals) and a song never before released called "Brothels of Paris" aka "Let the Brothels of Paris be opened" — a Blake poem left off the original LP because there simply wasn't enough room.
"Grey Monk" was first performed in Chicago's Lincoln Park during the August '68 riots surrounded by the likes of Yippie Jerry Rubin and thousands of young anti-Vietnam war activists.
Gordon Ball: "On his way to protest at the Chicago Democratic Convention in 1968, Allen began composing music to Blake's "Grey Monk" poem. A poem all about 'revolution' – "I die, I die."" [Inspired by the French Revolution.]
In Spring 2017, Bob Dorough; keyboardist/arranger for the 1969 album sessions recalled to me :
Of course, I was aware of the beatnik movement, in fact, while I was in LA, I recorded an album called "Jazz Canto Volume 1" in 1958 — a blend of jazz and poetry — I made songs out of Langston Hughes and Ferlinghetti poems — and during that time I gave a series of jazz and poetry concerts at The Ash Grove on Melrose — we'd invite poets to recite their poems over improvised jazz that we played. One time I performed "Howl" myself!
In the 1960s, I produced Spanky and Our Gang and that led to working with The Fugs. Ed Sanders knew about my arranging skills and Ed recommended me to Allen.
Allen came to me with his harmonium, he claimed to me that he didn't really compose the music for the Blake poems, Blake composed it and Allen got it off the 'airwaves' – you know? — [laughing], I accepted his theory!
One thing he said was, "I'd like to have Elvin Jones and Don Cherry on these sessions" "My pleasure, I love those guys" I said, so I booked 'em and he brought along some other musicians too. The arranging that I did was pretty minimal. But I did prepare some charts, so we sort of knew what's happening.
What did Elvin Jones think of Ginsberg? Well, Elvin was always a happy soul and whatever was going on was cool with him. The next day he might be playing with the most out avant-garde musicians, so this gig was kind of a lark for him!