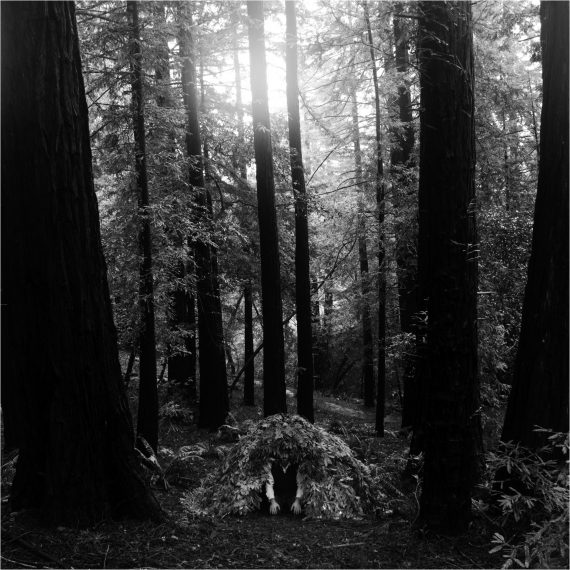 Seven years ago, songwriter Fletcher Tucker went to Big Sur.
Settling into the rugged landscape, where the Santa Lucia Mountains jut sheerly before the Pacific Ocean, Tucker had an idea in mind: inhabitation. He did not want to live on the land, he wanted to live with it. To hear him tell it, his aim was mystical, primal, and psychospiritual. After studying farming at the famed Esalen Institute, he and his wife made a home in Big Sur, and it was there he gathered up the naturalistic drones, field recordings, and psychedelic folk songs that make up his new lp, Cold Spring.
Calling it an album about nature feels limiting. It is, more so, a reflection of an artist's total immersion in the idea of "place," its spectral songs often swallowed up in the shadows of giant redwoods, the coos of owls, and the howls of far-off coyotes. "I trek this trail hunting for songs," Tucker sings lowly alongside the high clear voice of Molly Erin Sarlé of Mountain Man on "I Become Smoke," "But the mountain's song consumes me as I limp along."
Tucker assembled the record over the course of four years, building on foundations of pump organ, acoustic guitar, banjo, saxophone, synth, human voices, and percussion. But the album's roots stretch back further, to his youth, when he spent summers at Big Sur. A native of Northern California – he was raised in a town called Pacific Grove – the wildness of Big Sur spoke to Tucker, like it has so many artists before him, from ethnomusicologist Jaime de Angulo and poet Robinson Jeffers to writers Henry Miller and Richard Brautigan. The place has haunted his music for some time, lingering over the recordings he's made as Bird By Snow, but with Cold Spring he fully explores the terrain.
"The album is a record of my own personal process of becoming an inhabitant of Big Sur, coming into deep relationship with the land," Tucker says.
Though he's left Big Sur now due to recent landslides which have made the process of running his label, Gnome Life, which has released music by Little Wings, Robbie Basho, and Daniel Higgs, from the remote area impossible, the album serves as a document of what he learned there, hiking in the backcountry, fasting, making "pilgrimages" through the mountains, reconnecting with what he believes are ancestral memories and "ancient technologies."
In conversation, Tucker chooses his words carefully but is prone to poetic bursts. He doesn't speak about writing songs, rather, he describes "courting them," seemingly drawing them from the mysteries of surroundings. He never seems flighty or even particularly spacey, pausing frequently to make sure he's "making sense, or enough sense, at least." And he admits that his Big Sur experience might be a more immersive one than many visitors undertake. "It's possible to move to Big Sur and just watch Netflix all day," he assures with a gentle laugh. But Tucker's refreshingly candid when asked what he hopes to achieve through the songs of Cold Spring, willing to climb out on a limb and cop to the easily misunderstood notion of wanting to "inspire" with his music.
"I'm going to be bold with my words here and hope it's not misinterpreted as extreme hubris or arrogance," Tucker says. "I think we are living in profoundly disconnected and disjointed age of very lost people who are needlessly suffering because of a profound absence of connection in their lives to what I consider to be the great body, which is the Earth itself….I've been given a beautiful gift, which is the gift of living in Big Sur, a place where that raw mysticism is right on the surface…what I'd like to do is, rather than horde all that beauty and experience for myself, I'd like to release it into the world, into the culture stream."
While still keenly aware of the active role of the listener to take and process his songs and sounds however they choose, Tucker says the idea is to reach those looking to foster a similar connection to the Earth in a time when people feel not only disconnected from the land, but from each other.
"[It's my hope] that somebody who is thirsty or hungry for this kind of experience that I'm describing will hear it and will blow on that ember in them a little bit, that old way of living, being, feeling, and it'll glow and they'll turn toward it and acknowledge it. And do something themselves: put some practices in place, take some trips, make some hard decisions. Live a little bit differently. For their own good and for the good karma of all. I really strongly believe, and I don't think it's a radical perspective, but we need more people who feel deeply connected with place, with this planet, so we can protect it for future generations and all beings."
While so often mystical and contemplative music focuses on ecstatic sounds, centering on buoyancy and uplift, Cold Spring is unreservedly dark at times. Like nature itself, the record can feel spooky, inspiring an awe that comes close to dread. Citing the works of deep ecology writer Joanna Macy as something of a guide, Tucker says that songs like "Celestial Underworld" and "Descend" reflect the "underworld journeys" of mythology. "To slip between day and darkness," he sings on "Descend, "A womb of dreams, revealed."
Darkness and light, inhabitation and ritual — all are "intimately connected," Tucker says. To truly settle into Big Sur, learning to forage for mushrooms, strike embers, an memorizing the names of the plants and wildlife was only half the equation. The songs of Cold Springs represent the other half, expressions of Tucker's inner journey.
"Music and poetry, from my perspective, they're in the domain of the spirit," Tucker says. "They are in the domain of the heart-mind. Courting songs, trying to open myself up to receive them, taking what I receive and trying to translate it through recordings, this is all ritual process for me…the same way meditation is a practice or a whirling dervish has a practice, recording music and writing songs can be the same kind of deep practice, I think."
Cold Springs is made up of songs that Tucker feels he discovered; his hope in sharing them is that the listener will find something instructive in them. And over and over again, the completed record bears him out, sounding thoroughly haunted, an arboraceous, psychedelic journey that reveals more with each listen.
"I hope they will serve as trails you can follow into this mythopoetic realm I'm exploring with music," Tucker says. "The liminal realm that's connected to the place." words/j woodbury