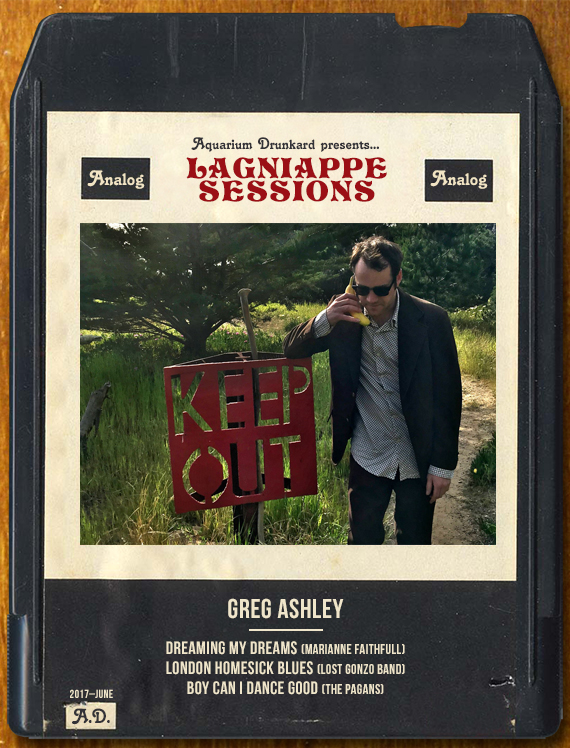 Lagniappe (la ·gniappe) noun 'lan-ˌyap,' — 1. An extra or unexpected gift or benefit. 2. Something given or obtained as a gratuity or bonus.
Best known as the leader of the Texas cum Oakland psych outfit The Gris Gris, Greg Ashley has been gracing the pages of AD since its 2005 inception — the year he released Medicine Fuck Dream, a record we likened to "swimming through a pool of hot jello…slow, heavy, fuzzy, druggy, dense and sticky sweet." Still apt today. Ashley's new album Pictures of Saint Paul Street, out June 30th on Trouble In Mind Records, marries his influences into one giant middle finger to the jerks of humanity — resulting in one of the most raw and honest albums of the year.

Below, Ashley interprets a trio of covers — from the honky-tonks of Texas, to late 70s Marianne Faithfull and beyond. The artist, in his own words, below.
Greg Ashley :: Dreaming My Dreams (Marianne Faithfull)
"Dreaming My Dreams" was written by Allen Reynolds. Waylon Jennings does the most famous version as it was probably written for him. I first heard the song on the Marianne Faithfull's 1978 record Faithless (originally released in 1976 as Dreamin' My Dreams). I love both versions and I kind have always played it a bit more like Marianne than Waylon.
Greg Ashley :: London Homesick Blues (Lost Gonzo Band)
"London Homesick Blues" was written by Gary P. Nunn who was in the Lost Gonzo Band – a 1970's Texas country rock n roll group with Jerry Jeff Walker and some other folks. The version I have heard is from Jerry and the Lost Gonzo Band's 1973 album Viva Terlingua. It's a live record recorded in Luckenbach, Texas. There is another hit on the record is by Ray Wiley Hubbard called "Up Against The Wall Redneck Mother". Used to do a version of that one too.
Greg Ashley :: Boy Can I Dance Good (The Pagans)
Denny Carleton is the correct author for "Boy Can I Dance Good". The Pagans were from Cleveland but Denny never recorded with them apparently. I had the displeasure of seeing them play at a Horizontal Action Black Out Fest maybe ten years ago – they had been at the Cubs game all day getting drunk. But shit I can't really judge them for it, as I have blown plenty of shows being too drunk…it happens. Anyway, they are maybe my favorite punk band.
Lagniappe Sessions Archives / imagery via d norsen