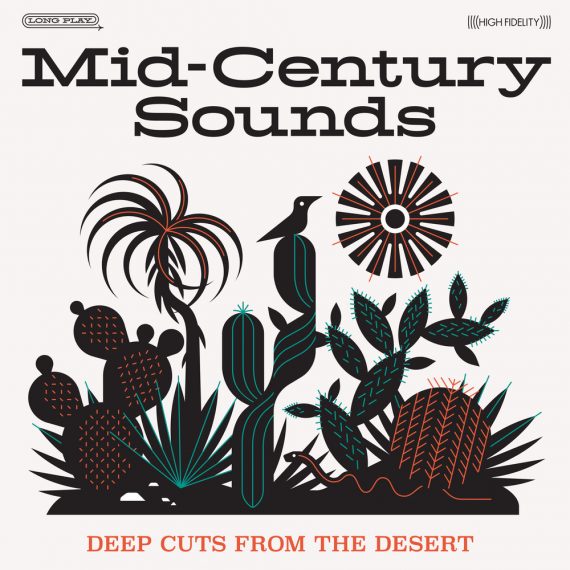 Dedicated record heads will certainly recognize some of the names on the tracklist of Mid-Century Sounds: Deep Cuts From the Desert, a new 2xlp survey of southwestern sounds: country star Waylon Jennings, rockabilly king Sanford Clark, and Wrecking Crew guitarist Al Casey. But it's the name "Floyd Ramsey" that serves as a thread connecting the disparate sounds of the compilation, tying the western shuffle of Joe Montgomery's "Two Time Loser" to the loose R&B of Roosevelt Nettles' Chess single "Drifting Heart" and binding the raw garage rocker "What's Happening" by Phil and the Frantics to the strutting funk of Fat City. Ramsey owned Phoenix's Audio Recorders studio — where Duane Eddy cut the famous "Rebel Rouser" with Lee Hazlewood and engineer Jack Miller — and headed a series of record labels, including Liberty Bell, Ramco, MCI, and Rev, responsible for issuing much of the material collected here. In short, a significant stretch of Arizona's musical history is bound up in the personal history of Floyd Ramsey.
Shepherded by David Hilker and Jeff Freundlich of Phoenix's Fervor Records, Deep Cuts from the Desert documents the fertile period from 1957-1973. The collection offers a wide-angled snapshot of Phoenix's popular music scene from that time. Regional hits like Christopher Blue's soft-pop 1970 single "Happy Just to Be Alive" and Judy Linn's brass and string-laden 1961 lover's lament "Old Enough to Have a Broken Heart" sit alongside nationally recognized fare like Al Casey's "Cooking" and Ted Newman's "Plaything," which earned the singer a spot on the RCA Records roster in 1958. Featuring western ballads, sun-baked funk, garage rock, country, and sepia-toned pop, the album speaks to Ramsey's wide taste and interest in diverse sounds.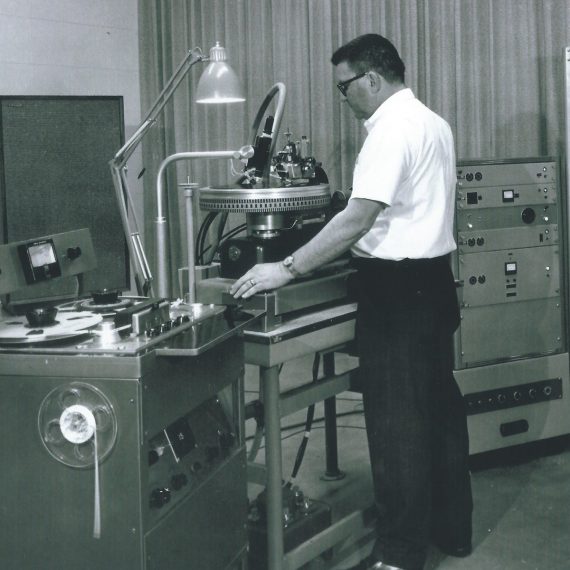 While Fervor's primary focus remains maintaining a digital catalog of music (from Arizona and beyond) for television and film licensing, it was Ramsey's memory that inspired Freundlich and Hilker to press this collection to vinyl, teaming with Northwest imprint Marmoset for the project. Featuring desert-centric art by Tyler and Elsa Lang of Portland-based design studio Always With Honor, the record also features informative notes by Arizona music historian John P. Dixon.
Floyd Ramsey is the "connective tissue throughout all the music on this double lp," Freundlich says from Fervor's offices in Sunnyslope, Arizona. "The whole idea behind this is we've got three decades of music that all in some way was affected by Floyd Ramsey, whether it was [one of his] record labels, his publishing entities, or Audio Recorders, his recording studio. We felt like we needed to do something tangible and special."
The collection serves as an exceptional introduction to mid-century Sonoran sounds, but even those familiar with the scene will find surprises here, like "Start at the Bottom," an unreleased 1957 recording featuring a young Wayne Newton, Dave Moore's lonesome blues "Four in the Morning," which was discovered in Audio Recorders' tape vaults, and Donnie Owens' "Boo Hoo," another unreleased track, featuring the Hazlewood and Eddy associate in sugary rock & roll mode. And side D features a stack of singles released by "Mighty" Mike Lenaburg, Phoenix's funk and soul man, including Michael Liggins and the Supersouls' flute bolstered psych-funk rocker "Loaded Back" and the Soul Blenders' raging "Blending Soul."
Depending on your taste, you might favor the early Jennings' single "My World" or the Gigolo's "Night Creature," a surfy cut that expands on empty water tank reverb of Duane Eddy's early recordings. But Freundlich seems personally invested in all the songs here. His favorite?
"To me, the stand out track is the last song on side C, 'So Goes My Dream' by Nadine Jansen," Freundlich says. "She was a musical prodigy; she graduated high school when she was 16 years old and traveled all over the country performing. It's a jazz cut…if you really listen to that song, the playing is impeccable, the vocal performance is incredible. There's so much space in that composition and it's so beautifully executed."
For Freundlich, Jansen's recording ranks up there will Billie Holiday and Ella Fitzgerald. It's a little known Arizona gem that deserves trumpeting. "I think it belongs up on that kind of pedestal. It's that kind of track." words/j woodbury
Further Listening: Old Gold: Sonoran Country, Garage Blues, Pop, Soul, and Avant-garde from Arizona 1951-1971
Range And Basin: Sonoran Roots, R&B, and Hard Rock 1966-1978