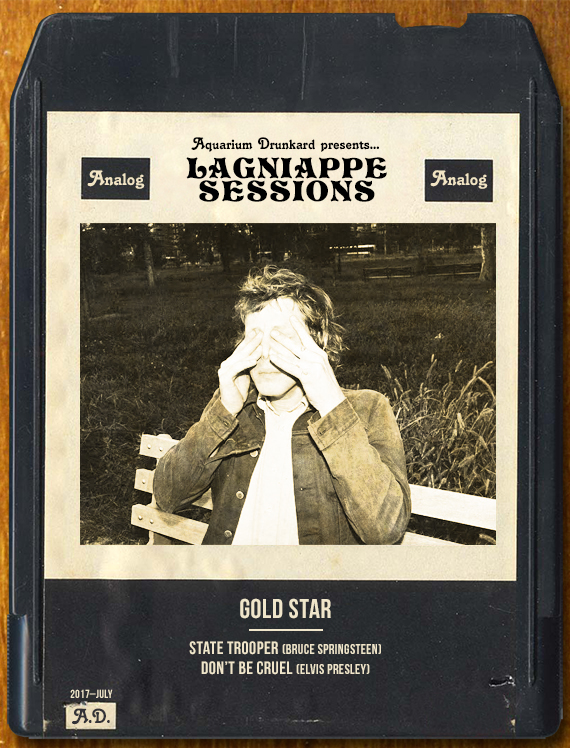 Lagniappe (la ·gniappe) noun 'lan-ˌyap,' — 1. An extra or unexpected gift or benefit. 2. Something given or obtained as a gratuity or bonus.
This week's installment of the Lagniappe Sessions catches up with the Los Angeles-based Gold Star – the songwriting/performance vehicle of Marlon Rabenreither. Bathed in reverb, Rabenreither lays down a Billy Swan inspired take of the King's "Don't Be Cruel" along with the Springsteen lo-fi gold that is Nebraska's "State Trooper". The artist in his own words, below.
Gold Star :: State Trooper (Bruce Springsteen)
Springsteen's Nebraska is very interesting record to me due to the infamous way it was recorded and that it was inspired by synth-punk duo Suicide. Springsteen's "State Trooper" in particular is indebted to their 1977 song "Frankie Teardrop" and also tells the true story of a teenage couple going on a two month highway murder spree throughout Wyoming and Nebraska. Springsteen himself has written, "I don't know if it's even really a song or not, it's kind of weird."
Gold Star :: Don't Be Cruel (Billy Swan / Elvis Presley)
"Don't Be Cruel" was a #1 hit for Elvis Presley in 1956, but the version of the song that really interests me was Billy Swan's 1975 rendition of the Brill Building classic. Swan's version is remarkably slow and completely alters the emotion of the original, essentially doubling its run time even while cutting out bridge and chorus. A fascinating arrangement, Swan's "Don't Be Cruel" demonstrates a great deal of restraint on behalf of the players involved.
Thanks to Mike Post at Moose Cat Recording Studio and Tripp Beam, Jeff McElroy, Matt LaRocca, Fred Garbutt, and Dan Wistrom for playing them with me.
Lagniappe Sessions Archives / imagery via d norsen