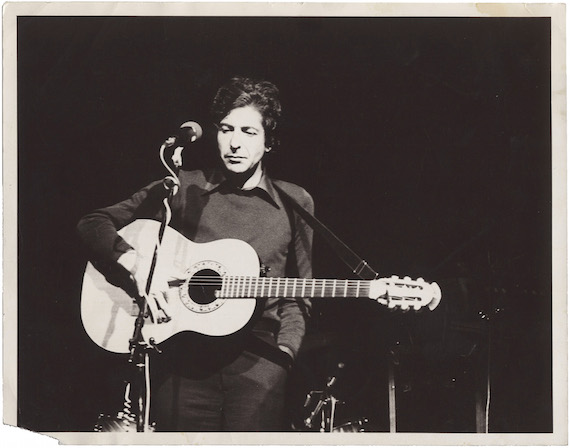 There's no shortage of Leonard Cohen live albums from over the years, but there's never been an official release from the man's 1976 summer tour of Europe. This masterful two-hour Montreux set would do the trick nicely — backed by a versatile band, Cohen leans into his hits with a swagger worthy of Sinatra and offers up a handful of less-traveled tracks. You don't really think of his music as particularly funky, but hey, it was '76 and disco was in the air; "Lover Lover Lover" and "There Is A War" are darkly comic boogies, with Cohen savoring every syllable. And then there's "Do I Have To Dance All Night," his unabashed plunge into disco, which he was playing that summer, but only released as a limited single in Europe. It's fantastically sleazy:
I'm 41, the moon is full,
You make love very well.
You touch me like I touch myself,
I like you, Mademoiselle.
Some time in the mid-70s, an interviewer asked Cohen what he was trying to achieve with his songs. "To create a vapor and a mist," the songwriter responded. "To make oneself attractive, to master it, to keep busy and avoid the poolroom and try to get good at what you're doing. Really, it's all an alibi for something nobody's ever been able to talk about. Mostly my idea of a song is, when you feel like singing and this is your song. It's not what songs should be, not choosing; this is the song you make because it's the only one you can make, this is the one that is yours. The fact is that you feel like singing, and this is the song that you know." words / t wilcox
Download: Leonard Cohen :: Montreux Jazz Festival, June 25, 1976 (zipped folder)
…playlist after the jump

I Can't Forget / So Long, Marianne / Who By Fire / Hey, That's No Way To Say Goodbye / Store Room / One Of Us Cannot Be Wrong / Lady Midnight / There Is A War / I Tried To Leave You / Diamonds In The Mine / Chelsea Hotel / The Stranger Song / You Know Who I Am / The Partisan / Story Of Isaac / Famous Blue Raincoat / Lover Lover Lover / Sisters Of Mercy / Is This What You Wanted / Suzanne / The Butcher / Bird On The Wire / Tonight Will Be Fine / Joan Of Arc / Do I Have To Dance All Night
Related: Leonard Cohen: Yad Eliahu Sports Palace, Tel Aviv, Israel, 1972