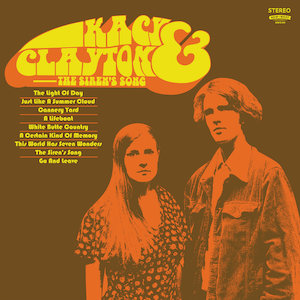 Continuing to effortlessly distill the sounds and traditions of Southern Appalachia, the British Isles, and the rolling ranch land of their rural Saskatchewan home, second cousins Kacy Anderson and Clayton Linthicum return with The Siren's Song. Their fourth long-player and second with a backing band – this time comprised of their touring outfit, Shuyler Jansen (bass) and Mike Silverman (drums) – production of the album was helmed by Jeff Tweedy and recorded in Chicago at Wilco's Loft studio.
Sonically the album is not far removed from their 2015 breakthrough Strange Country, but their stronger-than-ever songwriting is on full display with nine songs of disaffection, alienation, and searching. Tweedy's production and the full band arrangements wisely serve the duo with Linthicum's playing as vast and versatile as the Great Plains, and Anderson's singular voice continuing to evolve and thrill.
On "A Lifeboat," her voice is buoyed by pedal steel and is a mix of longing and castigating–a lighthouse shining through the fog in search of an absent lover. "A Certain Kind Of Memory" immediately recalls Karen Dalton's "Something On My Mind", but soon ventures into territory of its own, culminating in a beautifully understated solo from Linthicum that gives way to the sublime pairing of Anderson's fiddle and voice.
Featuring Linthicum's first lead vocal, "White Butte Country" showcases a new side of the group. The song is a twisting and earthy romp in the vein of Sir Douglas Quintet or The Bobby Fuller Four, with Anderson's backing vocals as complementary here as her cousin's playing elsewhere.
Kacy & Clayton :: The Siren's Song
Built on Linthicum's fingerstyle acoustic guitar, Anderson's steadfast voice, and all-encompassing instrumentation, "The Siren's Song" is the album's finest moment–the group using the studio to full effect and offering a glimpse at where they might be headed next. With an atmosphere reminiscent of like-minded travelers such as Espers or Pentangle, wordless vocals of the titular sirens lead to the song's awe-inspiring explosion of Linthicum's searing electric guitar and Anderson's barely-restrained voice. Ending things on a serene note, "Go And Leave Me" (the album's only traditional, via Norma Waterson) harkens back to the duo's unadorned sound on 2013's The Day Is Past & Gone.
Continuing to explore the vast waters of country, folk, and psychedelia, The Siren's Song is another monumental leap forward for Kacy & Clayton. With a discography that already belies their young age, the future is exceptionally bright for Canada's finest forward-looking traditionalists. words / k evans