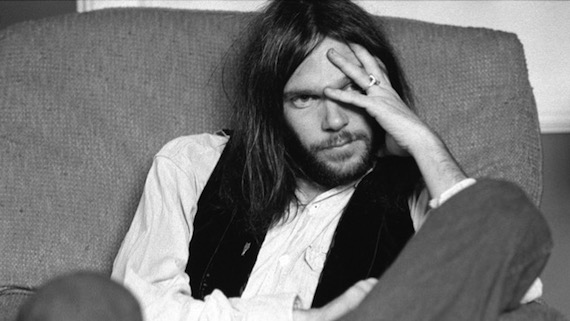 Hitchhiker, Neil Young's latest archival release, is an absolutely essential addition to the songwriter's canon, capturing a skeletal mid-1976 solo acoustic session. It's also our first chance to hear the original version of the LP's title track, a tune with an extremely tangled history. Let's do a little un-tangling.
According to Neil, he wrote the song just a few days before the Hitchhiker session, proudly playing it for Bob Dylan at Shangri La, The Band's Malibu studio. "That's an honest song," Dylan responded. And as usual, he's right – "Hitchhiker" is an intense "autobiography in drugs," following Young's path through hash, amphetamines, cocaine and beyond. "If it was a TV show, it would be called 'The Drug Chronicles, T.M.I.,'" he told the New York Times in 2010. Young may have penned the ultimate anti-drug anthem in "Needle & the Damage Done," but here he owns up to his own abuses … and sounds fairly unrepentant along the way (Young admitted that the Hitchhiker session was fueled by weed, beer and coke– and its safe to assume he's not talking about soda). Was "Hitchhiker" too honest? Maybe – Neil left it unreleased and never played it live during the 1970s.

But "Hitchhiker" wasn't too far from his mind in the years to come. Young reworked bits of the song into "Like An Inca," which served as the closer to Trans, released in 1982. Ditching the drugs, adding an ecological narrative, and borrowing the hallucinatory South American vibes, "Like An Inca" wasn't nearly as harrowing as its close cousin, but it was pretty solid nonetheless. Weirdly, Neil resurrected it last year, jamming gloriously with the Promise of the Real.
The Hitchhiker disappeared for about a decade, only to finally received a proper live debut at a handful of solo acoustic gigs in the summer of 1992. This one, from the Tanglewood Music Center in Lennox, MA is a loose, brutal performance – dig Neil's intense repetition of "the neon lights and the endless nights" there in the middle. These shows also saw the songwriter debuting a wealth of Harvest Moon material, which begs the question: was Neil considering dropping "Hitchhiker" into the otherwise cozy confines of that LP, released later in '92? Shakey only knows.
Eleven years later, Young was premiering his latest concept album Greendale, when a die-hard fan called out for "Hitchhiker." Neil couldn't quite remember it just then, but a few days later in Berlin, he gave the song a raw, if slightly subdued reading. It was a one-off, though – the hitcher was gone again for several years.
Finally in 2010, Neil released "Hitchhiker" in a freshly recorded rendition on Le Noise, his collaboration with Daniel Lanois. It sounded different, however, with an impossibly overdriven Old Black churning beneath a powerful vocal. He had also appended a happy ending to the song: I don't know how I am standing here / Living my life / I'm thankful for my children / And my faithful wife." "Hitchhiker" then served as a regular centerpiece of Young's solo electric shows in in 2010 and 2011. Neil may have survived the dangers of the road somehow, but his unhinged 2010 Farm Aid appearance shows he hadn't forgotten the spirit of the "Hitchhiker." words / t wilcox
Further Reading: Aquarium Drunkard's Neil Young Archives . . .