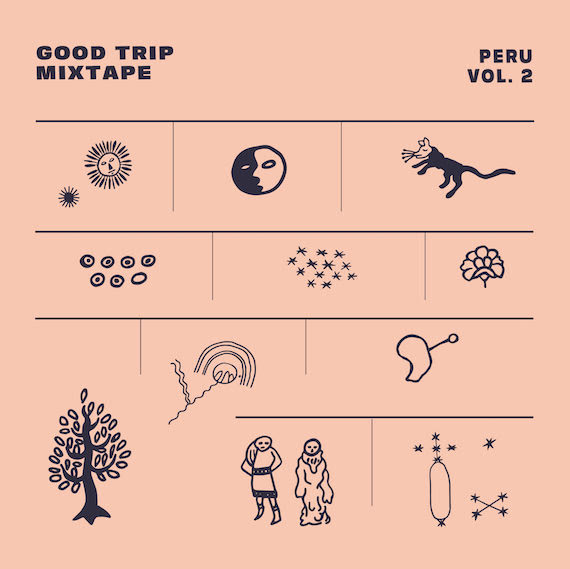 For the second edition in our series of Good Trip mixtapes — a project that takes a closer look at our favorite sounds and rhythms from around the world — we're picking up where Volume I left off in Peru, but with special attention paid to the diverse instrumentation and psych-laden effects employed in cumbia, huayno, chicha and beyond. This collection also features a healthy dose of reverb-soaked surf sounds, tropical organ and freaky synth riffs, along with one gritty, proto-punk garage rock tune record heads will definitely pick up on. So sit back, mix yourself a pisco sour and slip into a 90 minute groove to cap off a sun-drenched summer. words / s huff
Los Pakines – Tomalo O Dejalo
Juaneco Y Su Combo – El Brujo
Los Chipis – Salome
Hermanos Palomino – Camino A Mi Pueblo
Los Ecos – Baila Flaquita Baila
Los Destellos – Apurando El Paso
Los Pakines – Venus
Savia Andina – Walicha
Jaime Delgado Aparicio – Can't Give You Anything
Grupo Celeste – Pequena Julieta
Juver Ugarte – Como Un Errante
Grupo Alegria – 465 Dias
Don Enrique Y Sus Estrellas – El Sacacorchos
Los Biochips – Pobre Soy
Los Yungas – Mi Vallecito
Los Pakines – Olas De Verano
Los Rangers – Sueno De Amor
Los Beta 5 – Costa, Sierra Y Montaî±a
Grupo Genesis – Trabajando Por Ti
Juaneco Y Su Combo – A La Fiesta De San Juan
Los Scorpios – Si No Quieres Bailar
Senora Suegra – Tantar Kishcachallay
Los Destellos – Valicha
Los Shapis – Somes Estudiantes
Los Jaivas – Danza
Los Saicos – Demolicion
We've made another small batch of physical cassettes for this release. Want one? Thought so. To enter, leave a comment below.
Previously: Aquarium Drunkard Presents: Good Trip Peru, Vol I — A Mixtape
Aquarium Drunkard has launched a Patreon page, which allows readers and listeners to directly support our online magazine as it expands its scope while receiving access to our secret stash, including bonus audio, exclusive podcasts, printed ephemera, and vinyl records. Your support will help keep an independent cultural resource alive and healthy in 2019 and beyond.