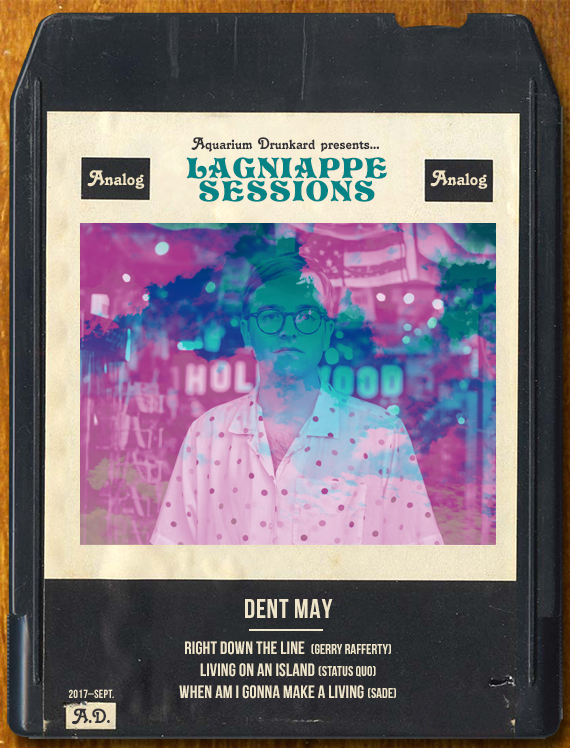 Lagniappe (la ·gniappe) noun 'lan-ˌyap,' — 1. An extra or unexpected gift or benefit. 2. Something given or obtained as a gratuity or bonus.
It's one of the oldest tricks in the songbook, stringing a bummer sentiment to a buzzy melody, but on his charming new LP Across the Multiverse, Dent May utilizes it with a craftsman's skill. Buoyed by round synth tones, disco flourishes, and an abiding love for the Beach Boys, the album finds the Mississippi-raised Dent breezing through the same mythic Los Angeles vibe Harry Nilsson, Carole King, and Van Dyke Parks tapped into. Wistful, funny, and warm, it's a thick, deeply pleasurable chunk of melodic magic. Covering Gerry Rafferty, the Status Quo, and Sade, Dent reveals his attraction to an airtight pop song.
Dent May :: Right Down The Line (Gerry Rafferty)
This gem from 1978 has been one of my favorite songs for years. I recorded a pretty straight-forward cover version, because the original recording is so perfect. My band was toying around with covering it live for a while and never did, so here's my humble attempt at it.  
  Dent May :: Living On An Island (Status Quo)
I actually fell in love with this 1979 tune accidentally playing the 45 on 33, so it's a slowed-down, more melancholy take on the original. For some reason, the picture sleeve of the record has a bunch of penguins on it. I'm thinking of an island with a warmer climate when I sing the song.
  Dent May :: When Am I Gonna Make A Living (Sade)
This is an obvious classic from Sade's perfect 1984 debut  Diamond Life, and much like the Gerry Rafferty  song, it was difficult to pull off because the original track is so amazing. This one goes out to everyone out there having trouble making ends meet.
Dig these sessions? Aquarium Drunkard has launched a Patreon page, which allows readers and listeners to directly support our online magazine as it expands its scope while receiving access to our secret stash, including bonus audio, exclusive podcasts, printed ephemera, and vinyl records. Your support will help keep an independent cultural resource alive and healthy in 2019 and beyond.