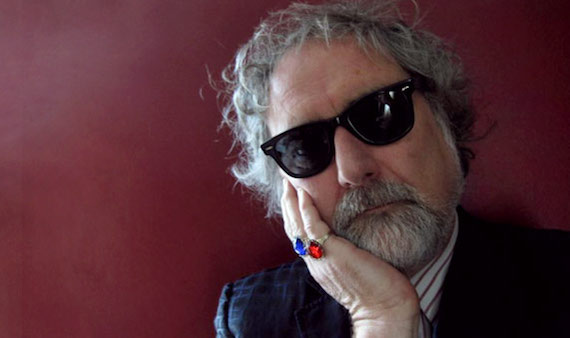 There is something of the recently deceased Harry Dean Stanton to Scott McCaughey. Just as Stanton was to pictures for decades, McCaughey is that cool, mysterious guy in music that shows up in seemingly every conceivably happening circumstance and you're always happy to see him. As frontman for the indispensably great Young Fresh Fellows and Minus 5, he has produced a daunting welter of great songs while running his own show. But he thrives as the character actor as well, the sideman who has lent his uncanny skills and wild hair sensibility to everyone from R.E.M. to Robyn Hitchcock to Wilco over the past two decades. Most recently, McCaughey has served as the glue that holds together Filthy Friends, essentially an ambitious collaboration between R.E.M.'s Peter Buck and Sleater-Kinney's Corin Tucker. We spoke to him about the experience of making their new record Invitation, the last days of R.E.M. and what it's like to record fast and loose.
Aquarium Drunkard: You've been in no shortage of epic recording sessions. How did Filthy Friends compare to recording with Young Fresh Fellows, Minus 5 or R.E.M.? Was the vibe more spontaneous or carefully curated? The record does a nice job of splitting the difference between feeling fully fleshed out without becoming overbaked.
Scott McCaughey: Filthy Friends rehearsed a couple days, went straight into the studio with 15 songs somewhat band-ready, and tracked, overdubbed, etc., all in about a week as I recall. It was really straightforward – Peter and I have developed a way of making records very quickly – not simply for economy's sake (though certainly that's a factor in this day and age), but because that's the most energizing way to record. We have fun in the studio, but we're also all about getting shit DONE. No agonizing over decisions, no more than three or four takes of a song usually, no polishing the life out of a performance. For my own records, working quickly in the studio has always been a fact of life. Of course, in latter stages of R.E.M., budgets got bigger and left more room for sonic explorations, re-recording, and sometimes indecisiveness. Peter and I got to experience that end of the rainbow, and we made some great records. But the preference these days is to slam them out, full-throttle style, and Corin, Kurt, and Bill were all on board for the high-speed voyage.
AD: Corin is an incredible singer, and it's a thrill to hear her demonstrate all of the different clubs she has in the bag. Was there anything she did that surprised you, even after having played together for a while?
Scott McCaughey: The song that really surprised me was "Invitation". I think Peter had been carrying the music around for years but didn't think it'd be something that would engage Corin the way that it did. It really showed another side of her (and the band as well). I like to think of it as sort of a Mama Cass moment – but that's just me. Because I love Mama Cass and her fellow Moms and Pops.
AD: You and Peter have worked together on countless projects, and seem to have an almost sibling-like relationship. Can you talk a little about how the two of you first encountered each other and what the basis of your deep musical and personal connection is?
Scott McCaughey: We became friends offhandedly though the 80s and early 90s, like so many of our guys-with-guitars-in-vans-drinking-beer contemporaries. Peter and I are both such big music fans, that we seek out like-minded bands, and often end up enjoying their company socially as well. I guess our personalities complement each other too – we're just similar enough and just different enough that we work really well together. It's like we accidentally built a mighty ark over the years and loaded it up with friends and we just want to keep plucking others off their islands and roaming the seven seas looking for new sights and sounds.
AD: You were a de-facto member of R.E.M. from the mid-1990s until the band's culmination in 2011. I was wondering if you'd be willing to address the seeming frustrations of the band in later years, when it seemed to become difficult for them to gain the sort of creative and commercial traction that characterized its earlier years. Is that a fair characterization of the last several years of the group? What do you feel went askew, if anything?
Scott McCaughey: I feel we did excellent work, both live and in the studio, all through those years. One thing the casual (or fanatical for that matter) U.S. fan might not realize, is that while R.E.M.'s statewide popularity gradually declined post-Monster, they/we were becoming bigger in Europe and the other parts of the world, with Up and Reveal racking up plenty of hits and platinum album awards. Around The Sun is the record that seems to epitomize the nadir of R.E.M.'s career, and has taken plenty of flak, even sometimes from the principle band members. I think there's much to love on that album – "Leaving New York" should have been a worldwide smash – but it's true that it probably got worked on too long and the band's vision got blurred during mixing. If you listen to R.E.M. LIVE from the Point in Dublin, you really hear the strength of those songs, and I suppose that also confirms in a way the problems with the record. The group made a conscious decision to "get back" as it were on Accelerate, with blazingly good results! The corresponding Live At The Olympia (Dublin again) is hotter than shit and should have outsold Thin Lizzy's Live And Dangerous. The final album, Collapse Into Now, to me is absolutely one of R.E.M.'s best, a perfect representation of everything we did best, but by then perhaps it was too late to rekindle the pop music world's excitement and reverence for the band. Could things have been done differently? I suppose. But hey, we did all right!
AD: Your career in rock music is utterly unique, and I mean that. I have tried at length to think of who is comparable in terms of fronting three great bands in the Young Fresh Fellows, The Minus 5 and The Baseball Project while also serving as a sideman for R.E.M, Robyn Hitchcock, Ian Hunter, M. Ward, Alejandro Escovedo, Tired Pony and now Filthy Friends. It's an incredible career to try and wrap one's head around and I wonder where in the world you've found this level of energy for going on four decades. This is a long way around to asking — are you juicing?
Scott McCaughey: Well, I was a Jose Canseco fan back in the days of the Bash Brothers. I do occasionally resort to the intake of what bluesman CeDell Davis called "music juice" – but it has not always increased production. I do simply love playing music, with friends, and making records. Sometimes it's been hard on personal relationships, and that's something I'll always have to deal with. I still like touring in a van (I'm between Deming and Lordsburg, NM right now, look it up), I still thrive on writing songs, and I still hesitate to believe the miracle that this is what I do in life. (By the way, I replaced Ian Hunter with M. Ward in your question, as I don't consider storming the stage during "All The Young Dudes", even when invited, as fulfilling the sideman criteria.)
AD: Are there plans for another Filthy Friends record in semi-near future? Do you miss the days when a going concern would release one or even two records a year when they were on a roll?
Scott McCaughey: Filthy Friends is on fire – in fact we've played six brand new songs at our recent shows and Peter and Corin have many more coming down the chute. We'll track a new record very soon. As to when it will be released, that's a very different question, as we have to weigh the optimal time according to everyone's availability. But we are committed and very excited by this band, make no mistake. words / elizabeth nelson
For Heads, by heads. Aquarium Drunkard is powered by its patrons. Keep the servers humming and help us continue doing it by pledging your support via our Patreon page.