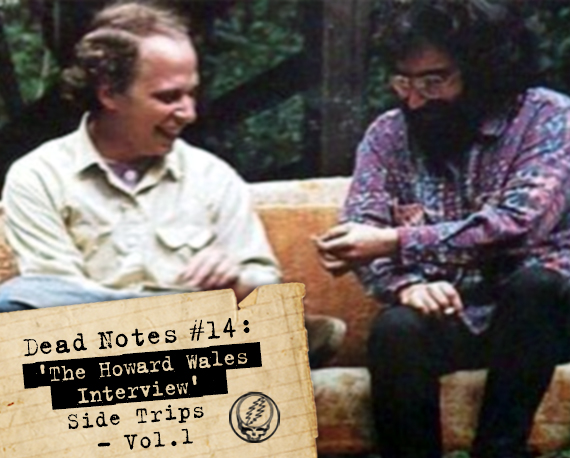 It's no secret Jerry Garcia was a freak of nature when it came to juggling his time with the Grateful Dead and multiple side projects. In 1970 alone, he was riding high on the FM radio success of American Beauty and Workingman's Dead, which kept the band truckin' endlessly and tirelessly from university to city theaters. Garcia was averaging four sets an evening, spending upwards of four-plus hours or more on stage. First, an opening set with new country rock group New Riders of the Purple Sage and then three more hours with the Dead. For most folks, getting home from a tour like that would be cause for hibernation and chill out for a while, but instead, Garcia was often found in late night pick-up jams around the Bay Area. One such musician's haven was the Matrix, a unique free-for-all club originally owned by Marty Balin of the Jefferson Airplane. The haunt catered to the greatest of the hippie ideals of the 1960s: Come all ye faithful and jam.
Towards the tail end of the '60s, Garcia was introduced to a Hammond B3 player by the name of Howard Wales, who held a jam session every Monday night at the Matrix. Howard had a fiery and otherworldly approach to playing, keeping the evenings fresh and fun for all involved, especially Jerry, who started coming down more regularly to play along with a core rhythm section of John Kahn on bass and Bill Vitt on drums. The gigs were kept loose, so naturally the band veered towards jazz — possibly best described as 'Owsley Acid Jazz'. The ad hoc gatherings resulted in a 1971 studio album entitled Hooteroll? — a 35-minute album that became a clandestine notch in the discography of Jerry and his cohorts.
Howard Wales & Jerry Garcia :: Space Funk
This coming Record Store Day (Black Friday), the Jerry Garcia Estate is set to reissue antother of Wales and Garcia's recorded collaborations: Side Trips, Volume 1, available for the first time since 1998. The 2-LP set — recorded in 1970 at the Matrix — is available in a limited-edition run of 2500, expertly pressed by MPO and sure to disappear quickly.
We recently caught up with Wales to explore his time with Garcia and their relationship both on and off the stage. Below is our rap with one of the more mythical musicians in the Grateful Dead orbit. words / d norsen
Aquarium Drunkard: For those of us with short attention spans, what can you tell me in three sentences or less about Side Trips Vol. 1?
Howard Wales: We were doing acid jazz when nobody was. [Laughs] We were doing stuff that was completely different. You've heard the album, haven't you?
AD: Oh, yeah! I remember when it came out on CD. When I heard it the first time I was like, "This is a very different Jerry. This is not Europe 1972." It's pretty out there.
Howard Wales: You know what the critics used to say about it? They'd say, "Wow, this thing is incredible." And then the opposite: "Don't waste your money."
AD: I would love to hear more about prior your career prior to meeting Jerry. I wasn't aware that you had played with Lonnie Mack or Ronnie Hawkins. Even James Brown for a bit.
Howard Wales: Yeah, yeah. I somehow ended up in Canada. [Laughs]
AD: So you were pretty much on the Chitlin' Circuit?
Howard Wales: Well, someone called it the Chitlin' Circuit [laughs] — it was pretty out there. Benzedrine and a lot of coffee. We had to be completely alert, because we had to drive so far to gigs. Those were the times when you were young and you had the energy to go through all that insanity.
Anyway, I met Lonnie Mack because I was working at King Studios in Cincinnati. I actually did some stuff with Freddie King at the time — it never came out and I have no idea why. I had three or four songs I had recorded with him. I met James Brown there, too. Time had gone by and I was working in Texas playing in a little joint called the It Club in El Paso. I was doing just a duo — organ and drums. 90 black people and 10 frightened white people would come and see us. Five days a week we were living on the kinks. 90 bucks a week. I had an apartment for 125 a month with a pool. Food was $0.50 for lunch. I weighed 260 pounds. [Laughs]
Lonnie Mack was introduced to me by my friend Jelly Roll. He was the bass player that passed away when he was 44 years old. He had bypass surgery and he couldn't make it on the rebound. He introduced me to him and then I played with Lonnie for about a year, year-and-a-half. Running around, I had a B3, 2 Leslies, and an underpowered old Volkswagen bus. And Lonnie used to say to me, "Can't you get another vehicle?" I miss Lonnie. Lonnie passed away not that long ago. We used to call him "Fat Lonnie". He had a sound all of his own. He had to have his own Magnatone Stereo amp which is just unbelievable. He had his own style. He had that Flying V Gibson guitar and it was great. Did you ever listen to Lonnie's stuff? The Wham of That Memphis Man? You ought to get that, because there's some great stuff on there. I'm not on that. All the stuff I did with Lonnie was live gigs. But if you listen to the sound of the band before I met him, it was just amazing. You know sort of like how great Little Richard was when he had his own band. Did you know Jimi Hendrix was in Little Richard's band at one time?
AD: I did know that. Yeah. That was probably my first introduction to Little Richard, too. With Jimi Hendrix you learn about Lonnie Mack, you learn about Freddie King. You learn about all those great black artists with that same kind of vibe.
Howard Wales: Brother, things were so much better then, in a certain way. Life was hell of a lot more simple and in some ways more soulful. R&B was huge then — real R&B. I mean all that stuff that happened, man. I would say this about the old days; it was a hell of a lot more about love then now. You don't find too much of the love aspect here; it's really terrible in my opinion anyway. [Laughs] I've been in music a long time.
I went on the road when I was 18. I played with a group in Chicago on Rush Street. I forgot the name of the group. It was so long ago. I played with fake IDs and things like that. I was in a group — believe it or not — that had green hair with space suits. Johnny Green and the Greenmen. It was a show band. The bass player swallowed swords and ate fire.
The thing about music with me is that I've got a whole swath of all kinds of stuff from these really "why did you do that" kind of things to incredible stuff. I think that in today's world you don't really see that anymore. I'd back up belly dancers. I backed up this lady, that you could probably look up from a long time ago, Sally Rand, who is the girl that appeared on stage with large beautiful feathers while naked.
AD: So you've seen it all. [Laughs]
Howard Wales: I have. Well, you never really see it all, but I have seen I'd say 90% of it, anyway. Those were the days, man. We backed up Little Anthony and the Imperials and Four Tops, too. We had a band called the Click. I'm going to send you some CDs of mine.
AD: I have Rendezvous With The Sun on vinyl. I think it was a friend of yours that was selling some dead stock that you had a couple years ago. I bought it from him on eBay. My friends and I just went crazy because that was something we were all sweating for a long time but couldn't afford.
Howard Wales: Jelly Roll was on that album on tune "Carnival." He's an incredible bass player. He played with James Brown when he was 14 years old. It's a shame he died. Anyways, you wanted to know about how I met Jerry.
AD: From what I understand, you started the Monday night at the Matrix. Now was that your night or did you come up with that with Jerry?
Howard Wales: I was hired to have the jam session on Monday evenings and we had everybody who was everybody in that Renaissance era — which by the way will never happen again. Should have been around then, buddy. Things were — you know what was so cool about the Renaissance Period — and how you met people and so on and so forth — was the fact that individuality was very important in the fact that as an individual you're putting out stuff that people respected. Because what you were doing wasn't like anybody else. Now, we live in familiarity. It's pretty bad in my opinion.
AD: Yeah, everything is super accessible and sort of bland these days.
Howard Wales: In other words, nobody wants to go in deep and figure out what somebody's doing. There's a certain section of people that have a good head space but it's not a lot. I mean there's a market for people that have a head space on stuff, but when you look at the overall thing, it's actually pretty pathetic. I've always been a pretty unique player just like Jerry. I met Jerry and he came down and sat in with us on Monday evenings with Harvey Mandel — you familiar with him?
AD: Oh yeah, absolutely.
Howard Wales: A great guitar player. He had his very own style and sound. I can't even remember. There's so many people that came down. The guy that actually owned the club — he had a little two-track or four-track studio and he recorded everybody. I don't know if that guy is still alive or not. That's where Side Trips came from.
AD: From what I understand there is a lot in that vault.
Howard Wales: He is sitting on more than gold [laughs].
AD: I know the Velvet Underground were trying to get their hands on those recordings forever. He was just like, "I'm not going to give them away. You're going to pay for what we have here." Knowing who played at that club, I can't imagine what he's sitting on. It's a treasure trove.
Howard Wales: He recorded everything that moved. [Laughs]
AD: So Side Trips, Volume 1 came from him?
Howard Wales: That's right.
AD: Okay cool. That I did not know.
Howard Wales: John Kahn played bass. Both Jerry and John died 10 months apart. John was a wonderful friend of mine. I really miss Jerry a lot. I miss Jerry a lot because he was a lot like me — both in background and our families — and the very fact that he was a heartwarming cat. We had the most intellectual conversations that I ever had with anybody in my life.
So then Alan Douglas came into the club. You know Alan Douglas? Douglas Records at the time.
AD: The label had some pretty great stuff on it.
Howard Wales: He passed away a couple years ago. Anyway, he came in and he liked what was going on and so that's how Hooteroll? came about.
AD: Now, I'm going to get specific here. Do you remember that show? The Side Trips show? Or is that just a blur of all these Monday nights?
Howard Wales: A lot of things are a blur — you were there but only in the moment. A lot of it is in the moment. Hooteroll?, to this day, is a very interesting album that will stand the test of time.
AD: Yeah, absolutely. It's still iconic. It's still beautiful. It's unlike anything else in the Grateful Dead catalog too, which is a pretty vast and unusual catalog full of side projects.
Howard Wales: Absolutely. Yeah, you're right.
AD: Like you said — acid jazz didn't really exist at that point, so you were the foundation of what came in the next few years.
Howard Wales: The Hooteroll? album stands alone. Going back to what I was saying about individuality back in those days, if you listen to the album, you know that each song was definitely unique. I think that's what really sold the whole thing about Hooteroll? is the fact that it was just like that. I think it's the things that stand alone that are so individualized. I think those things really stand the test of time.
AD: I think that's what makes an iconic album — there's no other comparison. It doesn't sound like anything else. It's one of its own. I mean, like I said, with that catalog of his, Jerry has so many high points.
What is interesting about Side Trips and Hooteroll? is he himself made such a progression in his style of playing during that time and where he took the Grateful Dead. You look at Side Trips which was recorded in 1970 and that era of the Grateful Dead is known as Cowboy Dead at that point, because they were playing all of the country songs.
I guess you guys knew what you might sound like, but was there ever a night when he was like, "Oh, I don't want to do any slow country-ish kind of things" or "I don't want to play any "Dark Star" kind of things" or whatever the case may be. Was there any intent of what the sound was going to be at that point?
Howard Wales: No. To this day, on all my albums, I don't play with anybody unless they're jammers. Jammers are the people that have no fear. That's hard to find, but there are folks who say "give it to me and I'll take it home and learn it." I don't want you to learn it. I want to be fresh and I want to record it all on basic tracks.
Anyways it's Jerry — he's a jammer. Jerry was the Grateful Dead — totally irreplaceable. You could never replace a one-off person.
AD: It's funny because I'm going to one of the Dead & Company's show tonight, so he has a replacement. But it'll never be the same.
Howard Wales: It can't be. Guitar-wise, there's been Steve Kimock and people like that and a lot of Dead copy bands and all of that. Jerry was an icon and a totally unique person, because I don't know of anybody who could sing like him. There's a lot of guitar players that are out there who took up the Garcia guitar thing. In Journey, for example, they lost the original singer. They were able to replace him. They got a guy out of a shoe store. [Laughs]
AD: Yeah, you can't find a Jerry in a shoe store. [Laughs]
Howard Wales: Oh, no. Nowhere. Jerry wanted to do the Hooteroll? tour, because he is such a kind and giving person and wanted all the best for me. He wasn't going on the tour because it was him, he wanted all the accolades for me. The only concert that was ever 'released' [Editiors note: not officially, but bootlegged under many titles] from that tour was the Boston Symphony Hall one.
AD: Yeah. Which is a fantastic show. That's a great room too to play.
Howard Wales: Yeah, if you can get by all the weird radio noises. You'll hear Jerry play some blues like you've never heard him play. It'll just blow your mind. The sound is really good. It was hard to give a live performance back then. It was difficult because you either didn't have the gear or people dismissed the live recording. Everybody was so out there, nobody really seemed to think about capturing all that legendary stuff, unfortunately. Some people did. Nowadays, "Oh yeah. Live. Cool." Of course, you have great gear to record it. I'm not so much into digital. It's gotten better, but you can't beat analog.
AD: Honestly, I would agree with that. I feel very fortunate the things I have been able to witness in the 20 some odd years I've been seeing live music. But my appreciation for music I love goes back to your guys' era. I love 1968 Grateful Dead, I think it's incendiary and will never be touched by another band ever.
Howard Wales: You weren't there physically, but you can still tap into it. There's a lot of Dead copy bands. I don't know. Is Dark Star Orchestra still together?
AD: I think so. Sure.
Howard Wales: I've been invited to do that stuff, but I didn't want to get into it. It isn't right for me. It's not that I can't play the songs or anything like that.
AD: It feels forced compared to what you've done now.
Howard Wales: Yeah. It's a different world.
AD: With the idea of being in the right place at the right time — after about 1972 it seems like the Matrix shows ended.
Howard Wales: It did. The jam night on Monday nights ended.
Howard Wales: Just out of curiosity, what happened? Was it just you all not feeling what was being played at that point?
Howard Wales: I'll tell ya. I wanted out for the very reason that it got so popular. There were so many people coming down to sit in. There was too much discourse. People were jumping on the stage. It just got really crazy. It was a wonderful event. The place only held like 90 people and it was all sit down, no dancing. It was all just listening.
There's a point where a good thing can turn into something not so good. [Laughs] That's what happened; that's the truth. I've done other jam nights up here, but it's not the same. It was such a big scene in San Fransisco and people wanted to hear each other. People ran all over the place saying, "Oh, we gotta go see this. We gotta go see that." The excitement of all of that was just incredible. I mean I could go on and on. I'm like a person who's really traveled the entire moods area. I wish we could have that kind of a feeling, but it's not going to happen again.
AD: No, you can't recreate it, that's for sure.
Howard Wales: I wish we could have that kind of feeling and that kind of thing but it's not going to happen again. You know you can't recreate it. Somebody might want to do it but it just would never be in the same headspace. Yeah yeah. What else would you like to know my friend?
AD: Well there is this Bob Weir quote … "We spurred him towards new heights of weirdness, and he spurred us towards new heights of weirdness … much too weird, much too quick … everybody backed off, scratched their head, and said, well, maybe, uh, next incarnation …" What year is this audition?
Howard Wales: I'll tell you this. This is the heart of what you're talking about. You know they invited me to go on the Europe 1972 Tour?
AD: No. I actually didn't know that.
Howard Wales: Ok. So yeah in 1972 they did. But I thought about it and I said well, "I can't sing." [Laughs]
AD: Wow crazy. Sorry, daydreaming here a second about a three keys players in Europe, 1972. That would of been insane. Wait, were you going to replace Pigpen on the tour?
Howard Wales: I don't remember. I don't think so.
AD: So a couple of years prior to that you did play on American Beauty ("Candyman", "Brokedown Palace" and "Truckin'")? How did you get involved with that?
Howard Wales: Through Jerry. He invited me to play on those three songs. And, yeah, they paid me a lot of money. At the time I think they paid me four grand for one song. A lot of the money at that time. Now that was almost 50 years ago. About 15 or 20 grand today. [Laughs]
AD: Last question since I ate up a good chunk of your afternoon. What can you tell me about the artwork for Hooteroll?? I know Abdul Mati Klarwein, who worked on Bitches Brew, did the artwork. Were you intentionally trying to visually align yourselves with that album?
Howard Wales: Yeah actually let's talk about my friend Marty. My friend Martin Fierro, may he rest in peace. He passed away 10 years ago or so. He was a saxophone player who came up from Mexico and came into a club I was playing in El Paso one night. He came in with a brown old cheap sport coat and big goggle jazz glasses you know. Interesting guy, right? Martin was the introduction to Abdul Mati Klarwein.
AD: Right on.
Howard Wales: Yeah. Yeah. And he's the one that got me involved with the El Topo album. That was the most bizarre movie I'd ever seen in my life.
AD: From what I understand, what you guys recorded wasn't the actual soundtrack. Was it just your meditation on the film after seeing it?
Howard Wales: Yeah. And that was another thing, Alan Douglas put that together. Yeah, that was an interesting thing. [laughs] Well Martin and I were great friends. I miss him. A very unique person. Very much.
AD: You know I always wondered if The Muppets' sax player Zoot was based on him? They strangely look similar…
Howard Wales: [Laughs]
AD: Howard, thank you so much. This was a great rap and honored to share this time with you.
Howard Wales: Thanks, Darryl. Be well, brother! Call me next week?
AD: You betcha!
Archives: Aquarium Drunkard — Dead Notes (Volumes 1 —13)
For heads, by heads. Aquarium Drunkard is powered by its patrons. Keep the servers humming and help us continue doing it by pledging your support via our Patreon page.