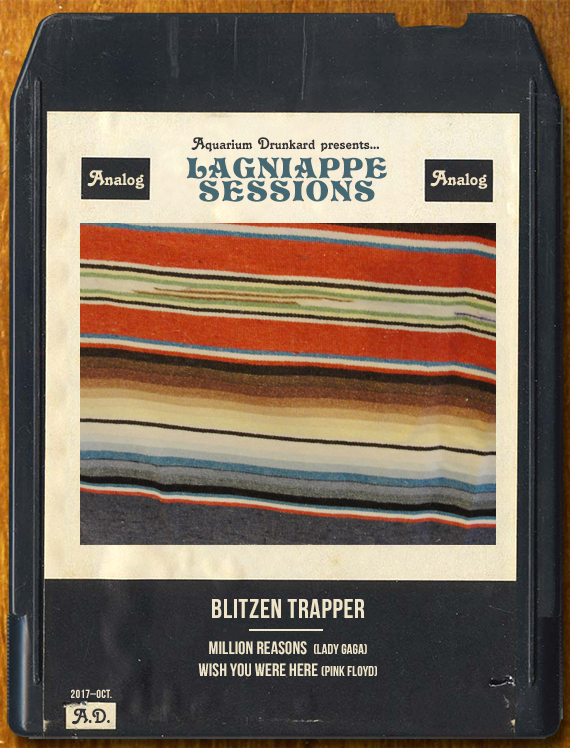 Lagniappe (la ·gniappe) noun 'lan-ˌyap,' — 1. An extra or unexpected gift or benefit. 2. Something given or obtained as a gratuity or bonus.
Next Friday, Blitzen Trapper touch down in Los Angeles at the Bootleg Theater in support of their new long-player, Wild And Reckless. Inspired by the band's theatrical production of the same name, the album is a self-described paean to 'straight-up rock 'n roll and deconstructed weirdness.' Riffs, grooves, three-part harmonies and guitar solos. Darkness, a voice and a piano. For this installment of the series, BT head-honcho Eric Earley covers the Pink Floyd campfire chestnut, "Wish You Were Here", along with Lady Gaga. Earley, in his own words, below.
Blitzen Trapper :: Million Reasons (Lady Gaga)
I randomly listened to this track when it appeared in a Spotify release list or something and was instantly hooked by the seeming honesty of this 'break-up' song, which isn't a type of song I'm generally attracted to or would write myself but there's this kind of desperation LG puts out on this one that got me. Wanted to sing it mainly to get it out of my system. Such a fine, simple piece for a massive Top 40 artist to pen.

Blitzen Trapper :: Wish You Were Here (Pink Floyd)
I've ingested so much Floyd over the years and never attempted a cover. Love this tune for its simplicity, its lack of a chorus, it seems to be a conversation between two people, one present, one absent. The obvious answer is it's the band talking to Syd Barrett, the founder and guitarist of the band who went over the edge some would say, though he is said to have dedicated himself to painting and gardening after leaving the industry. It could also be said it's a conversation one is having with oneself, weighing the pro's and con's of success, of allowing oneself to enter the maze.
Lagniappe Sessions Archives / imagery via d norsen