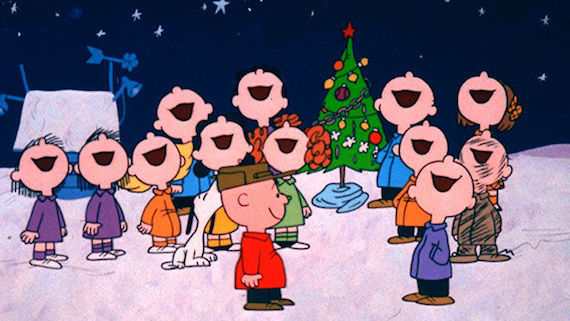 For many listeners, the Vince Guaraldi Trio's music for 1965's A Charlie Brown Christmas represents the best of the season, its sounds patient, relaxed, and warm. For drummer Jerry Granelli, it's all those things, but it's also something else: a beginning.
Since that fateful start, he hasn't wasted any time. Over the course of his more than 60 years playing music, Granelli's performed with Charlie Haden, Sly Stone, Ornette Coleman, Denny Zeitlen, Ralph Towner, and many more. Musically and spiritually adventurous, he spent time with the Dead, studied with poets Allen Ginsberg and Anne Waldman, and devoted himself to Buddhism, painting, and family life.
On his new album, a collaboration with guitarists Bill Frisell and Robben Ford, along with bassist (and son) J. Anthony Granelli called Dance Hall, Granelli returns to one of his earliest loves: the sound of R&B. It's a soft and soulful recording, a demonstration not so much of the experimentalism that has driven much of his work, but instead a heartfelt dedication to songcraft, the same sort of devotion that guided his work with Vince Guaraldi (recently reissued by Craft Recordings in a deluxe 180g format).
We caught up with Granelli from his place in Halifax, Nova Scotia to discuss his storied career, revisiting of the Guaraldi Trio work with his "Tales Of A Charlie Brown Christmas," Dance Hall, and how a Buddhist avant-garde drummer still connects to Charles Schultz's Christmas spirit. | j woodbury
Aquarium Drunkard: It took years for you to be properly credited on A Charlie Brown Christmas. What was the holdup?
Jerry Granelli: I don't know. [Laughs] It was the beginning of what I jokingly call my career, you know? It wasn't that big a deal. It was like, "Okay, I was with Vince, and this is one of the things I did with Vince." It was a real start for me in terms of people like Ralph Gleason and national critics writing about me, but then I went on to record with Denny Zeitlin and Charlie Haden. I wasn't paying attention, really. Somebody blew it up on the internet at some point, they said, "What a minute, I know Jerry Granelli [played on the record]"…They just never bothered to keep track of it. Eventually, they credited me, then they credited [additional drummer] Colin Bailey with some of it. But they just didn't keep records back then. It sounds like I'm talking about ancient times: "The first records, my son." [Laughs]
AD: You'd been playing with Vince Guaraldi for a while. What kind of discussions did you guys have about the compositions for A Charlie Brown Christmas?
Jerry Granelli: We knew the feeling. We knew the feeling of Charlie Brown; we knew the feeling of Charlie Schulz. We'd tried to [soundtrack] a documentary about him before making the Christmas special: You're a Good Man, Charlie Brown. But nobody wanted it. So we'd already had some of the flavor. Charlie Brown cartoons, you saw them every day in The San Francisco Chronicle and all over the country. We had a relationship with Charlie and his wife and family. Charlie Brown is pathetic, sarcastic, wise, and playful, all at the same time, very much like Vince Guaraldi. We were just trying to catch the feeling of it, man. Vince had these tunes — some of which had been written for other things — and he pulled one or two out. He'd bring another in, and we'd rehearse it, play it out on a gig, and then we just went in and did it. It was really simple. I wish I could make up a great wonderful story about the art coming from the heavens or something, but it felt pretty simple. And honest. Vince always demanded we played our hearts out. We played our best. But that music is simple…when I play it live, we really play it, man.
AD: Your brushwork on the recordings is beautiful. This is one of the lps that made a lot of people fall in love with jazz, myself certainly included. You spoke about getting the "feel" right. The music here is sweet but it's tinged with melancholy.
Jerry Granelli: Oh, yeah.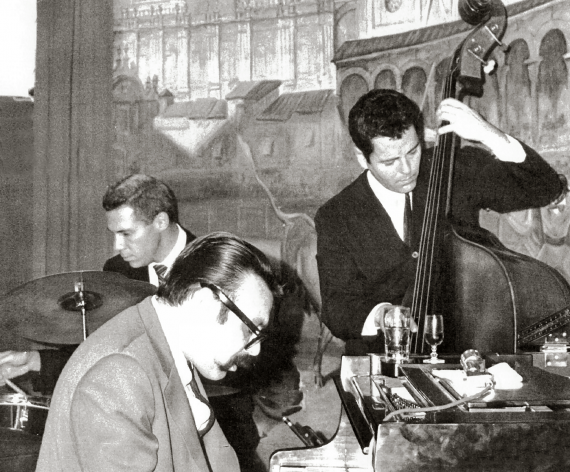 AD: At the time, did you guys say to yourselves, "This is pretty mellow for a children's program?"
Jerry Granelli: I think we were totally in the zone when we were doing it. We knew from the other show we tried that the odds were against us anyway. Everybody had already said, "What are you kidding? Jazz and a cartoon?" The documentary wasn't even a cartoon, but they only part [anybody] liked was when [producer] Lee Mendelson showed this one little animated part. That's all they liked, they hated the rest of it. So they said to Lee, "Can you make a TV show out of this?" And Lee, being a true producer by nature said, "Oh, sure!" And that was it.
I think part of the beauty of the show is that we knew, musically, we were playing good. There weren't a lot of takes. We were doing our thing. We were a good trio, traveling all over the country playing as a jazz trio. Miles was coming every night to listen to us play. So we weren't doubting that. But we did have this idea of trying to serve the music, trying to serve the piece we were playing. My parts? They're about as simple as they get on there. But that's what it needed.
AD: After a while, you began to become attracted to the avant-garde. There were sounds swirling around you were interested in exploring. You met Fred Marshall.
Jerry Granelli: Fred Marshall and pianist Joseph Nuñez, whenever we played together, it just got weird. Shit just got strange. So I'd play with them in the afternoon and then I'd have this job with Vince. That music started to call me. Vince's trio was a classic trio, like the Oscar Peterson Trio. Then Bill Evans created another kind of trio, where him and Scottie [LaFarro] were free and Paul Motian was more stable, like the Earth element. We started to move toward an idea: "What if it were a three-way street? What if nobody was more important at any given time?" I think that was beginning to happen socially, long before the Beatles and all of that. That was beginning to happen socially in jazz music. People were messing with that in New York, Chicago, and San Francisco. I left Vince on good terms, but there was this other sound in my head.
AD: As time went on, you became involved in San Francisco's burgeoning psychedelic scene.
Jerry Granelli: Yeah, it was obvious that things were changing and that jazz was shooting itself in the foot.
AD: How so?
Jerry Granelli: By staying in jazz clubs. You know what I mean? You couldn't go hear this music unless you were 21 and wanted to be around a bunch of smoke and alcohol. So you've got a whole group of young people who are saying, "Screw it, let's go to the park and play." There was a club called the Both/And without a liquor license, and it did great.
We were on the edge of playing just weird enough. But we began playing at the Matrix. The bands were Janis Joplin with Big Brother and the Holding Company, us in the middle, and Jefferson Airplane, every night. So we were getting to play to these kids who were like, "Wow, that shit's cool," instead of hearing, "That's weird, that's not jazz."
AD: You're talking about the Ensemble at that time?
Jerry Granelli: Yeah, the Ensemble quartet. Then it became the improvisational outfit Lights Sound Dimension when we met [artist] Bill Ham and it was like, "Wow, why isn't everyone playing with visuals?"
AD: Did you feel like the freedom associated with rock & roll fit your style more at the time?
Jerry Granelli:: Yeah, but it was like getting kicked out of your own family. [Laughs] I remember Herbie Hancock, we were working at a club, and he went up to Flip Nuñez and said, "You got to get away from these guys. You're all playing too crazy." But the same thing happened to Charlie Parker, it happened to Ornette, it happened to Byrd. I'm not comparing us to them. But it happened to Picasso, to the impressionists. Everyone wants to move art forward. Honestly, rock & roll was more about the social situation, because musically it was so crude I couldn't even believe it. Drummers going "boom, boom, bap, boom, boom, boom, bap," if it was even that complicated. I was like, "Oh my god, what are we doing? We're going in the wrong direction!"
AD: Your new album features all these great players, Robben Ford, Bill Frissel, and your son J. Anthony Granelli, and a selection of songs culled from the R&B and blues songbook. It feels like all these years later, you're still traveling between genre. What was the process of selecting songs for Dance Hall like?
Jerry Granelli: When I mentioned it to producer Lee Townsend, I said, "This could just be a covers record." I wanted to work with Frisell and Ford, both of whom are my dear friends. We did a record a few years ago called A Song I Thought I Heard Buddy Sing, and this is kind of the back-end of that. But I said, "I feel like the songs have to be personal, they have to mean something to me." And he said, "Yeah! That's the only way to pick material." So "The Great Pretender," that means something to me. I was on the road with the Platters for six weeks, you know? We played that song every night. I love Fats Domino — I happened to be falling in love with my first wife in high school, walking around the corner and "Ain't That a Shame" was playing. I grew up on Louis Jordan; that's how I learned how to play quarter-note triplets. "Never Gonna Break My Faith" — they play at the end of this movie called Bobby, about the last day of Bobby Kennedy's life. Aretha sings it, and that felt like that's where we are now. "This Bitter Earth," [made famous by Dinah Washington], that's a song I listened to every day. Its influence showed up on "Christmastime is Here," just playing brushes that way, trying to find melancholy and how to put your whole soul into one brush going in a circle, you know?
You hate to have a personal opinion about your own record, but if you consider my recorded history, both as a leader and a non-leader, it's pretty outrageous to make a record where I just play the drums so these great guys can just groove. I feel like it's a moment of freedom, very much inspired by John Zorn, who performs and plays whatever the hell he wants. A Lounge Lizards thing, or Masada…I've always admired that. Same with Bill Frisell, you know? Somebody once said, "If everyone's playing so free, how come they ain't playing no version of 'Louie, Louie?'" [Laughs] In this record, it's kind of that statement to me. It's very personal to me. We mixed it out at Fantasy, you know?
AD: Which brings us right back to Charlie Brown.
Jerry Granelli: I know, man! I walk in there and I start teasing people like, "You know, I probably bought that chair for you guys."
AD: You revisit the music of Charlie Brown with your "Tales of A Charlie Brown Christmas" shows.
Jerry Granelli: Yeah. You know, I wouldn't do it for so many years. You wouldn't believe the bribes people tried to give me to do it. "Hey man, we'll pay you this much money. Why don't you do an avant-garde version?" I said, "I can't! My body wouldn't let me play anything other than what I originally played on that music. I'm not built that way." But yeah, we have a children's choir, and they're great. They're so much fun. We try to keep true to Vince's vision and have a real children's choir, not a professional choir. I tell these stories and say whatever runs through my mind, kind of stream of consciousness. People are just backstage hoping I'm not going to say "Fuck you, motherfuckers" or something like that. And yeah, we play the record. The choir comes out to do the choir pieces, and we play it like we used to play it on a gig, the way Vince used to play it. We dig into them. Simon Fisk and Chris Gestrin can both really play. They're great. It's amazing to feel the humanistic energy this music inspires in people. It's kind of refreshing because it has nothing to do with me, you know?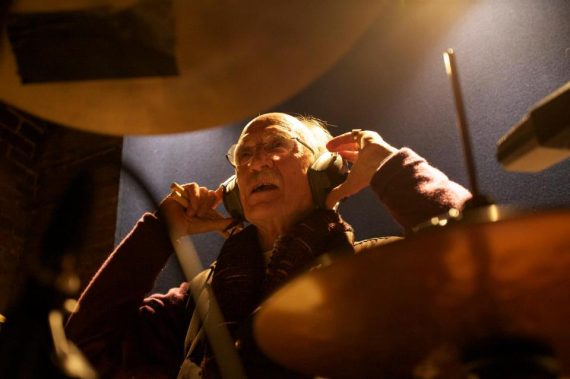 AD: You've studied Buddhism for a long time, correct?
Jerry Granelli: I've been a Buddhist since 1970. I think this shit's getting serious. [Laughs]
AD: Does your Buddhism inform the lens through which you see A Charlie Brown Christmas? Does it feel like the message of the film harmonizes well with your beliefs?
Jerry Granelli: The whole thing is about a basic goodness. The world is screwed up. I look at my grandkids and I'm like, "Oh man, I'm sorry." But there is still human wisdom. There still is human dignity. You get a thousand people in a room and they're there to feel love. You can feel it. That's still possible. Buddhism is based on the idea that all humans are basically awake. You have everything you need to live this life and help other people.
I think I'm a little softer as a person. I was lying on a beach in Nova Scotia with my girlfriend and this old guy asked me, "Are you Jerry Granelli?" I said, "Yeah," thinking, "Oops, what'd I do?" He said, "I just want to thank you for being part of this music," and introduced me to his grandson. I allowed myself to be touched, in a non-ego-centered way, like, "This isn't about you, idiot, it's about sharing something."
AD: A Charlie Brown Christmas is about having all we need, too. It's about how we don't need extra stuff. It's not about commercial appeal or consumerism. It's about something deeper.
Jerry Granelli: Linus gives that speech, you know, which freaked CBS out. It totally freaked them out.
AD: If jazz music was freaking people out, I have to imagine a speech that religious turned some heads.
Jerry Granelli: Between that and the jazz music, they were like, "We're not going to let no little kid come out on stage, some dumb animation, and tell us what Christmas is about, which is diametrically opposed to what we're trying to prove Christmas is about," you know? Every show, we get one child from the choir to come up and do it. Boy or girl, they volunteer, and it's so good. They just kill it. They say, "Oh I might make a mistake" and I say, "Whatever you do, as soon as you walk up there and start this speech, they're going to love you. Completely." And that piece happens every time in the show. [The show came about when I] finally could see that this could be a piece — not a copy or a cover show — which is why I call it "Tales of A Charlie Brown Christmas." I talk for 20 minutes or however long I'm moved. I share whatever stories I happen to remember. Sometimes my manager will go, "That didn't really happen, you made that one up." And I'll go, "Really? Far out!" Nobody else was fucking there. It's just me and Lee Mendelson.
AD: It happened if you say it happened.
Jerry Granelli:  We're the only ones left! If you can prove otherwise, that's cool with me! 
Related: A Reflection: Vince Guaraldi Trio — A Charlie Brown Christmas
'Tis the season. You can help support independent media. Aquarium Drunkard has launched a Patreon page, which allows readers and listeners to directly support our online magazine. Patronage includes bonus audio, podcasts, printed ephemera, and vinyl records.