With their second lp, 2003's Circles, John Stirratt and Pat Sansone united as the Autumn Defense to craft a set of winsome and sweet songs. For Stirratt, the album offered a detour from his role in Wilco. Soon after, Sansone would join the band too, and Circles offers a glimpse of what he'd bring to the table: soulful harmonies, mutli-instrumentalist layers, and thoughtful arrangements.
Recently, Be With Records reissued the long out-of-print (and highly sought after) sophomore effort. To commemorate, the duo put together an all-vinyl mixtape, featuring some of the sounds which informed Circles, and took some time to reflect on the record.
Aquarium Drunkard Presents :: The Autumn Defense/ A Mixtape
Tracklist and interview after the jump.
For You – Big Star (from Sister Lovers)
Though You Are Far Away – Colin Blunstone (from One Year)
Little Rhymes – Mercury Rev (from All Is Dream)
Beechwood Park – The Zombies (from Odyssey and Oracle)
The Autumn Defense — Tuesday Morning (from Circles)
Two Sisters – The Kinks (from Something Else)
Pretty Ballerina – The Left Banke (from Walk Away Renee)
Everybody's Been Burned – The Byrds (from Younger Than Yesterday)
Painting Box – Incredible String Band (from The 5000 Spirits Or The Layers Of The Onion)
Old Man – Love (from Forever Changes)
Witchi-Tai-To – Oregon (from Winter Light)
Milestones – Terry Reid (from River)
Music Is Love – David Crosby (from If I Could Only Remember My Name)
The Autumn Defense — The Answer (from Circles)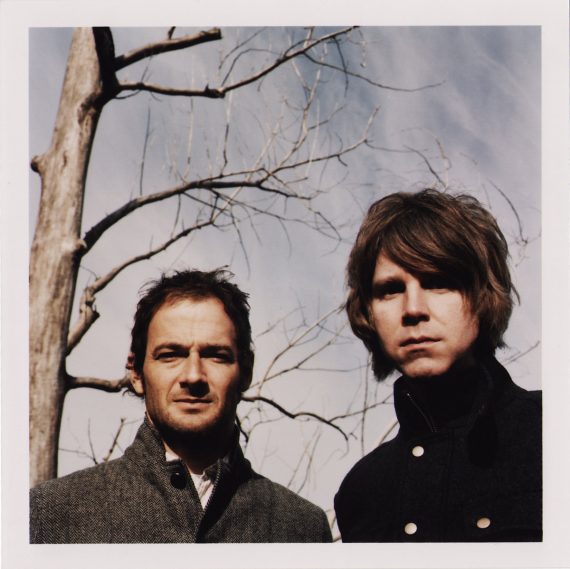 Aquarium Drunkard: The Autumn Defense's first album, The Green Hour was extremely melodious, but Circles founds the Autumn Defense slipping into an eased-back mode, one that positioned warmth and melody at the front of the mix. What influenced this shift?
Pat Sansone: The majority of the compositions are John's so he might have a better perspective on this…but my memory is that at the time we were listening to a lot of mellow music, a lot of acoustic-based late '60s and '70s stuff, just discovering a lot of these albums that would eventually become our favorites. And this found its way into our writing. I think also, after spending more time together as a musical duo after The Green Hour, we were learning what suited our voices and we found ourselves leaning more toward this more laid back sound. The sense of melancholy that is in the background…I don't know…the early 2000s were a pretty anxious time. I think maybe we were dealing with that in our own way and maybe unconsciously looking to create something as an antidote to that.
John Stirratt: I feel like the difference in the tone of the songs from The Green Hour to Circles, as well as the overall quieter vibe reflected a conscious decision to go for a mellower, more harmony-based set of songs — "Sun In California" came first from these and it sort of set the tone. I remember traveling to New York, where Pat lived at the time, to show him this song with a few others, but really locking in on the harmony immediately with this one, and it informing further tunes I wrote for this record. Whereas The Green Hour had an uptempo, acoustic pop feel, the songs didn't have the space to let the harmony happen. There might have been an inward turning aspect after 9/11 as Pat mentioned.
AD: When you guys listen to Circles now, what stands out about the record?
Pat Sansone: I just really appreciate the sustained mood of it, there is a very strong emotional tonal thread that runs through it that I like and am proud of. And great memories of both the Nashville and Chicago sessions when making the album.
John Stirratt: I feel like the way Pat's songs and mine stand together so well is what I'm proudest of — that sustaining a common thread with two songwriters was done well on this record. I also feel there's more of an "off the cuff: vibe that didn't happen before or later, which suited this material well, especially with different recording sessions and studios.
AD: What serves as a throughline in the songs you selected for this mix?
Pat Sansone: I noticed there are a lot of strings! Which I love. Some great arrangements like on Big Star's "For You" and Colin Blunstone's "Though You Are Far Away". Those are two of my all-time favorite string arrangements. And of course "Pretty Ballerina" by the Left Banke. All these songs definitely have that "autumnal" feeling…which is what we were really digging at the time we made Circles, and still do. All this music is both harmonically sophisticated but still catchy and approachable. Warm, inviting, deep, and bittersweet.
John Stirratt: I would say much of this is really high-end, classic orchestral pop that was so influential to us in shaping the sound of the Autumn Defense. interview/j woodbury
Further reading: Diversions — The Autumn Defense on the Polaroid SX-70