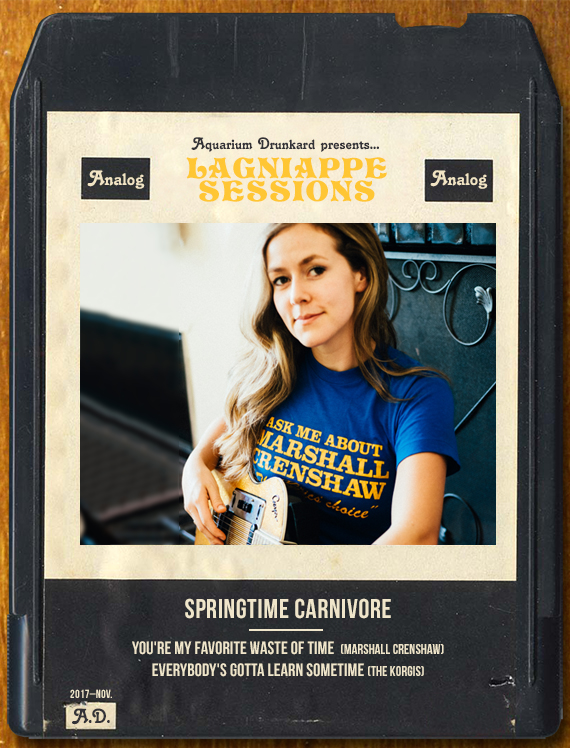 Lagniappe (la ·gniappe) noun 'lan-ˌyap,' — 1. An extra or unexpected gift or benefit. 2. Something given or obtained as a gratuity or bonus.
Greta Morgan is Springtime Carnivore — multi-instrumentalist, songwriter and purveyor of technicolor daydream music. Setting aside the lush production of her two studio works (via Richard Swift and Chris Coady, respectively), Morgan gets autumnal cozy with a pair of disparate covers from the 80s — the American power-pop majesty that is (the incredibly underrated) Marshall Crenshaw and Brit-poppers, The Korgis. The artist, in her own words, below.
Springtime Carnivore :: You're My Favourite Waste of Time (Marshall Crenshaw)
The chorus of this song has been stuck in my head for 6 years now and shows up every time I'm enjoying an actual waste of time.   I have a 1982 concert t-shirt of his that says "Ask Me About Marshall Crenshaw" that I wear often, waiting for an opportunity to talk about this underrated writer with anyone who'll ask. This song shows his mastery of melody and simplicity and I also love that it uses the British "U" in Favourite even though Marshall Crenshaw was born in Detroit.
Springtime Carnivore :: Everybody's Gotta Learn Sometime (The Korgis)
James Warren says he wrote this song in 10-15 minutes as part of a personal challenge to write a song every morning. I love that idea of a writer going about their daily grind and not finding magic for weeks, then having lightning strike with a song like this. He'd apparently been reading self-help books which was the inspiration for the simple concept, "Change your heart / it will astound you". When I played this on a nylon string guitar, I was amazed at how timeless this 1980's song felt — it could've been from 1918 or 2018.
Note: If you're in Los Angeles, catch Springtime Carnivore next week (December 9th) at the Lodge Room in Highland Park with Bedouin.
Lagniappe Sessions Archives / imagery via d norsen