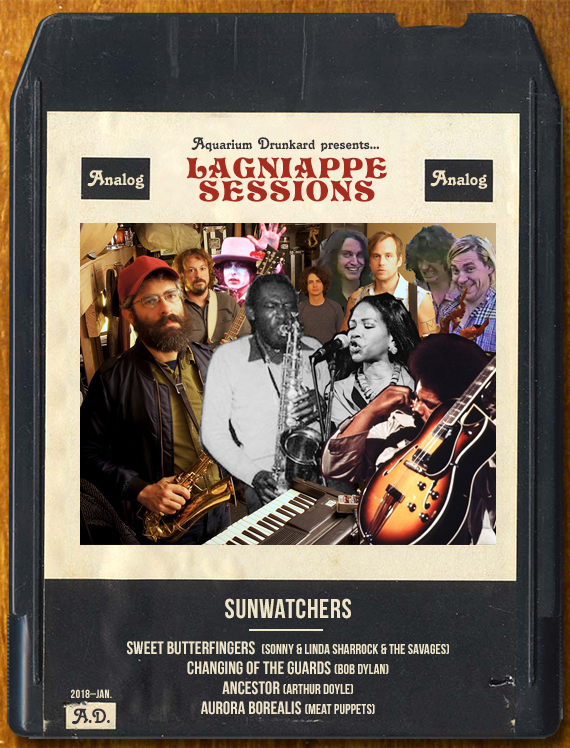 Lagniappe (la ·gniappe) noun 'lan-ˌyap,' — 1. An extra or unexpected gift or benefit. 2. Something given or obtained as a gratuity or bonus.
The return of Sunwatchers. Simply entitled II, the group return next month with an incendiary follow up to their 2016 debut. Sonically, the quartet continues to defy adequate description, incorporating elements of free jazz, psychedelia, punk, Ethiopian and Thai music into a dizzy, invigorating sound. Always ones to wear and share their influences widely, the band discuss their selections below. A heady, intoxicating brew.
Sunwatchers :: Ancestor (Arthur Doyle)
Three Sunwatchers – Jeff, Jim and Jason – had the distinct and profound privilege of collaborating with the late, great Arthur Doyle, pioneering blaster and esteemed composer of FREE-JAZZ-SOUL. Not enough room to fully expound, but suffice to say: for us, it was heavy.  The music we got to make with him was released on Amish Records in late 2016 as  Arthur Doyle & His New Quiet Screamers "First House".   Dig it.
While preparing for the release-show of that LP, Jeff arranged into a  Tony Allen-influenced groover an Arthur tune from one of his purely solo efforts,  The Songwriter  – some of the loneliest and most urgent music ever released.  "Ancestor"  finds Arthur two-chord vamping on a melody, sax-wise and vocally and naming the names of his sonic, spiritual and psychic forbears:  Sun Ra, Miles, Muhammad Ali and more.   We did not play this song with Arthur, but simply put: without our collaboration with Arthur there is no Sunwatchers. We name no names but perform with only one in our hearts, minds and hands, and we consider ourselves forever changed to have been part of Arthur's process in transmogrifying that intense solitude and high vision into a communal exercise of improvisation.

Sunwatchers :: Sweet Butterfingers (Sonny & Linda Sharrock & The Savages)
One of Sunwatchers' fave in-van genres is the ever-derided  Genius Visionaries Ahead Of Their Time Attempting to Reach A Greater Audience By Making 'Pop Music' As They See It;  whether the goal is to germinate larger, more universal mobs with their crucial  Message of Universality, because they needed the scratch for more independence and to pay those bills, or if they just damn well pleased – don't matter:    Ayler's  later stuff (to which we pay obvious homage with our moniker),  Shepp's  Blasé,  ZZ Top's  Afterburner  and  Roscoe Mitchell's  "You Wastin' My Tyme" all get High Shrift, among others. Tops amongst these journeys toward The Big River are Sonny and Linda's  Paradise,  a queazy and beautiful platter with forays into  Canned Heat  boogie-pop (w/synth harpsichord!), New Age-ish rubato vocalizing and other forms then frowned-upon for genre-exploders like them.
"Sweet Butterfingers"  – from the  Paradise  era, taken from a WKCR live session than includes beautifully raw album cuts – finds The Sharrocks in a pleasant midpoint between the harmolodically perfect, fierce and free guitar/vox-driven genius of  Black Woman  and the mindbending compromises made in order to create  Paradise.   Sonny has always been huge for us; we imitate him and honor him all over our first LP, and his stated attitude that "I'm not a guitarist; I'm a horn-player with a fucked-up axe" has not only transfigured our instrumental techniques (that's not a Thai Phin – it's a screeching trumpet; is that a sax or an excerpt from a Dreyblatt piece?), but helped to usher Macro Jazz Guitar away from it's original place as a cologne-drenched piano-understudy into a whole new field of textural expression and intentionality. When we heard this tune on WKCR – after they rediscovered the tapes   – we couldn't help but do it.
Sunwatchers :: Changing of The Guards (Bob Dylan)
To be moribund and blunt, we wanted to learn a Dylan song before he, too, kicked the bucket alongside the obvious Sonic and Cultural Monoliths lost over this past 2-3 yearlong Shit Sandwich we've all been enduring.  We really like this song, this era, this instrumentation and this Byzantine and Biblical-level of lyrical myth-making and misdirection-from-the-personal. What a song: Long Golden Locks and Rebellion By The Shoeshine Boy and then The Guard is Changed, and A NEW REALITY ARISES!!!!   Is it meaningless? We sure the fuck HOPE NOT!!!!!
Plus we wanted to give once-and-future Sunwatcher and consistent collaborator Katie Eastburn a chance to flash her Gilded Pipes and Deep Soul with this berserk rarefied grist, and as a bonus we Sunboys give it our all on the haphazard backup vox. Stoked.
Sunwatchers :: Aurora Borealis (Meatt Puppets)
We are humbled to every-so-often be compared to those magisterial and antagonistic Indoor Wizards the  Sun City Girls, and we do love them deeply; however, an older font of Sunwatcher Inspiration can be said to pour forth from this other outfit from  The Land Of It's Too Hot To Do Anything But Drop Acid And Make Art With Your Brothers,  which is clearly Phoenix/Tempe, AZ and we're obviously talking about Meat Puppets.
Sunwatcher Jim once wore a sleeveless Pups shirt until it rotted off; took years, and was not quite testament enough, still, to their dominion over his brainpan. If the bass-playing of Phil Lesh is the musical analogue of hooking your dirty thumbs 'neath your Overhaul Straps and improvising a wrongheaded country clog, then  "Aurora Borealis"  is the sonic manifestation of surviving the last few hours of an air-conditioned acid-trip by smoking a pound of brick-weed and drawing comix with your same-faced brother. Perhaps it's our lack of commitment to that general Lesh-style (and Cris Kirkwood's clear adherence to same), or it's our current substance-cocktail of choice (delicious soups of various origin; very dark chocolate high in magnesium, often riddled with tree nuts; the occasional low-cal beer), but of these vigorous and heavy tunes, we had the hardest time vibe-ing with this simple, perfect loafer.  Finally, we got ourselves into that non-thinking/only-feeling zone and did some justice to it, we hope. And there at the end, we have a stunt-fade-out during a seemingly blind left-turn into "Political Song For Michael Jackson To Sing" by  Minutemen; it's as if, to show our guile and where our allegiances lie, we are engineering an entire SST-themed improv …
Alas, it's an illusion: we learned  "Political Song"  and other poignant and cudgeling tunes by the  Minutemen (and  Doug Sahm  and  Henry Flynt …) during a session we recently completed with  Eugene Chadbourne. To be released as a double album by Amish Records this upcoming Spring. And of course everybody knows Doc Chad made one of his greatest discs with  Sun City Girls  via the U.S. Postal Service in the late 1980's.  Here, as ever, follow the sidewinder tracks over the dunes to see  THE SERPENT EATING ITS TAIL ONCE MORE …
THANKS A MILLION FOR LISTENING AND HUGE PROPERS TO COMRADES NICOLE LAWRENCE AND JON ERICKSON OF HIGH RIDER FOR CAPTURING THESE JAMS LIVE TO TASCAM 388 IN THEIR PRACTICE SPACE!
Lagniappe Sessions Archives / imagery via d norsen
Dig this flavor of culture reportage? If so, support us through Patreon. Help us continue to produce mixtapes, podcasts, radio shows, a/v joints, interviews, features, and much more.