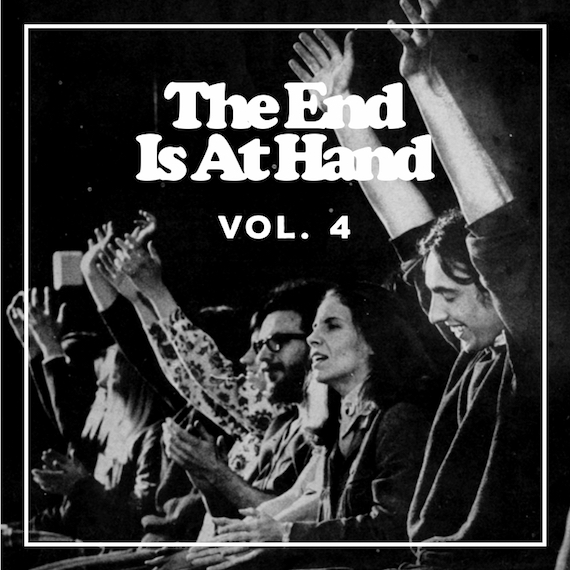 Witness — The End Is At Hand: Volume four. Similar to volumes 1-3, this homemade collection rounds up super-obscure, often private press, outsider psychedelic guitar and folk music from the 60s and 70s…all with the underlying theme of the Jesus People Movement.
01 Bakery- Trust In The Lord
02 The RFD- He Is Coming
03 Good News- Spirit
04 Father Daniel Berrigan- Kyrie
05 The Real Thing- No Songs Of Sadness
06 Maranatha- Deeper Than The Mighty Rolling Sea
07 Road To Freedom- A New Song
08 Bridge- Jesus
09 Kristyl- Like A Bird So Free
10 Mountain Angel Band- Suffering Servant
11 Hallelujah Joy Band- Lord God Almighty
12 Tim & Dale- It Can Happen To You
13 Emmett Taylor- Men Of Delusion
14 Agape- Happy
15 Mission Singers- Everything's Just Fine…Or Is It?
16 White Light- Where Did I Belong
17 This Driftin's Gotta Stop- There Ain't No Hiding
18 The Messengers- The Right Way
19 Patric Calfee- Joy Comes In The Morning
20 The Young Stalneckers- He Gave It To Me
21 Delvin Ford- Such Is The Day
22 Phoenix Sonshine- Reach Out To Jesus
23 Sonfolk- Homecoming
Download: The End Is At Hand: Volume One // Volume Two // Volume Three
Pssst…Aquarium Drunkard has launched a Patreon page, which allows readers and listeners to directly support our online magazine as it expands its scope while receiving access to our secret stash, including bonus audio, exclusive podcasts, printed ephemera, and vinyl records. Your support will help keep an independent cultural resource alive and healthy in 2019 and beyond.