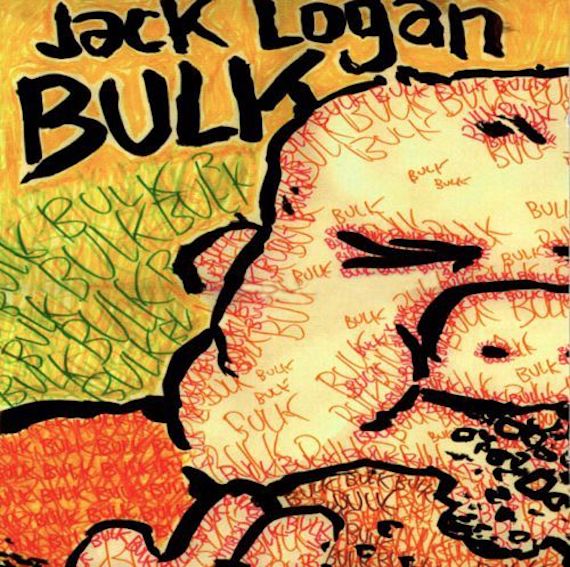 (An oral history of Jack Logan's 1994 double album "Bulk", as told by Peter Jesperson, Peter Buck, David Barbe and Jack Logan.)
"I've got a song you need to hear" — it's one of those phrases that tends to pique music lovers' interest, and it's a narrative thread that is woven into this piece. This is a story about great music, great writers, the passion art inspires, the endless links that exist between like-minded musicians, the siren call of a once sleepy Southern town, and the unassuming man at the center of it who would burn brightly for a minute before resuming the life of a musician with a day job who just does what he does because he loves it. It's the story of Jack Logan's Bulk. But it starts, in my case, with Moby Dick.
I'd joined a group at a local bookstore doing a year of reading of the works of Herman Melville and made friends with a guy named Will. He'd taken it upon himself to try and cultivate a musical playlist of songs that shared themes, broadly or directly, with Moby Dick. At one of our meetings he said, "You're a Vic Chesnutt fan, right? Well, I'm going to loan you this CD." The album, which was missing the first of its two discs, was Bulk by Jack Logan. Located just a few tracks into the second disc was the song "The Parishoners" which featured Chesnutt on guest vocals. It was a great song, but I was equally interested by a few things: first, that this was a 42-song double album; second, Chesnutt's presence on the album pointed to the potential for interesting connections; and third, it was a co-release of Twin/Tone and Medium Cool Records, both labels run at least partially by Peter Jesperson, he of Replacements-manager fame among other things. I ended up holding on to the CD so long that I scoured the internet and bought two complete copies of the record for a buck each – one to return to Will and one for me. This is where things got interesting.
Jack Logan :: The Parishioners
"His name popped up a number of times. I think R.E.M. was considering covering 'Female Jesus' for one of their flexi-discs. That's how it first became known to me. But I hadn't really heard him. And people around Athens would ask me, 'Well, have you heard Jack Logan?' And I'd say no and they'd kind of roll their eyes like, 'oh, boy, well, you're in for it. When you hear him it's all over." This is Peter Jesperson speaking to me over the phone while I'm trying, quietly, not to freak out. As someone who reveres the Replacements, Jesperson's place in their lore is not lost on me. His own story about his first time hearing Jack's music sounds like something you'd write out in fan fiction.
"I was driving down to Columbia, Missouri to see the first Big Star reunion – when Alex Chilton and Jody Stephens first got together with the guys from the Posies. I brought a whole box of cassettes with me, and somewhere along the line I'd stopped to get gas and was thinking about what to listen to next. So I said, 'Well, I'll throw one of these Logan tapes on.'"
But let's pause here a moment. Where did these tapes come from?
"I used to work at Wuxtry Records, and they just started having these Jack Logan cassettes." This is the voice of Peter Buck of R.E.M. talking to me over the phone from his home in the Pacific Northwest. "I was surprised how great the songwriting was. This sort of Southern vernacular lyrical poetry and Basement Tapes type music. It was right up my alley. I thought, man, this guy's actually pretty good." It was Buck who told Peter Jesperson, on one of his trips through Athens, that he ought to look Logan up. "I'm pretty sure when Peter Jesperson came to visit me it was 1990. [The cassettes were] the type of thing where you go 'well, that's pretty darn amateurish,' which I like. There was handwriting on them. They were just bottom of the totem pole as far as professional packaging goes. It was obvious they were home recordings. You just didn't expect songwriting of that caliber to appear in that way."
When you look at the tracklisting on the back of the case for Bulk, you're immediately thrown for a bit of a loop. In addition to a whopping 42 songs, the songs are divided up into 'sides' like a vinyl record; nine of them to be exact. There's a loose thematic connection to these sides. The opening foursome includes "Shrunken Head," "Love, Not Lunch" and "Female Jesus," all songs that revolve in various ways around women who are studied, loved and worshipped respectively. "Escape Clause," "Just Go Away," and the loping quasi-country of "New Used Car and a Plate of Bar-B-Que" make up part of the second side, a set of songs about running away, dodging danger (or not in the case of "Underneath Your Bed"), or maybe just getting out of a bad enough situation that you want to celebrate with dinner with all the fixins. You're starting to get the picture. These are shaggy dog stories in miniature.
On average, if you were told "wait til you get to track 11" by someone trying to sell you on an album, you'd probably scoff. But Bulk is the kind of polychromatic creation that belies its origins. Despite the record sounding in spots like it was recorded on a 2-track at best, the landscape of Logan's music is the creation of someone who clearly loves a lot of music and doesn't mind dabbling in all of it. Track 11 is "15 Years in Indiana," and that's where Peter Jesperson started his journey with Jack in that car going to Missouri.
Jack Logan :: 15 Years in Indiana
"I grabbed one of the tapes at random and put it on. The first song that came on was 'Fifteen Years in Indiana' and I thought, oh, my god, what an amazing song. Of course, with 100 songs, there were some that weren't necessarily as good as that one and some that were probably downright crappy. But the ratio was so in the positive direction, that was really the beginning. I ended up going through every one of those three cassettes and making a list of the tracks I liked the most," said Jesperson. But let's pause again. These tapes didn't come from Peter Buck. Buck, as mentioned, had told Jesperson about Logan and encouraged him to reach out. So he did.
"He happened to put it on at a certain time that he was open to it. He might have put it on in his office and just been like 'nah.'" This is the man himself, Jack Logan. To say that he understates his talent as a songwriter would, in itself, be an understatement.
"I've always been a music head and it kind of took precedence over stuff it probably shouldn't have. I just loved it. And this punk rock thing came and so it's like, well, you can at least try something. So my first recording was taking two cassette decks and recording guitar on one and then playing it back over the other and singing over that. I never could really sing and play at the same time. Still can't. Been doing this for how many years," he laughs.
When Jack arrived in Athens in 1985, he'd been drawn in by the burgeoning scene there spearheaded by the ever-growing stardom of R.E.M. "I couldn't overstate the cachet that R.E.M. had. Half the people I met, musicians, that's why they were there. But it was still a super sleepy little town then. It didn't disappoint me. I was so glad [I moved there]." Logan had played with a collection of musicians dubbing themselves Liquor Cabinet and it was there that his songs became known around town. His home demos – some dating back as early as 1985 – were known among his musician friends as well. So when Jesperson came calling, that's what he wanted.
"He lived in this shack," Jesperson recalled, "where there was no telephone. I had to go out to his place to find him, and I told him I have a record label and I'm working with these other musicians, and I said I want to hear your stuff. He just sort of blew it off and said, nah, you don't wanna hear my stuff. But I told him I did and gave him my card. And he wouldn't send me anything."
"I knew who Jesperson was, but I didn't know him," said Logan. "To me he was the Replacements guy. I was like – he doesn't want to hear this crap."
"He wouldn't send me anything. And I'd be back down there a few months later and go see him and ask him again to send me some stuff. And again he wouldn't send me anything," laughs Jesperson. "And I thought, what a great way to get an A&R person to take interest, to keep not sending them stuff!"
"I was intimidated. I had no idea how [the submission] process worked. So I was thinking, if he's going to like something, I better give him a lot to choose from. I don't remember what my strategy was. I'm sure I didn't have one," mused Logan.
This is how Peter Jesperson came into possession of a package that arrived for him one day containing three cassettes crammed with the aforementioned 100 or so songs.
"Doesn't every truly great double album do that? I never thought about it." This is producer/musician David Barbe.   "The double albums I truly love – Bulk, Double Nickels on the Dime, Blonde on Blonde, Physical Graffitti, The White Album – everyone's criticism of them is 'well, it's kind of a hodge podge, don't you think? It's all over the map.' And my feeling is yeah, it's two albums. It'd be boring if it wasn't. I love the first Ramones album, but there doesn't need to be any more of it than there already is."
Bulk is a rambunctiously diverse album. There's Southern rock, country, folk, pseudo-Hawaiian, and Stonesy-rock vamps. It doesn't take itself too seriously, balancing its pathos with plenty of humor – the type of structure that makes songs like "Cartoons" and "The Parishoners" and "15 Years in Indiana" land with that much more force.
"I loved a bunch of different types of music," said Logan. "So I never considered that I couldn't do this type because I'm this type of musician. That never occurred to me. Anything you like, if you're recording on a four-track at home, why not try it? It's not like you're doing it for a record. I was, but I just didn't know it at the time. [laughs]"
The demos were culled from tapes that span nine years – 1985 to 1993 – one of the most perfect examples of the old axiom about having a lifetime to write your first album. After Jesperson heard the first hundred demos, he wanted more.
"I was talking to some of my friends down there in Athens and I was like, man, I really love this stuff. Tell Jack when I come down there, I want to talk to him some more. So I went back down there and told him I really wanted to do something with him. And that's where it really began. I would go down there, he'd give me a handful of cassettes, I'd go back to Minneapolis, comb through them, I'd write down which tracks were strongest and then eventually I said I want to make a record with you." Jesperson's idea for this first album, however, was not what you would expect.
"I said I think the first thing we should do is take the best of what you already have on tape, make a compilation. I think he was a little disappointed in that. I think he wanted to go in and record stuff with better fidelity."
"I immediately said yes. This is the only record I'm ever going to be able to make, so I might as well put as much on it as I can," laughs Logan. "At this point, the lo-fi thing was happening. I'd heard of this guy R. Stevie Moore. He was the first guy I'd ever heard of doing things just like me – records a lot of stuff, does it at home. So I thought, that's the way to go."
By the time he was done, Jesperson had listened to around 630 songs recorded by Logan and organized them through a series of index cards that littered the floor of his apartment. "My method has always been that I write song titles [on the index card], song length, and the tempo, something about the intro and something about the end. And I'd have a few notes on these cards and then throw them on the floor and they'd become like puzzle pieces. I pushed the furniture to the sides of my living room and that went on for most of a year."
To say Peter Jesperson has a love for sequencing might also be an understatement. His index card system is something he had applied for years – sometimes even in-studio, as he had done with all of the Replacements' Twin/Tone albums. So you can understand why it might have taken a year to narrow down from 630 songs.
There are 41 original songs on Bulk and one stray cover. That cover – a version of Neil Young's "On the Beach" – is slotted on 'side 6' with "Shipbuilding Blues," "Would I Be Happy Then," "Farsighted" and the aforementioned "The Parishoners." It's no wonder my friend felt called to the track for his Moby Dick playlist. There's something decidedly Melvillian about that particular group of songs.
"There weren't many covers [included in the demos], which is what made it all the more startling," said Jesperson. "The only other one I remember was 'Stray Cat Blues' by the Rolling Stones. I think there was just something about that version of 'On the Beach' that was…there was just such an atmosphere to the track. So forlorn and it had a quality none of the others had."
Jesperson was in New York on Twin/Tone Records business and was visiting a writer at Rolling Stone. Walking down the hallway he heard a voice call out for him. It was David Fricke. "I'd known him [a long time]. Practically the first thing he said to me after 'hello' was 'Hey, you dont' have any of that Jack Logan stuff with you, do you?'" Fricke had latched on to a piece about Logan from a local paper in Minneapolis and was intrigued. "I sat on the floor of his office and played him five or six songs, and he was so excited. I remember him pounding his fist on the deak and saying 'This is phenomenal. This is the kind of stuff I want to write about!'" It hadn't even crossed Jesperson's mind that Rolling Stone might be interested. And they would not be the only ones.
"My little 15 minutes or whatever really came down to Peter [Jesperson] and Timothy White," recalls Logan. "When my record came out, he was an editor at Billboard. [Jesperson] got the record to him. I was still working at this motor shop. So he calls me up – and I'm sitting in the motor shop after hours and I talked to him for about two hours. He was really nice. Once he got on [the album], it was really kind of creepy and interesting to see how those narratives get started. It snowballed and I was getting calls from..must've been 200 different magazines, newspapers. All because of him." Over the next two years, it would be pretty consistent, even leading to a couple of segments on NBC's Today and a performance on Conan O'Brien's show.
But the fact that chances you've heard Jack Logan before are slim reflect the nature of the business. While the press push carried over into his second album, Mood Elevator, it was hard to catch the fervor over again. Medium Cool had become a subsidiary of Restless Records and the business elements came into play. "It was time to do the third record and things got weird. When you have consultants in there telling you what to change about songs, that's when I knew maybe this wasn't for me," said Logan.
"Town Crier" is the last song on Bulk. And much like the rest of Jesperson's sequencing master work, it is perfectly placed. "Know this town / I know everyone that's in it it / Know where all the streets come out / …town crier rings his bell / and I'm a big liar when I say that all is well." It's a small piano ballad that resembles the tone of the Replacements' "The Last," a song that feels like it's still just jovial enough to try and play off the finality of its meaning. And that's where Bulk leaves you after more than two hours of music.
With Logan's prolificness, it's tempting to compare him to someone like Robert Pollard. But Pollard hasn't ever written a record quite like Bulk. Though it's a later album, my first thoughts leaned more toward comparing it to Cody Chesnutt's The Headphone Masterpiece, a similarly sprawling, multi-disc, home-recorded affair. An artist unafraid of putting every idea he had down on tape. And the end results, equally mesmerizing.
"He moves forward. He doesn't get bogged down," said Barbe, reflecting on Logan's writing style. "It's probably the secret to how prolific he is. He wasn't self-conscious. There's a difference between being shy and self-deprecating. Most people are going to be shy or reticent about playing something brand new for someone else. Self-depricating is 'well, I did that stuff and it's whatever.' You can't write 5,000 songs if you can't finish one."
"I do still hear from people who discover the album," Jesperson notes. "Maybe three or four a year who will write an email and say thank you. That's gratifying to hear after all this time. One of the great moments for me – the drummer of the Drive-by Truckers [Brad Morgan] – he came up to me when we were first working together. He said, 'Hey, man, thanks for Bulk. That's why I moved to Athens.' That was a big deal to me."
24 years on from Bulk's temporary place in the musical sun, it's still an album that draws people in. It drew me as it drew Brad Morgan and as those songs drew Peters Jesperson and Buck and David Barbe. Like they drew Vic Chesnutt – who liked "Town Crier" enough that he wrote an additional verse for it and would pay it live – and David Fricke and Timothy Smith and endless others.
"It's funny," mused Logan. "I feel like the smartest thing I could've done is put out Bulk and then called it a day. I think if I'd done that, I'd be headlining Coachella right now. [laughs] I mean, it's 40 songs and that's more than some people put out in a career. I just enjoyed it too much."
"I think he's happier not being on stage," said Peter Buck. "And you know, he has a day job. Last time I saw him, I went to some place where – I swear – he was painting tiki ornaments. It was right next to David Barbe's studio and I stopped in to say hey. I like the fact that he does music as a hobby. In a way, it's like that's the way it should be."
Which reminds me. I've got a song you need to hear… | j neas
For Heads, by heads. Aquarium Drunkard is powered by its patrons. Keep the servers humming and help us continue doing it by pledging your support via our Patreon page.