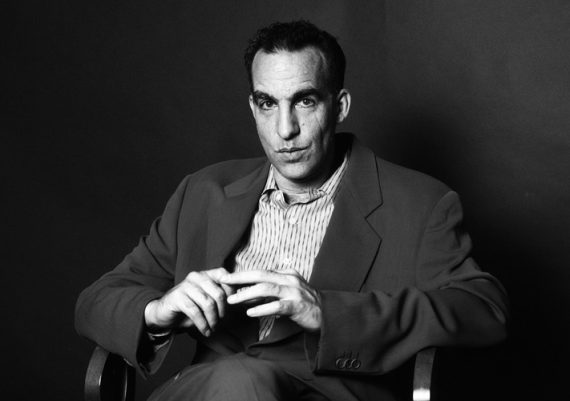 The world of music has seemed a much less colorful and interesting place in the years since John Lurie stopped recording. The former leader of NYC jazz ensemble The Lounge Lizards, film score composer and occasional collaborator with the likes of Tom Waits, Red Hot Chili Peppers, and Ryuichi Sakamoto, the 65-year-old artist had to put down his trusted saxophone due to the fallout of contracted Advance Lyme Disease. He instead funneled his energies into the dual pursuits of visual art and his Twitter account, both of which are marked by his arch sense of humor and biting political commentary.
New attention is being drawn to Lurie's musical efforts of both past and present this year, thanks to the return of his artistic alter ego Marvin Pontiac. The character – a mentally unstable outsider folk-blues musician inspired by the guitar music of Mali and the blues harmonica of Little Walter – is one that he cooked up in the late '90s to accompany a self-released album of almost childlike tunes called simply Greatest Hits, featuring a stunning array of his New York brethren like guitarist Marc Ribot, keyboardist John Medeski, and vocalist Angelique Kidjo. While the 1999 CD of this album has gone out of print, it will be back in circulation via Northern Spy Records, who are re-releasing it as a limited vinyl edition this coming Record Store Day.
The reissue comes on the heels of a brand new Marvin Pontiac release that was snuck into the world late last year. Called The Asylum Tapes, the digital-only album is supposedly a collection of recently unearthed recordings found in a Detroit mental institution, with Lurie playing with various blues and folk tropes with the tossed-off earthiness of Jandek's '80s-era recordings.
AD caught up with Lurie via email to discuss the legend of Marvin Pontiac and check up on the health and well being of one of our favorite musicians.
Aquarium Drunkard: How are you feeling these days? How is the state of your health?
John Lurie: That is not a question I can answer simply. Advanced Lyme is the weirdest. The way it comes and goes and how the symptoms switch from one thing to another. I am certainly better than I was.
AD: How does it feel to be putting music out into the world again?
John Lurie: Wonderful. Horrible. Everything in between. Felt like an accomplishment to get it done. I owe Nesrin Wolf and Pat Dillett quite a bit. Also James Yost.
AD: Why did you decide to return to the world of Marvin Pontiac instead of releasing music under your own name?
John Lurie: The world of Marvin Pontiac had been created and is a nice place for me to visit. Because this is mostly, guitar, banjo, harmonica and vocal, it made much more sense to do a Marvin Pontiac record. John Lurie's musical world radiated from the saxophone which I cannot play anymore. Christ, you have turned me into one of those people who talks about himself in the third person.
AD: Was it a long process for you to record the new Marvin Pontiac material or did it all come out quickly?
John Lurie: No, it took quite a while. Like a year and a half from start to finish. Maybe longer. Of course, I was painting quite a bit during the same period.
AD: What do you remember about when you put together the first Marvin Pontiac release?
John Lurie: First thing that pops into my head is the Magic Shop. It was a recording studio just a few doors down from my house. And it really was magic in a way. Sorry to see it is gone now.
AD: You also came up with a fairly elaborate backstory for Marvin. Was that something you did before writing the music to get you in the headspace of this character or did that come later?
John Lurie: The backstory came when the music was done. I had a tiny idea what it was going to be but not much. So many times for so many different reasons, I have had to send bios to people, I hate beyond hate doing it. It was immensely more fun to do it this way.
AD: Were you surprised at all about the positive response you received about the first Marvin Pontiac record from the likes of folks like Leonard Cohen and Iggy Pop and David Bowie? Is it an easy thing to temper your ego after getting pats on the back from legendary figures like those gents?
John Lurie: I suppose that they agreed to give me the quotes at all was a positive nod toward the Marvin music or my music in general. But, I knew all of them in varying degrees and explained to each of them what I was doing and they all played along. The only person I didn't know was Leonard Cohen. When Bob Dylan said he wouldn't do it and he was the only person who refused, I wanted someone in that general ballpark of music. I was on the phone with my travel agent, Barb, booking a house in South Carolina at the last minute. I remembered, during the call, that she was Leonard Cohen's travel agent and asked if she would mind giving me his number. Barb said she wasn't comfortable about doing that. And we went back to hurriedly trying to book this house for the next day. An hour later, Barb called back and said, "Here is the number." I call thinking I am calling about the house, when a very deep, mellifluous voice answers the phone. A voice just like how you would imagine Leonard Cohen to sound on the phone. My mind took a moment to register that I was now talking to Leonard Cohen. Then I started to laugh. Then I hung up. Because how would that have gone after laughing? I waited a couple of days and called him back. And he was very generous with me.
AD: The lineup on Greatest Hits is a great snapshot of the New York jazz scene of the time. Was it fairly easy to call on folks to come take part in this? Did anyone need convincing?
John Lurie: No, why would they need convincing?
AD: Greatest Hits feels very much more composed and planned out as compared with The Asylum Tapes. Is that the case?
John Lurie: No, really not. Just the instrumentation is so different, so maybe that is why you think that. My concern was that with me playing all the instruments, it would get boring or sound too much the same. But I think I succeeded in not letting that happen. I think the album has a great flow to it. I really hope people listen to it all the way through. Rather than how it seems to be now, where people buy two songs off of iTunes and listen like that. I suppose I am beyond old school in this sense, but I would like people to listen to the whole record in sequence.
AD: Do you have any hopes to make more music, maybe even releasing it under your own name?
John Lurie: I suppose. Probably. I am writing a book for Random House. Which is kind of kicking my ass. I am on chapter 17 of the book. About halfway, I guess. Four good months and I can be done. Though how long it will take them to get it out once I am done, I don't know. And the thing I feel compelled to do is paint. Like from the moment I wake up. But if I did another record, I bet I would do it as Marvin. It is more fun for me.
AD: You are probably one of the best users of Twitter out there. Why do you think you took to it so quickly?
John Lurie: I started the Twitter account specifically to undo what a horrific article in the New Yorker did to my reputation. After that article, anyone writing about my music or Fishing with John or my paintings would link to it as though it were true and those were things I had actually said. So I wanted to try and put an end to that by showing I am not the person in that article. Then I started getting my news from there by following the NY Times, the Guardian, Intercept, Salon, and a lot of other places. I started meeting some great people on there. Then I got kind of addicted to it.
AD: A lot of your tweets of late comment on the political situation here in the U.S. Are you hopeful for this election year?
John Lurie: I feel somewhat duty-bound to poke at the President as often as possible. His narcissism is a fun wall to bounce a ball against. I want to keep doing it until I get the wall to crack. But no, I am not so hopeful. I think more Democrats will win, which I suppose is good but I have long since become disenchanted with the Democrats. I think our politicians should be chosen by conscription. Because people who want the job tend to be sociopaths. So, for example, I think we should be able to say, "Ok, Noam Chomsky, you are President, whether you like it or not."
AD: Do you miss acting at all?
John Lurie: You know, if I see someone do something great, I think, "Oh, I would like to have had a chance to do that." But no, I never really miss acting. I kind of hated it. It was never really what I did.
AD: What comes next for you? More painting and tweeting? Any other big plans for the year?
John Lurie: Like I said, I am writing a book. And I paint every day. I have several ideas for projects, but none far enough along to go into. words/r ham
Photo: Thomas Schloemann
Further reading: John Lurie :: The Aquarium Drunkard Interview
We're glad you're here. Help support independent media via our Patreon page, which allows readers and listeners to directly support Aquarium Drunkard as it expands its scope while receiving access to our secret stash, including bonus audio, exclusive podcasts, printed ephemera, and vinyl records.