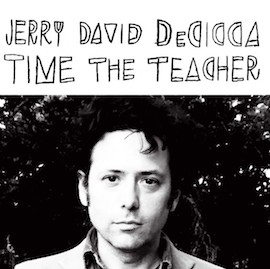 "Watermelon," the second track on Jerry David DeCicca's Time the Teacher, is an ode to – you guessed it – watermelons. With an almost nursery-rhyme like cadence and gentle backing vocals, it's as simple a song as they come. Or is it? Through some strange alchemy, by the end of "Watermelon," you may find yourself in wonder at the complexity and perfection of the song's subject. That's right — watermelons are a goddamn miracle.
Time the Teacher is filled with these quiet moments of resonance and revelation, whether DeCicca is dealing with the death of long-lost lover or the mystical tapping of a woodpecker at dawn. Guided by producer Jeb Loy Nichols and Benedic Lamdin, the intimate vibe of the lyrics is matched by the music, which is spare and lovely. Rich piano, gospel-tinged vocals, upright bass and fluttering horns, provided by a cast of European players, all frame DeCicca's warm vocals. For touchstones, you could point back to Van Morrison's early '70s work or any number of private press LPs from the same era, but it's to the songwriter and his cohorts' credit that Time the Teacher never feels like an exercise in nostalgia. Instead, it feels vibrant and alive, even in the mellowest, most melancholy passages.
AD recently caught up with JDD via telephone from his home in Bulverde, Texas, where many of the songs on the record were formed on his front porch with a can of Tecate nearby.
Aquarium Drunkard: You made this record in a completely new way for you, working with players remotely. What did that process reveal to you?
Jerry David DeCicca: Nobody that plays on the records is American. They're all either English or European; I think the trumpet player is Italian. So there's a very European sensibility to the playing. [All the players are into] American modern jazz but have their own sensibility. They have their own sense of humor and I think to be able to have that…is pretty rare. All the players are more experimental.
AD: What influenced the decision to work in this new way, kind of giving up control of your own songs?
Jerry David DeCicca: When I sent the songs to my friend [and producer] Jeb Loy Nichols, he really encouraged me to just kind of let him have his way with them.
AD: Modern life feels so hurried, rushed, and scattered. But this record carves out a special place that isn't any of those things. How did it get that way?
Jerry David DeCicca: I think it started with the songs. They were the first batch of songs I wrote when I moved to Texas. When I moved here and I started writing, besides Eve [Searls], my partner I moved here with, I had no friends. I had nobody else to talk to. I was spending more and more time alone and living somewhere that was quiet and had a very different rhythm than what I was used to before. I was living next to two rivers, the lazy rivers I [wrote about on the album].
The pace of my life just changed. I'm really glad I have so many friends, but as you get older, I think, I [realized I] didn't need all those friends in my life to be as centered as I used to. Just knowing they exist was enough. I felt a real sort of calm. My phone didn't ring as much. Nobody was asking me to go get a beer with them or go to a show. I would just sit on my front porch every night and play my guitar. The songs were a product of my environment.
AD: Had you felt that settled in your life before?
Jerry David DeCicca: I don't think so. It was pretty new. I've always lived in places that were a lot more urban. There were always fire trucks or an ambulance going by. Traffic. So I really took to it right away. It helped with my anxiety, it helped me sleep better. I didn't have bandmates, so I was writing songs and I didn't know what I was going to do with them. I was writing them as being a little bit more self-contained.
AD: It feels like a record rooted in a place  in very specific ways. Songs like "Lazy River" and "Mustang Island" — they really give it a sense of location.
Jerry David DeCicca: And I wrote those songs in those places. I wrote "Mustang Island" waking up on that beach. I wrote "Woodpecker" in Bastrop State Park. A lot of those songs, I was writing them as they were happening to me.
AD: The notes make reference to free jazz being a touchstone for you. While this is not a skronking and atonal record, there is a sense of looseness and freedom to the record.
Jerry David DeCicca: The first person we asked to be on the record was Anthony Braxton. Jeb was really like, "Remove yourself from this world of Americana. Your songs are not that. I know you like that music from the '70s and you play acoustic guitar, and you sound like, as a singer, that type of music, but let's remove your songs from that world and bring in this other music you like and see what your songs do with that." So we were talking about Anthony Braxton and one of us found his number and Jeb called him up. He was very nice and interested in it. We went him the demo of "Watermelon," and he listened to that. He was very nice about it [but] said, "I can't take this on." Jeb had used to go see Anthony play in New York in the early '80s, so they had a great conversation. And so that's what we started thinking about —  how to tap into free jazz with some of the players.
AD: You also have a counterpoint of a gospel-inflected choir backing you up throughout the record. What were you aiming for by having those other voices?
Jerry David DeCicca: There's a tradition in soul music, gospel music, and R&B music where you've got this strange, idiosyncratic singer up front and then you've got these beautiful singers behind that person. You can hear it in Leonard Cohen records, in James Brown records. I think it's just kind of another way to let the light of the songs get inside the record.
AD: The title song really gets to the core of how aging works. I feel that as you grow older these two, seemingly contradictory, things begin to happen. On one hand, I think you become  suspicious of your own notions and assumptions, and on the other, you begin to feel more comfortable with your ability to process all the strangeness that comes with living a life. Somehow, those two things don't feel at odds with each other and I feel like the song gets to that.
Jerry David DeCicca: Time is pretty abstract. We all have our internal clocks, and they're all different. Mine is wound a little bit too tight. That's something I try to manage better than I used to. At the same time, as you have more control, you're actually letting go more. This combination of feeling a little bit more comfortable in your own skin, and having had the experience to feel like you can deal with these things. It's not just time that teaches you to do that; it's what happens during that time. I know for me, I wouldn't have been able to make a new life for myself the way I have these last four years when I was a lot younger. I moved around a lot. It was not the same experience it is now, and it shouldn't be. If I move around again, it's not going to be the same experience.
AD: OK, so here's a heavy question. In "Watermelon," you sing about putting watermelon in a taco. What else goes in a taco that features watermelon?
Jerry David DeCicca: You mean besides the watermelon? The watermelon is just the dressing for the taco. You know, living outside of San Antonio, I'm in the taco capital of the world. I've got pretty strong opinions about tacos these days. When I go up to Austin and people want to get tacos, I can't even waste my time getting tacos in Austin. San Antonio is where it's at. I still eat meat — it's not one of my favorite things about myself, but I still eat meat. It would be hard to give up meat around here. But there are brisket and avocado tacos down at this place called Garcia's, which is amazing. If you see a big tour bus around there, it's not because there's a bunch of tourists in there — I found out it's because Los Lobos is there. I like the barbacoa — I don't usually drink a can of Big Red with it, but Big Red and barbacoa is a San Antonio thing. So even though you can put watermelon in your tacos, it's probably not how I would do it, I guess.
AD:  It's a pretty cosmic song — and I love the idea of something cosmic on your plate. I feel like if you think about anything long enough, it starts to seem pretty far out.
Jerry David DeCicca: It's pretty heavy right? Have you ever seen the movie Tin Men? There's one scene where the characters are asking each other about believing in God. One character is at this smorgasbord, this "all you can eat" buffet, and in that moment he's like, "I think I believe in God." He looks at all the food and he has this cosmic reaction. He goes from being an atheist to maybe believing in God. And something as small as watermelon can remind you of different people. It can remind you of place and time. Those kinds of things are hopefully littered throughout our lives if we take the time to pay attention to them. review/t wilcox; interview/j woodbury
Further listening:  The Lagniappe Sessions: Jerry David DeCicca