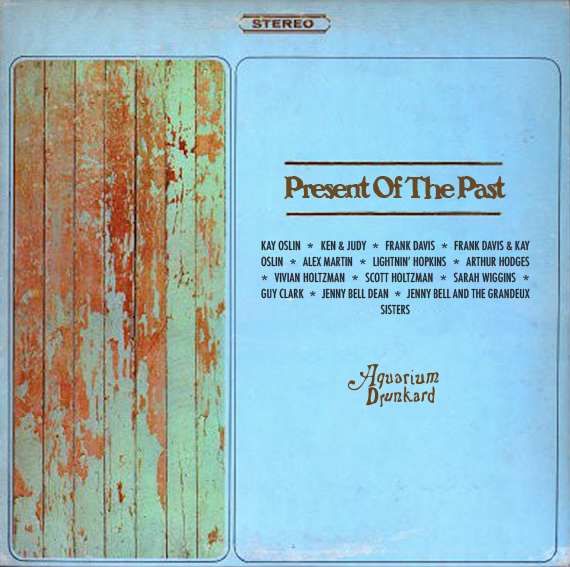 The early 1960's: folk songs reflecting social change and protest amidst the Civil Rights Movement could be heard on radios everywhere. Peter, Paul and Mary, Bob Dylan, and Joan Baez inspired many a youth to pick up a guitar and harmonize with their peers. One of the lesser known communities that sprung up in the immediate aftermath was based in Houston, TX at a club called The Jester Lounge. Opening in 1962, The Jester is known to be the supposed birthplace of folk music in Houston. Notable early performers from this period included K.T. Oslin, Guy Clark, Lightnin' Hopkins, Townes Van Zandt and Janis Joplin (Songwriter Scott Holtzman once quipped "She had to go to California to get famous!").
In 1963 Jester released a privately pressed compilation entitled Look, It's Us, which highlighted some of the lesser known regulars hanging out and playing around the same time. There was legendary Houston engineer and folk artist Frank Davis (who can be heard trading otherworldly harmonies with Kay Oslin on many songs included here). Scott and Vivien Holtzman, known for co-writing and producing the Houston psychedelic band Fever Tree and their hit "San Francisco Girls". Guy Clark, who would go on to become a prolific Grammy winning songwriter and singer, can be heard here singing "Cotton Mill Girls", his earliest known recording. And there was Ken and Judy, a duo who largely covered Christian traditional folk songs with impeccable harmony. But it it's KT Oslin, singing folk songs at the Jester long before churning out Nashville country hits like "Do Ya" and "80's Ladies", that is the stand-out performer here. Kay, as she was known then, sings with a haunting, wide-ranging, warm voice, enveloped in echo. Similar to that of Vashti Bunyan, it is a sound far removed from that aforementioned beforehand.
Several of the songs included here are from the Look, It's Us compilation, many are presented for the first time digitally, sourced from the private collection of Christopher Clements.
While the bulk of this material contains interpretations of traditional leaning folk songs, the highlights are two that Holtzman penned and Oslin performed — songs that likely were recorded a little later at Walt Andrus Studios in Houston. "Illya", written about the fictional Russian spy in the hit 1960s TV show The Man From U.N.C.L.E., contains shades of spaced-out Joe Meek production, while "Present Of The Past" hints at the full-band twang and harmonization of The Byrds. More material continues to be unearthed, so until it sees the light of day, enjoy these songs that have been hidden subrosa for over 50 years…until now. words / zb
1. Kay Oslin – Illya
2. Ken & Judy – Santy Anno
3. Frank Davis – My Window
4. Frank Davis & Kay Oslin – Smokey Mountains
5. Alex Martin – I Am A Pilgrim
6. Kay Oslin – Brave Young Sailor
7. Lightnin' Hopkins – Trouble On My Mind
8. Frank Davis & Kay Oslin – River Song
9. Ken & Judy – All Over This Land
10. Frank Davis & Kay Oslin – Present of the Past
11. Arthur Hodges – Black Mountain Blues
12. Vivian Holtzman – Railroad Wife
13. Frank Davis – Mississippi River
14. Frank Davis & Kay Oslin – My Girl (Where Did You Sleep Last Night) (live)
15. Scott Holtzman – Copper Kettle
16. Frank Davis & Kay Oslin – Every Night
17. Frank Davis – East Virginia
18. Ken & Judy – Go Tell It
19. Sarah Wiggins – Why May Not I Love Johnny
20. Frank Davis – Corn Song
21. Frank Davis & Kay Oslin – God Bless The Child
22. Guy Clark – Cotton Mill Girls
23. Frank Davis – Trouble In Mind
24. Intermission
25. Ken & Judy – Live a Humble
26. Frank Davis & Kay Oslin – 12 Gates
27. Jenny Bell Dean – Pretty Saro
28. Sarah Wiggins – No More Cain
29. Frank Davis & Kay Oslin – Sand Mountain Blues
30. Jenny Bell (and the Grandeux Sisters) – Waving From The Hill
31. Frank Davis & Kay Oslin – My Girl (Where Did You Sleep Last Night) (Studio)
Help support independent media via our Patreon page, which allows readers and listeners to directly support Aquarium Drunkard as it expands its scope while receiving access to our secret stash, including bonus audio, exclusive podcasts, printed ephemera, and vinyl records.