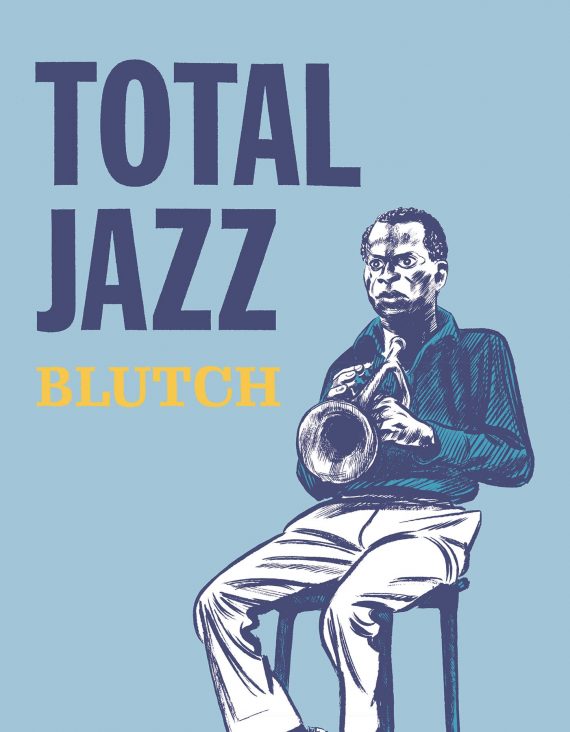 In the preface of Total Jazz, Fantagraphics' new collection of jazz comic strips by Christian "Blutch" Hincker, the author is tasked with providing an introduction to the book. Imagining himself as a young Native American brave, Blutch confesses to a stoic tribal leader: "Jazz makes me sick…It turns my stomach."
It's a hinky way to start a book dedicated to illustrating the culture of jazz, and not only because of the stereotypical racial tones. Total Jazz collects comics Blutch began wrote and drew for the French magazine Jazzman, stark black-and-white panels that pulse with feverish energy, melancholy and haunting beauty. They aim to "translate the untranslatable" about jazz, and often they actually achieve this seemingly unattainable goal. So why the sudden case of jazzy nausea? "At first, I felt invincible" the author explains in character in the intro. "But after many moons and almost 1,000 stories, I'm down on my knees on the path." Illustrating the music that moved him made him obsessive – a dreaded "nerd" – and even worse, all those records and CDs began to function as a mirror. If you stare at anything long enough, you begin to see yourself. No one should have to see themselves so much. Blutch suggests.
But that reflection is what makes Total Jazz such an exceptional read. Sometimes, Blutch's strips are about jazz, the ephemeral concept and deep blue spirit of the art form itself, but most often they are about jazz musicians, meaning they are really about people. Sex, violence, confusion, fear of obsolescence – these familiar human concerns show up just as often in these comics as rough, squiggly lines from the bells of saxophones and trumpets. Like the music that engages him, Blutch quickly shifts in mood and style. His strip about a grouchy couple unimpressed by just about every element of a jazz festival is jotted out in loose, impressionistic lines, while stories like "The Sound," about tenor saxophonist Stan Getz forcefully willing his signature sound into existence, employ heavy shadows and intricate line work.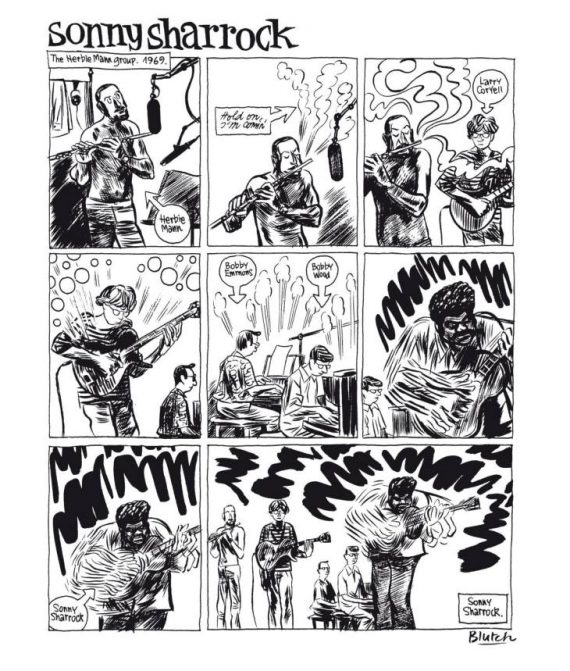 Jazz has long represented the very idea of "cool." But while Blutch's art is frequently elegant and sensual, some of the best stories here reflect not the effortlessness of jazz, but rather the intensity required to create it. In "Sonny Sharrock," Blutch presents the enormous guitarist in the midst of his time with flutist Herbie Mann's smooth jazz combo (long before he'd provide the indispensable soundtrack for Space Ghost Coast to Coast). Thick, jagged black lines hover above him, his hands a whirr of furious action, illustrating the incongruity of the late Sharrock's violent playing on Mann's pillowy records. In "Five Solos (A Selection)," pianists Jaki Byard and Don Pullen's become blurs of motion; Sun Ra's fingers become exaggerated apparitions and Charles Mingus' hands are presented impossibly enlarged, heavy like stones — French pianist Martial Solal stares in disbelief at each, and then at their gravestones.
It's not the only time death makes an appearance. In "Inheritance," a man is bequeathed his late father's jazz collection. Putting on Something Else!!!! The Music of Ornette Coleman, he hopes to reconnect to his dad, to hear in the music what his dad heard. In the hands of a more sentimental cartoonist, he probably would, swooning to the bebop sound, tied into a thread that runs from father to son. But he doesn't; the music doesn't move him and the strip concludes with his father's box of jazz albums collecting dust in the garage. Trumpeter Miles Davis, described as "an extravagant cocktail of bad boy, Native American chief and old woman," makes multiple appearances throughout the collection (and on its cover). But some of his best moments are as a ghost, a looming spirit hectoring the disheveled "Jazz Detective" character. "You are not worthy of me. I will have been a genius in vain," the ghostly Davis says from behind his sunglasses. Anyone who's ever grappled with Davis' complicated and abusive legacy will feel a pang of sympathy for the schlubby detective.
"When I put in a CD, I hear myself… I'm Coltrane! I'm Miles Davis!" Blutch ponders in the opening dialog. It's not that he's elevating himself to those creators' level artistically — however masterful he is with a pencil and paper — but that he recognizes the humanity in even those titans. "The Secret Life of Sun Ra," the collection's very best story, makes it even clearer. On stage, draped in cosmic robes, the mythic Sun Ra pulses with the energy of the universe. But after the show, once the lights have dimmed and the crowds departed, regular old Sonny Blount, in his suit and hat, riding the bus. This melancholic take on the secret identify formula demonstrates what makes great art so communicative: Even if one shouldn't be forced to see themselves so much, it's a worthwhile experience to truly recognize the humanity in someone else. words/j woodbury