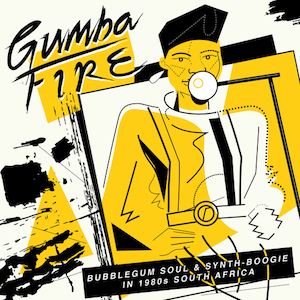 The latest excursion from Soundway Records finds the label beaming out eighteen glittering and never-before-heard tracks of 80s bubblegum soul and electro-dance. It's a revelatory listen, crossing a wide range of sounds, all of them bursting with an eagerness to be heard. Songs from groups like The Survivals and Hot Soul Singers are glowing technicolor disco with an analog minimalism that glimmers and grooves in its roots to earlier forms of afrobeat and highlife.
The compilation's title is, according to Soundway, "derived from 'gumba gumba', the term given to the booming speakers of the old spacegram radios that broadcast music into South Africa's townships and villages. The phrase later evolved into 'gumba fire' to refer to a hot party." 10-4. Booming, hot, and party are three key adjectives to describe the music herein. Shit, space sort of fits too, given the alien and thunderous funk of these selections.
General Peter Maringa :: Listen To Me
There is an absolute unique vibe across the music compiled here, and the reason connects to a complex yet inspiring story in South African history. Apartheid policies called for content for the South African Broadcasting Corporation's network of ethnic radio stations, in order to ensure what the government antiseptically referred to as "separate development." However, this music industry boom helped foster a strikingly singular creative movement, one that gave birth to the afro-futurist rhythms of Shangaan-disco, as well as the socially-conscious and expressive pantsula dance.
Here, dig the compilation's title track, Ashiko's "Gumba Fire (Madlakadlaka)." Fiery horn stabs and warbly synths glide across party-fused vocals and morph into intoxicating electronic textures and buoyantly shimmering wooden percussion. Soundway has done good and important work here, shining a long-lost light on a truly spirited moment in cultural history. They've collected a mighty rich bounty, with a fascinating spectrum of pure proto electro funk; grooving, rough-hewn soul; psychedelic disco and beyond.   words / c depasquale