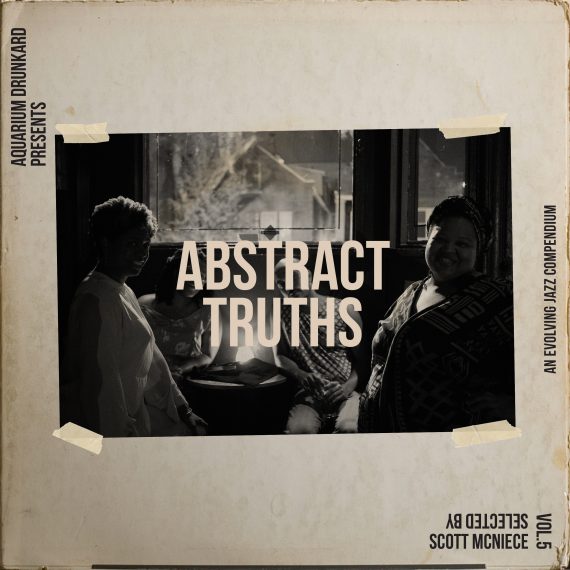 Volume five of Abstract Truths, An Evolving Jazz Compendium. If unfamiliar with the series, please first read here about the its genesis and intention. Bringing us this look at the contemporary Chicago jazz scene is Scottie McNiece, head of the essential International Anthem Recording Co.
"For over 100 years, Chicago has been ground zero for many of the major innovations and evolutions within the jazz idiom," McNiece says. "And in my (albeit limited, but nevertheless devoted to understanding) perspective, the flowers and fruits of those historic movements and their resulting traditions and studies bear vibrantly in 2018.
About my selections: this program isn't an objective laundry list of "who's who" or "who's relevant" in contemporary Chicago jazz. It's simply a broad gathering of recent recordings from various pockets of this very multi-cultural and multi-generational music community that, moreover, sound good together (to me) from one track to the next. I hope you enjoy."
playlist / provenance after the jump . . .

Angel Bat Dawid – The Joy of Living (The Joy of Living)
Angel Bat Dawid – Blues (The Joy of Living)
Joshua Abrams Natural Information Society – Sungazer (Represencing)
Tim Stine Trio (ft. Anton Hatwich & Frank Rosaly) – Come On D (S/T)
Communication Arts Quartet (Matthew Lux, Ben LaMar Gay, Jayve Montgomery, Mikel Patrick Avery) – Camisa Sete (Contra/Fact)
Herculaneum – Elmyr (UchÅ«)
Greg Ward & 10 Tongues – Grit (Touch My Beloved's Thought [Live])
Mike Reed – Voyagers (Flesh & Bone)
Mike Reed (ft. Marvin Tate) – First Reading: SF Sky (Flesh & Bone)
Artifacts Trio (Nicole Mitchell, Tomeka Reid, Mike Reed) – Composition 23b (Artifacts)
David Boykin Expanse – Imbroglio (Instrumental) (Ultra Sheen)
El Is A Sound of Joy – ——– (01.26.2013)
Harrison Bankhead Sextet – Morning Sun/Harvest Moon (Morning Sun Harvest Moon)
Hear In Now (Mazz Swift, Tomeka Reid, Silvia Bolognesi, Ed Wilkerson, Vincent Davis) – Set 1 Part 1 – unreleased (Live @ Bar DeVille 12.04.12)
Junius Paul Collective (Junius Paul, Shanta Nurullah, Irvin Pierce, Scott Hesse, Isaiah Spencer) – Set 1 Part 3 – International Anthem forthcoming (Live @ The Polish Triangle 07.26.16)
Quin Kirchner – The Ritual (The Other Side of Time)
Stella Akua Mensah – SANE (Louder Than A Bomb 2017 Mixtape)
Ben LaMar Gay – Me, Jayve & The Big Bee – Downtown Castles Can Never Block The Sun (International Anthem forthcoming)
Ben LaMar Gay – Uvas – Downtown Castles Can Never Block The Sun (International Anthem forthcoming)
Faraway Plants – SunSaturate (EP I)
Colorlist – Montreal (Sky Song)
Rooms – Monolith (Vigil)
Will Miller – Strayhorn (unreleased)
Meridian Trio (Nick Mazzarella, Matt Ulery, Jeremy Cunningham) – Reminiscing (Triangulum)
Makaya McCraven, Nick Mazzarella Trio (ft. Anton Hatwich & Frank Rosaly) (Luminous Star – International Anthem unreleased)
Cecil – Neighborhood Watch (unreleased [Live @ The Whistler 09.26.16])
Matt Ulery's Loom – The Queen (The Queen)
Charles Joseph Smith – Final Descent (War of the Martian Ghosts)
Photo credit: Ed Bornstein
Previously: Abstract Truths: An Evolving Jazz Compendium — Selections By Zach Cowie
Previously: Abstract Truths: An Evolving Jazz Compendium — Selections By Carlos Nino
Previously: Abstract Truths: An Evolving Jazz Compendium — Selections By Eothen Alapatt
Previously: Abstract Truths: An Evolving Jazz Compendium — Selections By David Katznelson